What We Learned While Volunteering at the 2017 Braille Challenge
Published on
The Braille Challenge Helps Encourage Kids to Reach their Potential
Recently, some members of our team had the opportunity to volunteer at the local West Florida Regional Braille Challenge event here in Tampa, Florida. The theme at this years event was "A Decade of Dots", in celebration of their 10th anniversary.
The one of a kind national Braille literacy competition is hosted by regional schools and agencies that serve children who are blind and visually impaired. Braille Institute® originally created the Braille Challenge and supports it on a national level. The competition rewards, and challenges students who are studying Braille. In two words it's an "academic challenge", similar to a competitive spelling bee – but so much more. Participants compete for Braille reading comprehension, speed, accuracy, and proofreading skills as well. To be honest, kids in spelling bees may have it easy in comparison. No worries though, it's all in fun for the joy and sense of accomplishment the children get!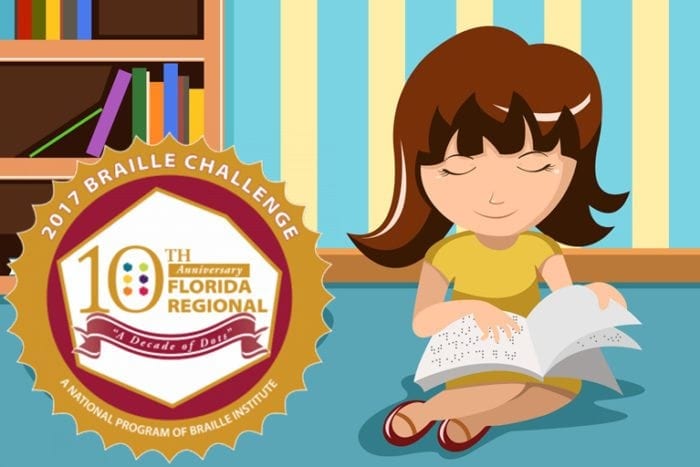 The Braille Challenge encourages kids to study braille and helps to instill in them the reasons why braille is so important. Braille can mean literacy and independence for children who are blind, this challenge is a fun way to bring it into their lives through healthy competition.
Based on their skill-level of Braille reading and writing, students are ranked as the following: Pre-Braille, Apprentice, Freshman, Rookie, Sophomore, Junior Varsity and Varsity. Then kids with similar skill levels compete with each other to see who's number one. Once all the dust settles, the top 50 nationally ranked students will be invited to the Braille Institute in Los Angeles to compete in a final competition.
It was such a privilege to be there, and it was really a lot of fun too! If you're thinking of getting involved, don't hesitate – do it! The members of our team have all come away from the event with amazing and heartfelt experiences. When you attend you get to experience the dedication and commitment that kids have and it gives you hope for all our futures. While it is a competition, it's all in the spirit of fun!
Personal Stories from Our Volunteers
We want to share with you some of the experiences that our team had, to give you a glimpse of what the Florida Braille Challenge is like, but also to inspire you to volunteer at a local Braille Challenge in your area.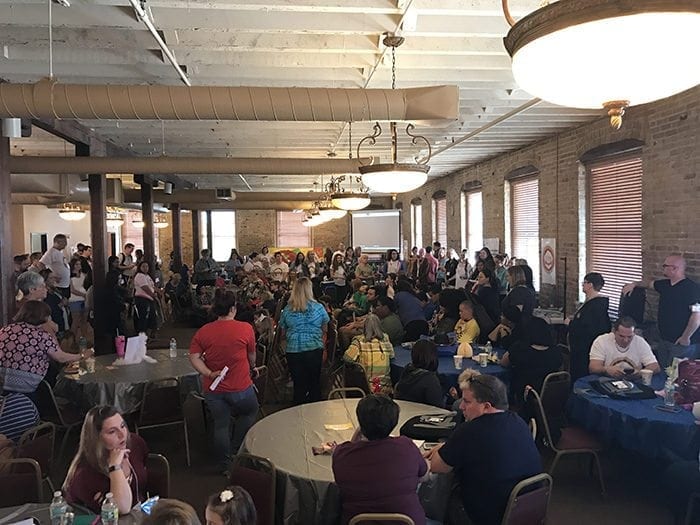 Glen – Executive Vice President of Marketing & Client Relations
I volunteered because the Braille Challenge supports children's education in an area that is underserved. It was really a lot of fun! Watching the kids march into the room and be recognized was a blast. Each of the children really seemed to enjoy when their name was announced. The smiles and applause were infectious.
My assigned task as a volunteer was to serve food at the breakfast table with several teachers and a team from Capital One. What really stood out to me was the way the children would talk with us as they selected food. They talked about their day; the excitement of being at the Braille Challenge; the hopes of doing well in the competitions and just general things about themselves. They talked about liking music, sports, reading and other things.
This is such an important event in promoting braille literacy. Without literacy, children never learn to spell or write their thoughts. It's truly critical to their educational future. I'll be back again next year and encourage anyone who is interested to step up and help out. The Braille Challenge is an opportunity to meet young braille readers and gain a new perspective.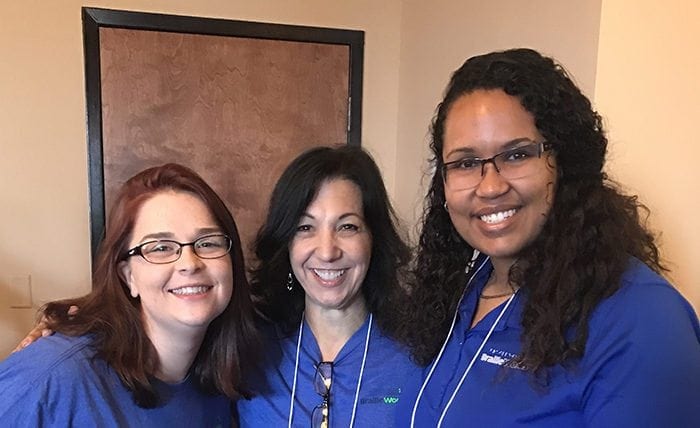 Kassi – Corporate Production
I've never heard of anything like the Braille Challenge before and wanted to see what it was all about. I'm very glad I went and volunteered. The event was a busy, bustling ball of energy. You could tell that everyone there was happy to be present and enjoying themselves! Overall, it was a very fun, positive experience.
I was a student guide at the challenge, assisting the students to and from the testing rooms and helping out with any issues that arose during testing. All of the kids were so outgoing, smart, funny and energetic. They were such a joy to be around and spend time with. Hanging out and getting to know them is something I will never forget and will treasure forever. It was a good time with great people getting together for a good cause.
It was awesome to see the company I work for doing so much to support an organization like the Braille Challenge. It makes me happy to know my employer cares so much about the community!
Paul – Marketing Department
"Hello, my name is Paul and I'm on the Marketing and Social Media team at Braille Works. It's a unique challenge to connect with businesses and tell the story of why accessibility matters. Every day we're trying to make things right; we set out to make things more inclusive; to make things more accessible; and to include everyone in life and in business. I'm happy to be a part of it and really that's why I volunteered to come to the Braille Challenge. I want to do things that matter and that help others; being at the Braille Challenge and being with Braille Works, I get to do just that. Some people might not think what I did mattered much, but to me it did. I played the part of a parking lot attendant. It was Theodore Roosevelt who said "Do what you can, with what you have, where you are." I was willing and able, there were logistics to take care of, and I was there when others needed me. Can you really ask for more?"
"One of the main things I noticed was the overwhelming support that the kids had, so many people want them to succeed. From parents, to teachers and school administrators, to companies and local vendors, to even college sorority volunteers, I was feeling the love and I hope the kids were feeling it too."
"Kids are kids; whether they're living with blindness or a disability or not, at some level every kid is the same. Spend enough time with them and you'll know what I mean, we're all the same and I'm glad that I got to experience something that helped prove that to me. Oh and my other big takeaway is that I don't have nearly the competitive spirit that many 9-year olds have, I wouldn't be surprised to hear about some of them in the Olympics someday!"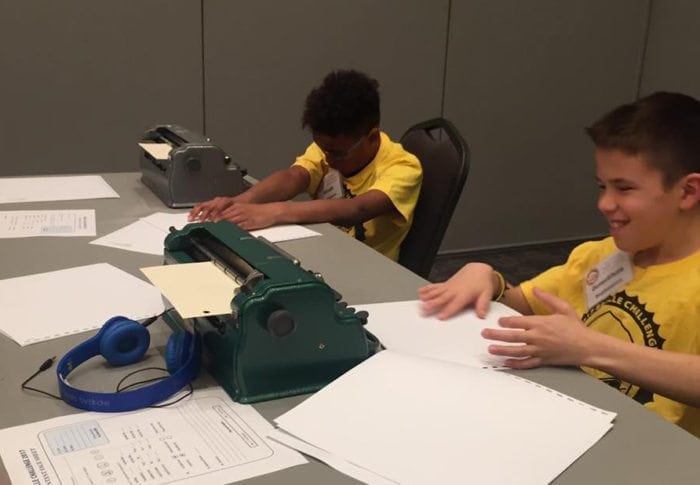 Sarah – Project Manager
I decided to volunteer at the 2017 Braille Challenge simply because I wanted to help out. I haven't been free to attend in the past so I jumped at the chance this year. Me and a few other people spent the morning hours outside, directing people to the parking spaces. It was a beautiful sunny morning with a cool breeze so it wasn't so bad being outside, away from all the kids and excitement.
After the lots were full, we went back inside and made it just in-time to see all the joyful kids parade into the ballroom. Music was blasting, parents and teachers were clapping, and everyone was cheering for the children as they entered the room. It was a fantastic moment!
Braille literacy is so much more than reading and writing for these kids; it helps them become more independent and successful in life. I would encourage anyone who is even slightly interested to try volunteering the Braille Challenge; you'll be glad you did!
Donald Quire – Financial Department
I decided to volunteer because it was a great opportunity to see the type of people we serve. It was a fun and interactive event and what really stood out to me was how joyful all the people were. I worked at the food service table and helped to keep the kitchen area clean and organized.
The one major takeaway I got from attending the 2017 Braille Challenge is how important and how much there is a need for us to help one another. I would encourage anyone to go and enjoy the experience.
Sonja Forbes – 508 Compliance Project Manager
I wanted to volunteer so that I could observe first hand the challenges that children with visual impairments can face. I also wanted to volunteer my time for a great cause.
The 2017 Braille Challenge was an emotional experience for me. Seeing all the students excelling in their education and being so independent warmed my heart. This also made me realize that life goes on no matter what, and my challenges are nothing compared to what some of these kids are going through.
I worked as a Braille Distributor and a Student Guide. I was responsible for collecting all of the Braillers and setting them up in the students' designated classrooms. As well as, assisting students with their testing materials. One thing that truly stood out to me the most was how independent and intelligent these young children are regardless of the challenges they may face.
The biggest takeaway for me is that it is imperative that all individuals with blindness learn how to read and comprehend Braille to form a good foundation in their lives. I would recommend the opportunity to anyone who works in an industry that serves the visually impaired community. It's a great opportunity to witness all the hard work that companies and individuals put forth to ensure these students have a fair chance at academic success.
Pat Thison – Financial Department
I really enjoy volunteering, especially getting to meet new people, helping others and learning new things. That's why I jumped at the chance to attend the Florida Braille Challenge and help out. It reminded me of a national spelling bee contest, only it was in Braille.
I helped serve lunch and direct kids through the lunch line. The overwhelming sense of caring for the well being of the children is what really stuck out to me. The event was well organized with a friendly group of staff, teachers, parents and volunteers; all doing their best to make it memorable for the kids.
I like that there are so many organizations in the world that try to make life better for those who need it. It shows the value we place on all lives. The Braille Challenge was a personally satisfying experience and I would like to returns again in the future.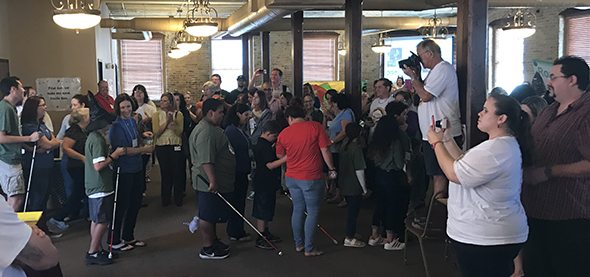 Hannah Fry – Braille Department
I decided to go to the 2017 Braille Challenge because I thought it would be a fun and rewarding time. I also wanted some perspective on how we make a difference with what we do here at Braille Works. Turns out it really was an eye opening and humbling experience. The kids were all so bright and excited. They live without physical sight and are just like all other kids – they don't let it hold them back. I was so amazed and grateful to have the experience to interact with them.
I worked at an activities table and also helped out with lunch related tasks and the Braille Book Fair. I also helped with carrying things and take-downs after the event had officially ended.
The Braille Challenge was a great opportunity for these kids to do something extraordinary! It's just so great there is an event that is encouraging kids who are visually impaired to learn Braille and give it their all. Seeing the kids dance and sing during the drum circle was the most memorable moment for me. They were having so much fun and just being themselves. Their joy filled me with joy!
The kids were just as indecisive about some of the prizes they could pick out – like any child. They even cared about what color the toys were, which was a huge shock to me. But it was so sweet and I loved interacting with the kids and learning from them. They taught me a lot. I'd love to back again next year. If you're thinking about volunteering I'd tell you to go for it!
Who is Braille Works?
As a company whose mission it is to make the world a more readable place, we have been big supporters of the Braille Challenge for many years. We help those in the business world to better connect with their customers who are living with disabilities. Specializing in accessible communications, we've been producing documents for businesses and governments in Braille, large print, audio formats, electronic (or e-documents) that adhere to Section 508 Compliance, for over 23 years.

Braille Works understands the importance of Braille literacy for students. Braille skills are essential to the academic and employment success of students who are blind or who have low vision. What these kids are learning is such a vital skill and we're honored that we had the chance to be a part of the 2017 Florida Braille Challenge.

Tags: 2017 braille challenge, Braille, braille challenge, braille literacy, braille reading, florida braille challenge


Categorized in: Accessibility, Informational, News and Events

This post was written by Jeff Frcho