Summer Camp Programs for Kids with Low Vision or Blindness
Published on
Sharing Summer Camp Resources for 2021
Well, summer is nearly upon us. With the close of the school year, refreshing swims and warm summer nights are all within reach. What better way for your child to create a memorable summer than attending a summer camp? They can be beneficial for any child and are great for social development, memory-making, and creating lifelong friends. Finding the perfect summer camp/program for your child can be a difficult task; and that's true for any parent. Even though many options are inactive due to the pandemic, there are still some fantastic programs and camps that are in full swing. Make your child's summer one to remember.
First and foremost, know that your child may attend ANY program or camp that is open to sighted children. However, you may have concerns about leaving your child who has a unique need like a visual impairment at camp. For example, you might wonder if the staff are qualified to work with children of varying abilities. If you're concerned, it could be highly beneficial to reach out to the camp. You can ask if the camp is able to make any accommodations to ensure your child's enjoyment of the program. An increasing number of programs are becoming accessible, so you might be surprised at the answer you get!
Disability-Specific Summer Programs
You do have the option of seeking out a more personalized experience that specifically meets the needs of a child with a visual impairment. Thankfully, we have some great recommendations that you might find helpful! These camps are fully accessible for children with visual disabilities.
First, a great option to consider might be National Camps For Blind Children. These camps take place in several locations. They strive to give campers the traditional summer camp "experience". Activities like modified archery, trips to waterparks, and beeper kickball are just a few of the fun experiences your child can enjoy!
Additionally, The Lions Club has dedicated its program to assist people with visual impairments and there are many sponsored summer programs across the country. You can search for a club near you through their site and see what programs/events your child might enjoy.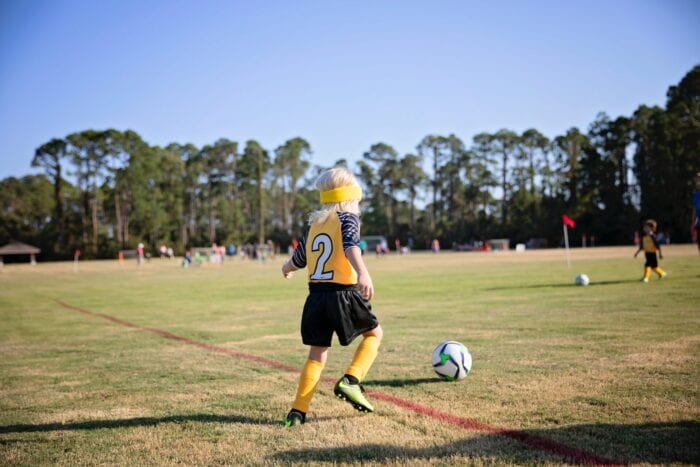 For a more sport-oriented program, a great route is TOPSoccer. This national program is hosted by soccer clubs dedicated to working with children who have disabilities. The organization strives to give aspiring soccer players the essential skills they need while developing them in a fun and all-inclusive environment. They also utilize a buddy/partner system. Check out the US Youth Soccer website where you can search for soccer clubs by state to see if a club near you has a TOPSoccer program.
An Inclusive Summer Ahead
Attending a summer camp can be one of the most memorable childhood adventures of a person's life. It might seem difficult to find the perfect camp for your child, but options are plentiful thanks to increasingly widespread inclusion. We hope you find the perfect fit for your child this summer so that they can take this experience with them through life. We've provided you today with just a few examples of the many inclusive summer camps. As you find more that you think children would benefit from, let us know and we will add them!

Braille Works wishes you all a blessed, safe, and fun summer!

Tags: Accessible Summer Camps, Blind, Blind Children, Summer Camps, Summer Camps for the Blind, Visually Impaired


Categorized in: Health and Wellness, Informational, News and Events, Opinion

This post was written by Braille Works