CBM Improves the Lives of People with Disabilities
Published on
CBM Lobbies The United Nations in Effort to Improve the Lives of People with Disabilities in the World's Poorest Communities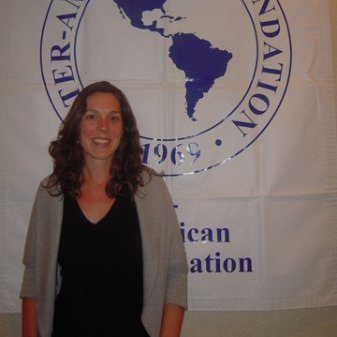 This week's post is written by Elizabeth Lockwood with CBM International.
In my current role as a CBM International representative at the United Nations in New York, I advocate for the rights of persons with disabilities at the UN level in relation to the UN Convention on the Rights of Persons with Disabilities and inclusive development. I do this by developing advocacy strategies to raise awareness, network, build capacity, and lobby UN Member States. Currently, I am very involved in advocating for the inclusion of persons with disabilities in the post-2015 sustainable development agenda, including work on disability indicators. Additionally, I conduct research and write advocacy briefs on the inclusion of persons with disabilities at the UN, in areas of disaster risk reduction and humanitarian action, Indigenous Peoples, women and girls, children and youth, and aging persons.
As for my background, I started my career as a teacher of Deaf students in the United States, Nicaragua and the Netherlands. I also lived and worked in North America, South America, Europe, Asia, and the Navajo Nation engaging in disability and Deaf community focused grassroots activism and broader policy-making with an emphasis on inclusive strategies and systematic change through advocacy, collaboration and awareness. I have a Ph.D. in Disability Studies and a Master of Public Policy and am fluent in Spanish, American Sign Language and four additional sign languages.
CBM Background
CBM is an international Christian disability and development organization, committed to improving the quality of life of persons with disabilities in the poorest countries of the world. CBM envisages an inclusive world in which all persons with disabilities enjoy their human rights and achieve their full potential. CBM works in the most disadvantaged societies, irrespective of race, gender, or religion. CBM provides direct support, advocacy and fundraising, and emergency response.
In 2013, together with the support from over 850,000 active supporters and donors through 11 Member Associations, CBM and its 506 partner organizations supported 672 projects in 68 countries in Africa, Asia, Latin America and the Middle East and reached more than 10.5 million people.
CBM advocacy focuses on awareness raising, capacity building, networking, and lobbying key decision makers on disability and development issues. My specific role in CBM is linked to advocacy within the department of International Advocacy and Alliances. IAA was established in January 2011 to make all international development efforts in CBM inclusive of persons with disabilities. Throughout CBM's work, IAA prioritizes working with others and collaboratively advocating for an inclusive society. Moreover, IAA works within the guiding frameworks of the UN CRPD, the post-2015 development agenda, and community-based rehabilitation.
In addition, I collaborate with global, regional, and local DPOs through CBM's partners in the field and in collaboration with The International Disability Alliance and its member organizations such as World Blind Union and World Federation of the Deafblind.
CBM Statistics
The following are some key statistics related to CBM services for persons who are blind and/or have low vision (2013):
801,785 clients received education or rehabilitation services.
8,402,873 people received medical services for eye conditions.
848,885 operations were performed including 794,061 eye operations.
1,003,703 assistive devices were distributed including 795,835 spectacles; 28,918 low vision devices.
More than 74,000 professionals were trained in 2013 to enable our partners and enhance local and national capacity (in particular 2,097 doctors, 3,804 nurses and 18,306 teachers).
Mass Drug Administration and Neglected Tropical Diseases Eye Health
Of the 13,803,664 persons receiving treatment in 2013:
11,991,161 people were treated with mectizan for onchocerciasis (oncho)
1,812,503 people were treated with azithromycin for trachoma
Follow CBM Online
Tags: Blind, cbm, christian blind mission, deaf, disabilities, disability, Elizabeth Lockwood, united nations


Categorized in: Government, Health and Wellness, Informational, News and Events

This post was written by Jeff Frcho