CSUN 2017 Update from Sunny San Diego
Published on
Braille Works Update from CSUN 2017 Center on Disabilities, Assistive Technology Conference
Christine Sket, our Research and Accessibility Compliance Specialist and Content Writer is in attendance at CSUN 2017, along with Glen Schubert our Executive Vice President of Marketing & Client Relations.
The consistent theme we are hearing from the United States Access Board to legal advocates is: there is no going back with Web and Mobile Accessibility, known as Section 508 Standards for information and communication technology (ICT) and section 255 guidelines.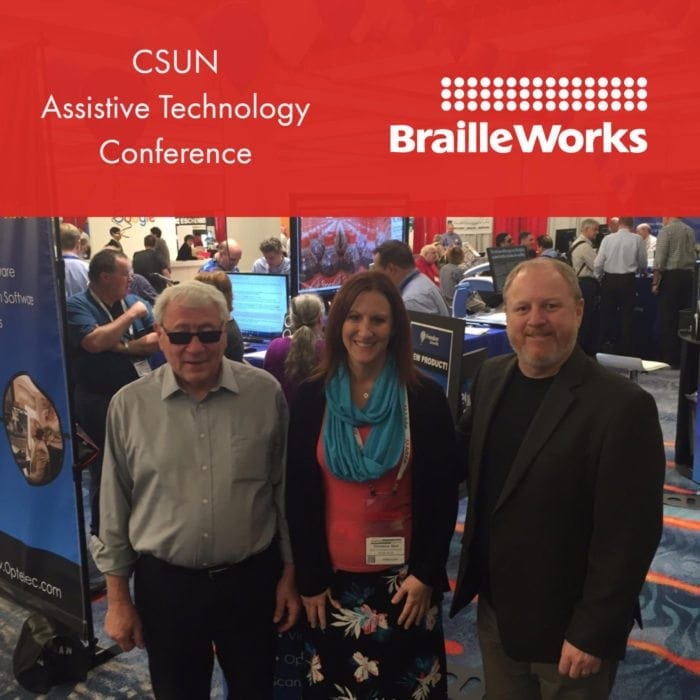 The implementation of the new standards, 508 Refresh and 255 guidelines, is on a 60-day hold, along with a variety of other rulings from the Department of Justice. However, equal access for all persons is still an enforceable law, with plenty of legal rulings that set precedence, based on the current standards in place. So, there is no waiting period for full compliance with providing equal and complete access to all people.
Braille Works provides PDF remediation that complies with the new ICT/508 Standards, following the WCAG 2.0 AA standards. Section 508 Refresh requires full compliance of the WCAG 2.0 AA standards on all PDF documents for title II organizations by January 18, 2018. This doesn't mean that document remediation and compliance are on hold; this means organizations in the process of following the law under the WCAG standard are fine to continue with the current remediation process, this is known as the Safe Harbor Provision. All documents that are created or altered on or after January 18, 2018 must be in full compliance with the 508 WCAG 2.0 AA standards.
We have one more day of training and legal sessions at CSUN 2017, so you can be certain we will have more in depth material to share with our clients and co-workers. Remember when you begin with all people in mind, everyone is included.

Related Articles
Tags: 508 compliance, Accessibility, Accessibility Compliance, Assistive Technology, CSUN, digital accessibility, web accessibility


Categorized in: Accessibility, Informational, News and Events, Technology

This post was written by Christine Sket