Section 508 Best Practices Webinar: Introduction to Policy-Driven Adoption for Accessibility
Published on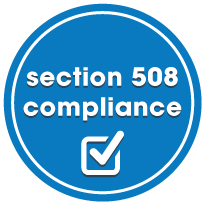 As promised, we are committed to keeping businesses connected with the resources to keep organizations in full ADA Compliance, Rehabilitation Act Compliance and Digital Compliance. The United States Access Board is offering a free webinar on a new approach that officials from three states have developed to evaluate accessibility, when it comes to information technology and technology systems.
Areas that'll be covered in the Section 508 Best Practices Webinar:
Evaluate IT accessibility
Policy Tool used to assess bids from vendors
Integration of Policy Tool into the procurement process, to ensure compliance with Digital Accessibility, ADA Compliance and Section 508 of the Rehabilitation Act Compliance
Best practices for federal, local, state and government agencies in meeting the 508 Rehabilitation Act requirements under the federal Information Technology areas.
Section 508 Best Practices Webinar: Introduction to Policy-Driven Adoption for Accessibility
August 23, 2016 from 1:00pm-2:30pm (Eastern Standard Time)

The Accessibility Community of Practice of the CIO Council in partnership with the U.S. Access Board makes this webinar series available free of charge. Note that registration closes 24 hours before the start of the session. You also need to have an account and be signed in to complete your registration. It's easy to create and account if you don't already have one. Sign-up and register here to get started.

Tags: access board, Accessibility, ADA Compliance, digital accessibility, Section 508


Categorized in: Accessibility, News and Events, Technology

This post was written by Braille Works