3 Satisfying Sensory Activities that are Perfect for the Holiday Season
Published on
Inclusive Sensory Activities Help Make the Holidays Fun for Everyone
The holiday season is upon us and Christmas is my favorite holiday of all.  I am originally from Ohio, but Florida has been 'Home Sweet Home,' for ten years.  Winter in Florida was a pleasant sensory shift from the cold Cleveland winters.  However, I still miss the fresh blanket of Christmas snow.
I can vividly recall the way the snow would shimmer across the yard and trees, with little flakes gently falling and settling in to the covering.  I would step outside wearing a warm robe and fuzzy slippers, coffee mug in hand, just to feel the snow on my face.  The crunch beneath my slippers as I sunk into the fresh powder was the only sound I could hear.  The steam from my coffee warmed my face and hands long enough for me to close my eyes and give thanks for the beautiful morning and full heart I had been blessed with.  There was a peace in that moment that I will forever hold in my heart and memories.
The Holidays are a time for making memories and sharing time with each other.  Christmas is often marked by gift giving and receiving, but it is the multi-sensory experiences that form lasting memories.  This Christmas, I'd like to share some multi-sensory activities for all ages that will be certain to provide years of lasting memories, like stepping out into the fresh Christmas morning snow.
Snowballs for All Ages
Who doesn't love tossing a snowball?  Well, living in Florida taught me how to become creative with making snowballs.  This activity is for all ages, just please use supervision with young children to avoid digestion of the snow.  Gloves might need to be worn for people with sensitive skin.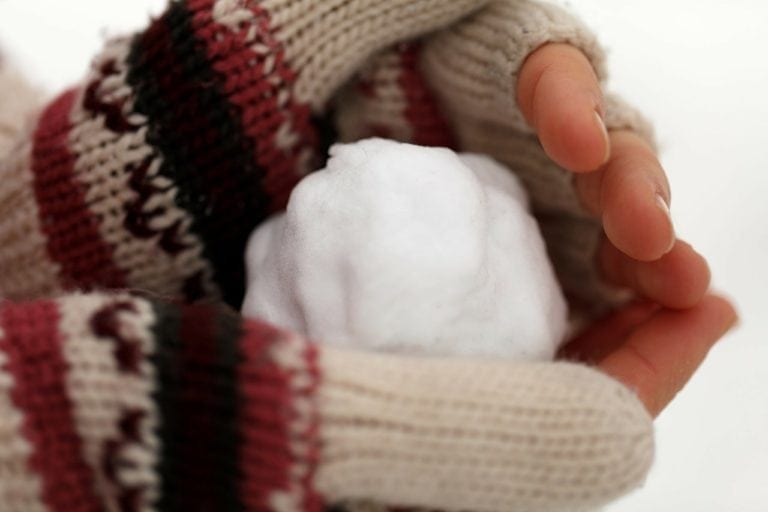 What you will need:
1 Large mixing bowl
2 Boxes of baking soda
1 Bottle of white conditioner (dollar stores have many to choose from)
1 Pair of plastic gloves per person with sensitive skin
Steps:
Pour baking soda in the large mixing bowl.
Pour in conditioner mixing with hands to moisten all of the baking soda. Do not over moisten.
Begin to form a snowball (it should be able to be loosely compacted and holding together; if it is not holding add more conditioner, if it is too dense add more baking soda).
If the conditioner is unscented you could add a drop or two of essential oil in a variety that reminds you of the Holidays.
Pick a target (avoiding faces) and throw your snowballs.
*The snowballs should feel cool as you are mixing and forming them.
Winter Marbles
You don't have to live in a cold climate; you just need a freezer.  Once frozen these giant ice beauties can be placed outside for decoration, used in place of ice sculptures at the Christmas table.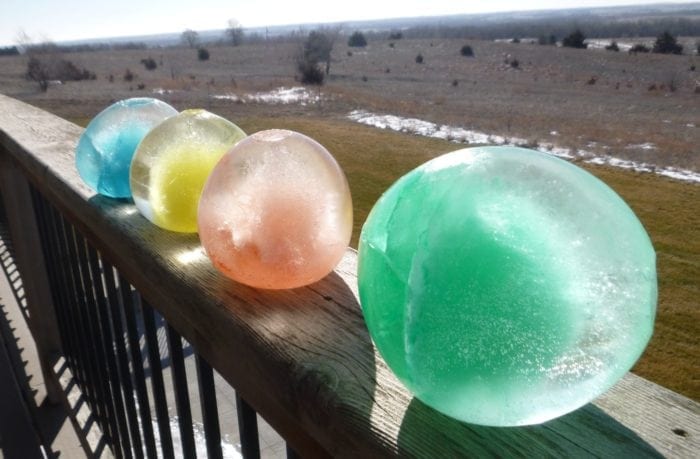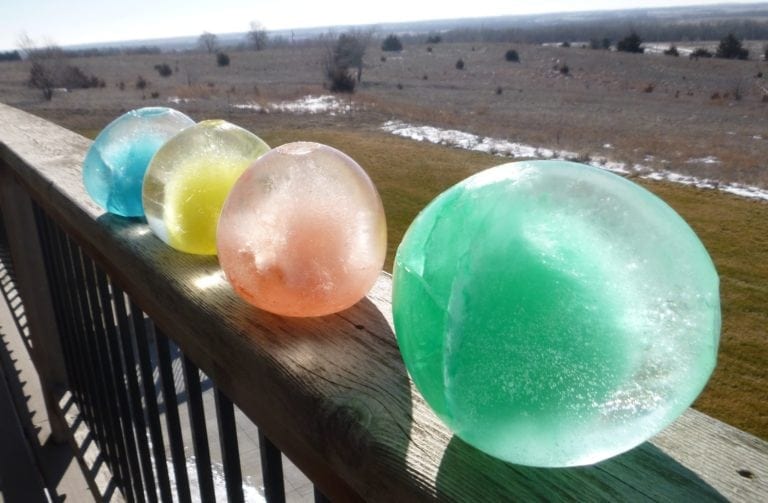 What you will need:
Latex balloons
Water
Food coloring
Freezer
*Optional flavoring (peppermint, vanilla, cinnamon)
Steps:
Put 1-3 drops of food coloring in a balloon (if making multiples try varying the drop, changing or mixing colors)
Carefully fill the balloon with water and tie the balloon
Freeze over night (either by placing outside or in freezer)
Remove the balloon after completely frozen (might need to rinse under warm water)
You have a giant frozen marble to touch and feel or to use as an outdoor decoration
Sound of the Season – Jingle Bells
The sound of jingle bells are distinct and make an exciting addition to holiday décor.  Just hear those sleigh bells ring-a-ling.  Use these bells as a child's toy, a musical instrument, Christmas decoration, or a Santa Alarm to keep curious eyes away from Santa's secret stash.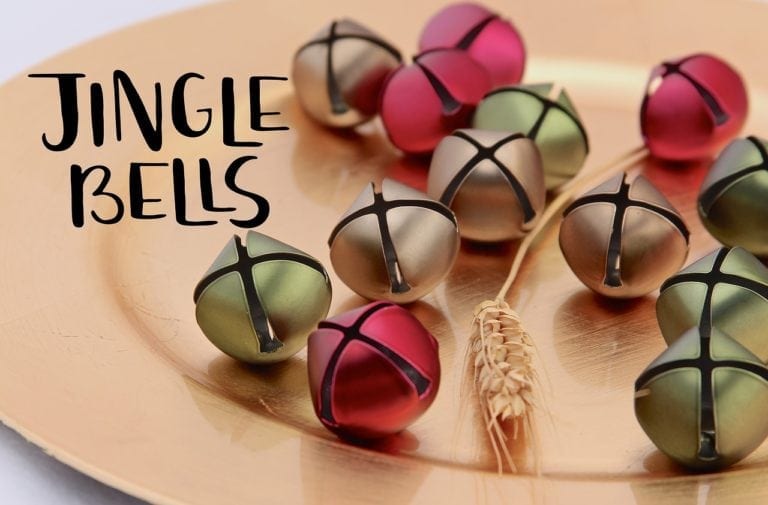 What you will need:
Assortment of jingle bells
Silver and gold chenille sticks (craft pipe cleaners)
Optional mini Christmas bows
Steps:
Select 5-10 bells (depending on size).
Bend one end of the Chenille stick about ½ inch to prevent bells from falling off.
String bells on the Chenille stick (leave ½ inch at the end of the stick).
Twist the two ends to secure the bells and tuck under a bell or tie a ribbon on the twisted wire.
These three activities allow all people the opportunity to enjoy more than just the sights of Christmas.  Read more about the affects of a multi-sensory approach in improving working memory.
Merry Christmas and Happy Memory Making!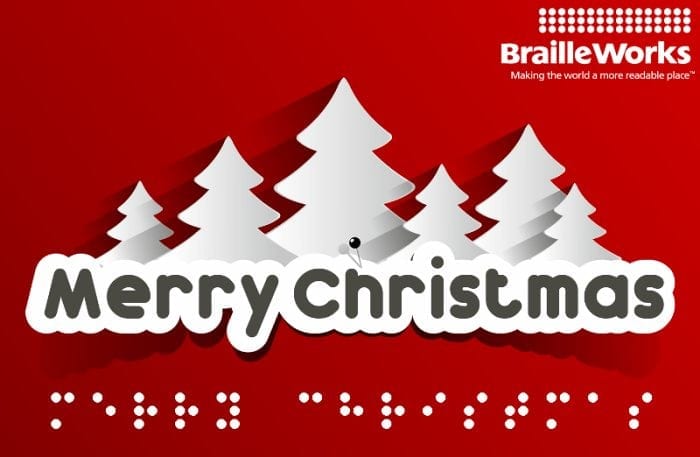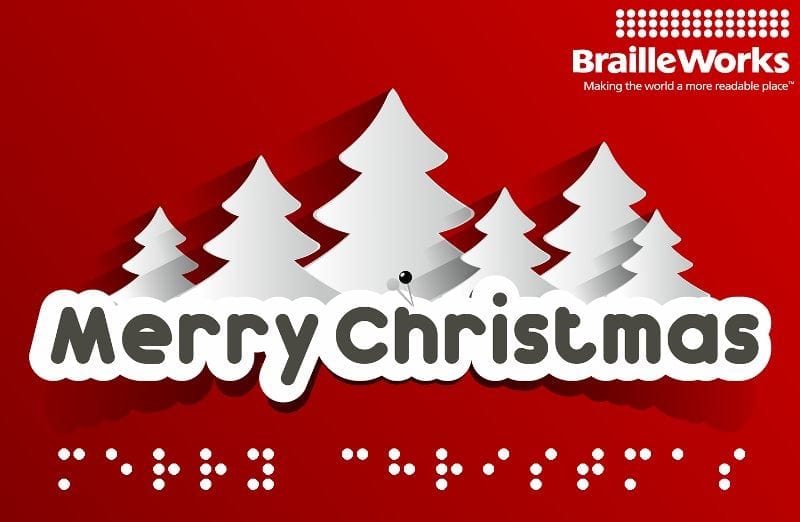 Tags: christmas, happy holidays, sensory


Categorized in: Accessibility, Informational, Opinion

This post was written by Christine Sket