How to Save Money on Remediating WCAG 2.0 AA Documents
Published on
All public facing electronic documents should be accessible to everyone. This includes individuals with disabilities.
Accessibility standards set forth by Section 508 of the Rehabilitation Act require all electronic documents be accessible to everyone and it is mandated for all government agencies or anyone wishing to do business to with a government agency.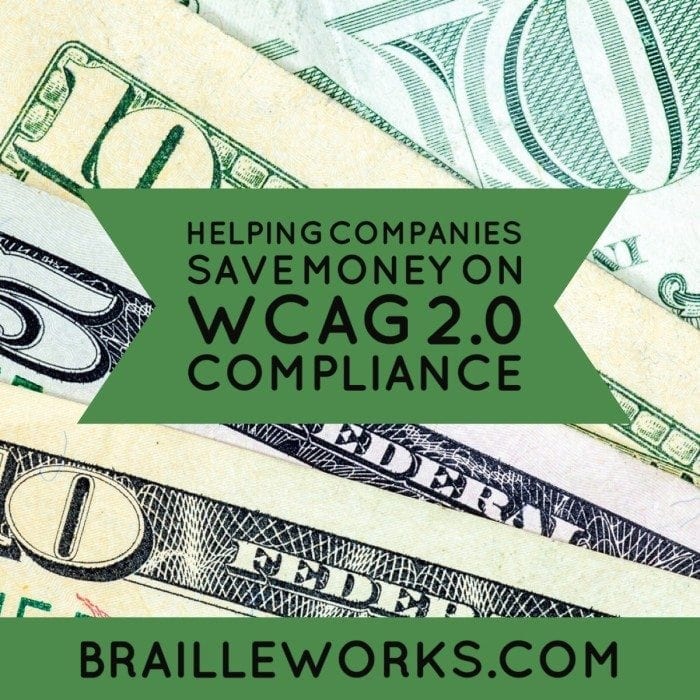 At Braille Works we ensure that all electronic documents that have been contracted out to us for compliance remediation follow the Web Content Accessibility Guidelines 2.0 AA (WCAG 2.0). We ensure that the documents can be accessed by an array of assistive technology products.
How We Can Save Your Company Money on WCAG 2.0 AA Compliance
Training Cost
If doing remediation in-house, your staff will need to learn the following:
WCAG 2.0 AA: Over 150 general techniques
PDF/UA: Over 250 guidelines
Section 508: Over 15 guidelines
Formal training can cost thousands of dollars. Learning the guidelines and becoming efficient can take months.
Personnel
Employ a Subject Matter Expert
To learn, become efficient and keep up with the current guidelines will possibly require a dedicated person in-house designed just for compliance. This may cost your business one persons salary.
Employ Staff to Remediate the Documents
Depending on how many documents you currently have on your website and how often they are updated this may require several employees designated to remediate the documents. Remediating always require human judgement.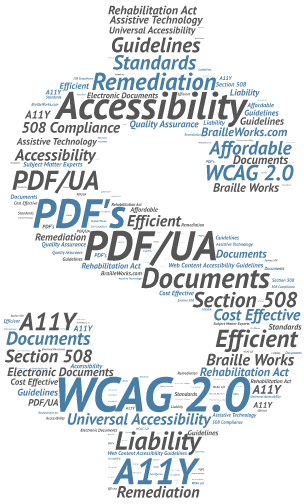 Equipment and Software
Remediating documents requires equipment and software. Your company will spend thousands of dollars purchasing equipment, software and up keeping licenses.
Liability
If your company is remediating documents in-house you will then be 100% liable for all documents on your website. You will need to ensure that all documents meet WCAG 2.0 AA standards.
Estimated Total Cost
Training: Estimated from $1,000 to $10,000
Staff:

1 Subject Matter Expert: Estimated $30, 000 to $75,000
1 Document Processor: Estimated $19,000 to $35,000

Equipment and Software for 1: Estimated $6,000
Liability: Lawsuits
Total Cost to Your Company: Estimated $56,000 to $126,000 yearly.
How Braille Works Cut Cost
Braille Works is already equipped to handle remediation of your documents. We have several in house tools and processes that allow the remediations to be done in an efficient and economical way. It allows your documents to be remediated quicker and at a fraction of the cost of doing it in house. Contact us today to get started.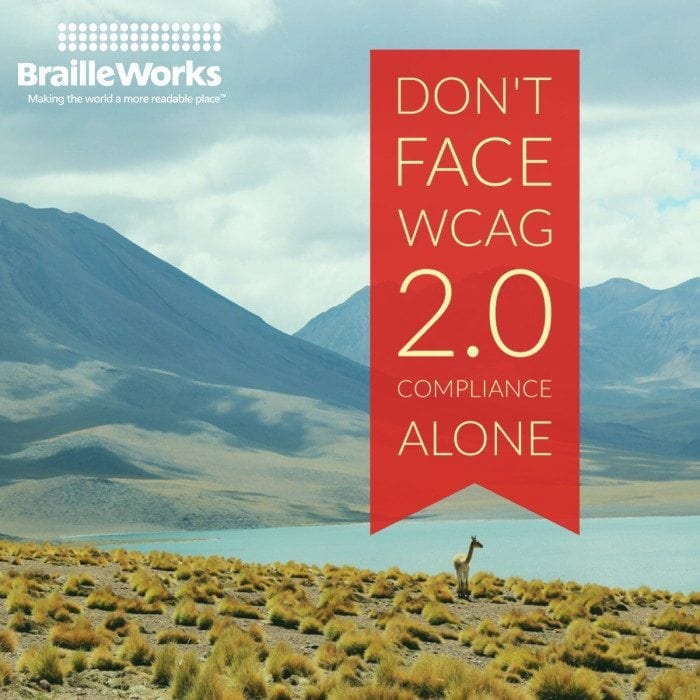 Contact Braille Works
Learn More About Us, WCAG 2.0 AA Compliance and Accessibility Regulations

Sonja Forbes, our accessibility subject matter expert, is the author of this article. Learn more about Sonja and the rest of our team who works daily to "Make the World a More Readable Place"™.

Tags: 508 compliance, 508 Document Remediation, Section 508 Compliance, Section 508 Compliant Documents, WCAG, WCAG 2.0, WCAG 2.0 remediation


Categorized in: Accessibility, Banking, Government, Health and Wellness, Informational

This post was written by Jeff Frcho