Celebrating Global Accessibility Awareness Day 2016
Published on
Global Accessibility Awareness Day, A Day to Talk, Think and Learn About Digital Accessibility
Today is Global Accessibility Awareness Day 2016. This special day is recognized annually on the third Thursday in the month of May. Rather than having a set date the creators decided on a set day.
What is Global Accessibility Awareness Day?
It is a day to bring focus to web based accessibility. It was first created in a blog post in November 2011, and is intended for web developers to participate in practices that promote accessibility. Global Accessibility Awareness Day is often referred to simply as GAAD.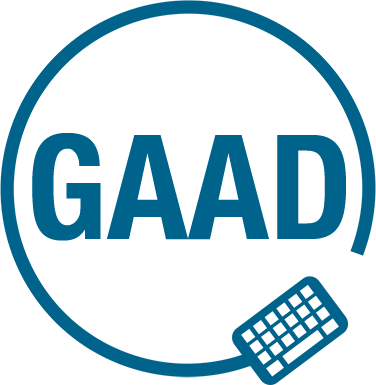 Where Can I Learn More About Web Accessibility?
Online conversations on accessibility are very extensive. On social media networks, web accessibility is often referred to as #A11Y (hashtag A 1 1 Y). This is because their are exactly 11 characters between the letters A and Y in the word accessibility. The acronym also helps users save space when sharing social updates on accessibility, especially on Twitter where character amounts are limited. If you're active on social media you're probably already aware of this but for those of you aren't, follow this #A11Y link and join the conversation.
Here are some helpful websites to assess your accessibility compliance:
Why is Web Accessibility Important?
There are many reasons for web accessibility that extend beyond being compliant with federal and local laws. A primary reason for accessibility is to continue to connect with the aging population. As people age they are finding themselves relying more on accessible websites and technology to be their eyes, fingers and voice. Text-to-speech and speech-to-text are often looked at as conveniences, features and benefits rather than legalities and federal mandates.
Web Accessibility is a Win-Win
Ensuring accessibility in all web based programs and apps places your information in the hands of consumers in a manner that covers the masses and is preferred by people who might not be considered disabled, but need the extra assistance in fully receiving the message your business is conveying.

By putting accessibility in all areas of your company you are ensuring federal and state compliance. You are also providing a service to many of your clients.

Contact a professional at Braille Works to get started in WCAG 2.0 AA Compliance today.

Tags: a11y, Accessibility, ADA, GAAD, Global Accessibility Awareness Day, WCAG 2.0, web accessibility, website accessibility


Categorized in: Accessibility, Government, Health and Wellness, Informational, News and Events, Technology

This post was written by Braille Works