Secure WCAG Compliant Solutions for the Banking Industry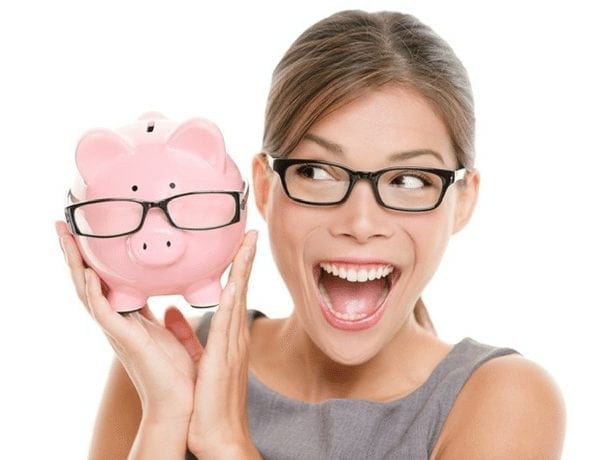 Braille Works has helped banking and financial institutions stay ADA compliant for over 22 years. We understand that ADA compliance is more than just a "one-size-fits-all" solution. More people are experiencing vision deficits and related disabilities and are in need of visually accessible materials.
Whether you're looking for Braille, Large Print, Audio or Accessible PDF documents, Braille Works can help. Your project may be a one-time Braille transcription or regular monthly statements and notices in several formats, we're here to serve you. Here are some examples of the accessible statements and documents we produce:
Statements & Notices
Checking
Savings
Credit Card
Mortgage
Investment
Insurance
Other Notices and Disclosures
Many more

Marketing Materials
Conference Materials
Business Cards
Legal Documents
Fliers and Brochures
Agendas
Invoices
Contracts
Security and Accessibility Compliance
Braille Works provides the highest level of security standards to ensure your clients' data and information are accurate and protected.
Data Security: PCI 2 compliant, ISO 27002 compliant, data encryption, 24/7 secure electronic file transfer
Disaster Recovery: Comprehensive business continuity plan, Fully operational disaster recovery and off-site data backup facility, Agility Recovery subscriber, Secure Iron Mountain off-site data backup, and three buildings on the main campus.
Accessibility Standards: WCAG 2.1 AA compliant, Section 508 compliant, ADA compliant, BANA standards
Contact our Financial Services Team Today to Get Started
Fill out the form or give us a call at 1-800-258-7544. We welcome the opportunity to discuss your specific needs and the quality accessible statements we provide to the banking industry.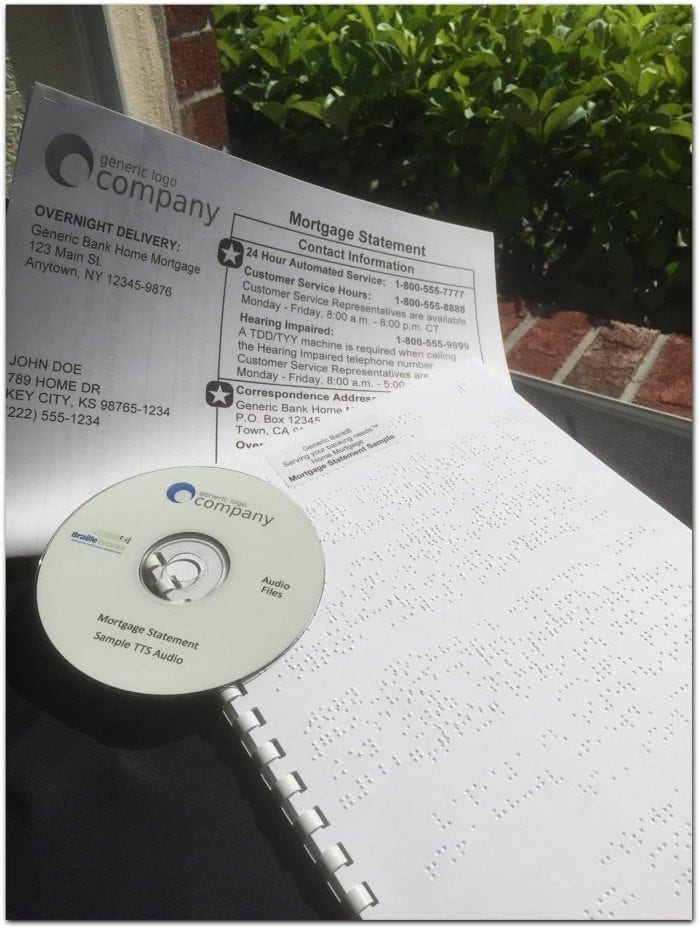 Why Provide Accessible Statements for Customers with Visual Impairments?
It's the Law – Accessibility laws at the State and Federal levels mandate that organizations be in compliance.
Reduce Legal Risk – The cost of settling court cases greatly surpasses the cost of compliance.
Prevent Discrimination Claims – Having IT/IS systems that are not compliant may result in complaints or lawsuits from employees.
"An estimated 285 million people worldwide are visually impaired. 246 million of those have low vision and 39 million are blind (Source: World Health Organization)." Even beyond the legal requirements of the Americans with Disabilities Act; in order to remain competitive, your web site and documents need to be accessible to the visually impaired community. Imagine all the new clients you can acquire by adding alternative formats to your current print materials and having an accessible web site.
Braille Works is the leader in accessible Braille, large print, audio and PDF documents. We're your one-stop-shop for accessible statements and improving relationships with your customers who are blind or visually impaired.
Establish Accessibility Compliance While Increasing Your Client Base
Studies show that people with disabilities have a high consumer loyalty to businesses that are accessible and supportive of persons with disabilities. Studies show that people with disabilities have a high consumer loyalty to businesses that are accessible and supportive of persons with disabilities. Serving their community will allow your financial institution to grow and establish better relationships, while being in compliance with federal and local laws such as:
The Americans with Disabilities Act (ADA)
Sections 504 and 508 of The Rehabilitation Act
Electronic and Information Technology Accessibility (EIT)
Federal Acquisition Regulation (FAR)
Braille Works has the technology and staff to help your organization meet your clients' needs for accessible statements and documents. Let our compliance experts help your company advance independence and promote greater opportunities for your clients with visual and reading impairments in a caring, timely, and secure manner.
Our Vice President Lou Fioritto has been blind since birth, giving us a unique perspective on the needs of people living with blindness or low vision. We are a certified women-owned business registered with the Women's Business Enterprise National Council. All materials are produced in-house and we never subcontract your clients' documents out of our facilities.
Learn More about the Options for Accessible Statements
| | |
| --- | --- |
| | Accurate and accessible online PDF's are your solution for all public-facing documents. |
| | Audio documents are easily accessible for your customers with blindness or low vision. We offer live-reader audio recording as well as text-to-speech synthesized-voice recordings. |
| | Custom Braille transcription and embossing services for banking and financial institutions. |
| | Fully compliant large print bank statements – tested by those with visual impairments and developed for ease of reading. |
Contact us today to join the accessibility movement and give your customers the dignity they deserve.
---