Custom Braille Transcription, Printing & Embossing Services
Whether you're looking for a one-time braille transcription or need regularly monthly customer communications, Braille Works is here to serve your company. Here are some examples of the braille documents we produce:
Statements
Invoices
Healthcare Documents
Restaurant Menus
Contracts

Legal Documents
Notices and Disclosures
Fliers and Brochures
Business Cards
Agendas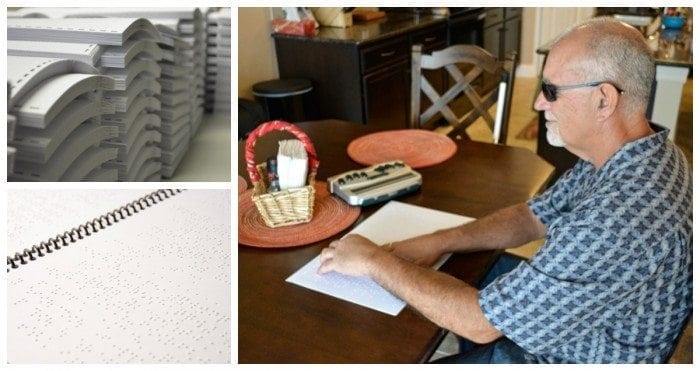 Braille Transcription Process:
Your document is received by Braille Works
Our professional transcriptionists convert your document to Braille Ready Format (.brf)
The document is checked for Quality Assurance
Your document is produced on one of our high speed braille embossers
Your finished braille document is packaged and shipped.
Taking the Mystery Out of Braille
Braille Works transcribes materials in many languages including English, Spanish, French, Italian, and German. Our braille transcription process meets or exceeds the standards set forth by the Braille Authority of North America (BANA) and Unified English Braille (UEB).
There are two types of commonly used braille; Grade 1 and Grade 2.
Grade 1:  This is the most basic form of braille and more of an instructional level than a functional level.  Every letter is transcribed making the braille document longer.


Grade 2:  This form of braille uses contractions; or combinations of letters as a single character, and takes up less space on the page.  It is the most widely accepted form of braille and is easier for experienced braille readers.
Submitting Documents for Braille Transcription
Document File Formats: Acceptable formats include MS Word®, Text documents (.rtf or .txt), PDF, Excel, PowerPoint and/or hard copies.  Files submitted electronically in MS Word® or Text format are less labor intensive and therefore less expensive to transcribe.
Timing:  No two jobs are alike. We work with you to develop an acceptable timeline.
Paper:  We use two types of braille paper.  For documents over 32 braille pages, we use 8 ½ x 11 inch paper (92 bright 90 lb. tag) with a high gloss finish.  This gives "High Def" dots and makes the braille much easier to read.  These documents are bound with a plastic GBC comb or spiral binding and can include protective plastic covers when requested.  If your document is less than 32 braille pages, we generally suggest the magazine fold format, which is embossed on super smooth 11 x 17 inch; 65 lb. white cover stock.
Braille Document Binding Options
Several methods of binding are available. Your Braille Works rep will review the options with you to determine the best method of binding for your projects.
Click the Icons Below for Solutions Specifically Geared Towards Your Industry
Accessible Document Remediation Services
We also provide a service for converting documents to a "screen reader friendly" format.  This process gives your customers with blindness or low vision an accessible document (Section-508 compliant) they can listen to independently using their PC.  [Learn More]