Whether you need a one-time braille printing and transcription or regular monthly customer communications, Braille Works is here to serve you. Our braille transcription process meets or exceeds the standards set forth by the Braille Authority of North America (BANA) and Unified English Braille (UEB). With over 30 high-speed braille embossers and 25 high-volume printers, we can provide fast and accurate transcriptions of your documents.
We produce a wide variety of braille documents, including:
Why Braille Works? Accuracy and security. Every time.
We have nearly 30 years of experience providing accessible, high-quality documents.
All of our services are performed in-house from start to finish.
Strict adherence to the industry's highest security standards and quality control procedures.
In-house ADA Compliance Specialists ensure all federal laws are observed.
Braille Transcription Process
We perform all of our braille transcription, printing, and embossing on location at Braille Works' facilities. This allows us to guarantee your document's security and ensure all of our final products meet our high standards of quality and accuracy.
We review your document.
Our in-house professionals transcribe your document to Braille Ready Format (.brf).
We perform a Quality Assurance check to ensure your document is accurate.
The document is then embossed in-house on one of our high-speed braille embossers.
We package and ship your braille document to you or your client.
For questions regarding our process, including turnaround time and quality assurance, please visit our Frequently Asked Questions.
Braille Transcription Languages Available
Braille Works transcribes materials in Latin-based languages, including:
Braille Printing and Binding Options
Paper: We use 8 ½ x 11 inch 65 lb. white cover stock paper. This "holds" the dots and makes the braille last longer and much easier to read. Your braille document can include protective plastic covers when requested.
Binding: Our braille documents are bound with a plastic GBC comb or spiral binding. Your Braille Works rep will review the options with you to determine the best method of binding for your projects.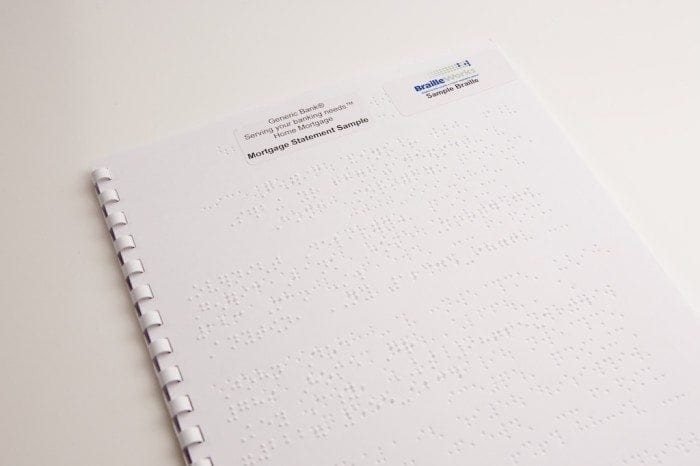 Accessible Document Remediation Services
We also provide a service for converting documents to a "screen reader friendly" format.  This process gives your customers with blindness or low vision an accessible document (Section 508 compliant) they can independently read with their computer.  [Learn More]
Discover Our Industry-Specific Solutions