Quality Assured Braille Menus
Published on
When Reputation Matters, Only the Best Will Do.
Providing your guests who are visually impaired with the same experience as your sighted guests is our ultimate goal. Sometimes it's important to share your exact message, exactly your way. We help you do that in braille. When you have a reputation to maintain, only complete control and high quality braille restaurant menus will do. Your message will be shared with the blind and visually impaired community, exactly as you would want everyone to receive it, because of our extensive quality assurance and proof reading process.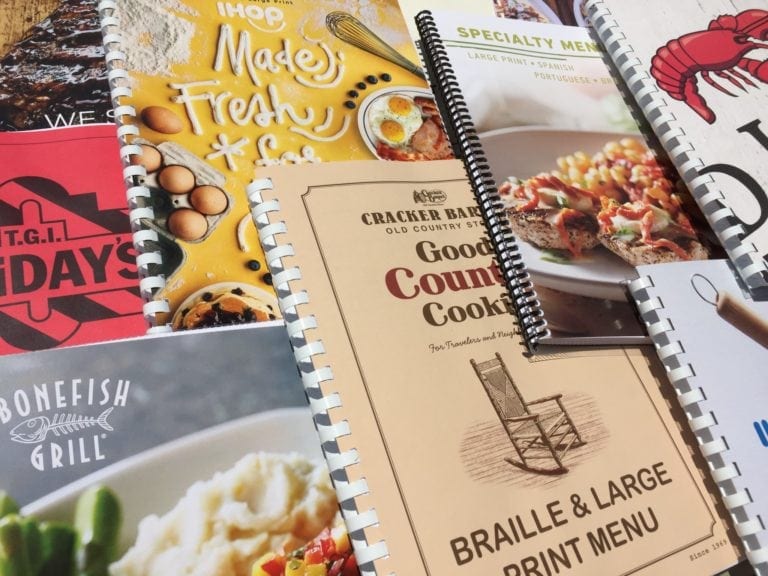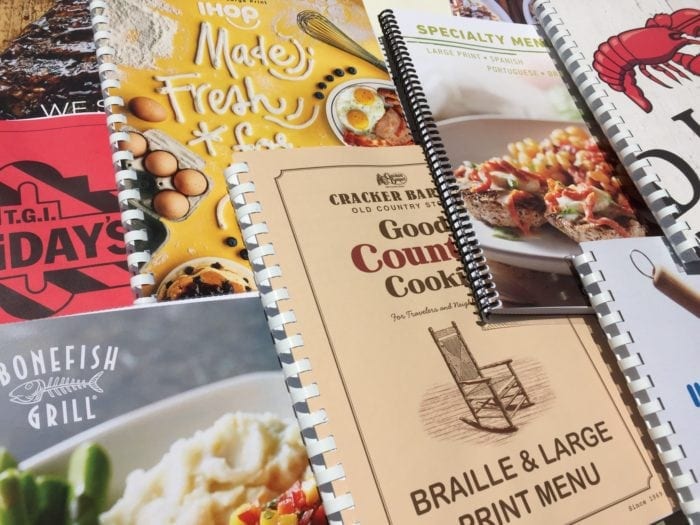 Accurate, On-Time, Every Time.
Capable of handling even the high-volume needs of the largest brands in the hospitality industry, you'll have a dedicated team and campus full of the highest quality, state of the art braille embossing machinery at your command. We create and produce your menus in-house, made right here in the United States. By keeping these jobs at home and never outsourcing, your order helps support over 130 hard-working American families. This also helps ensure your braille menus are delivered: Accurate. On Time. Every Time.
If you need a solution you can rely on to present your brand in the best possible way to your customers with disabilities, put your trust in the people who will get it right the first time. We strive to make meaningful connections between brands and the blind community; at restaurants that just happens to be through braille restaurant menus.
Inviting Everyone to Eat at Your Table,
No Matter the Size of the Table.
Not forgetting our roots, we're proud to extend our services to include everyone. From the big name brands and chain restaurants, to the one-off orders from the mom and pop dinner around the corner; we help you invite everyone to eat at your table.


Designed for Real People.
Built for Ease of Reading.
Traditional braille copies were notoriously confusing; created for utility and only made to avoid lawsuits. We've reimagined what it means to create braille restaurant menus. Taking feedback from the people themselves who are reading your menus, your customers who are blind and visually impaired, we've designed braille menus with a whole new approach.
Since the very creation of our company, the driving force behind everything we do is to make usable documents for people who are living with blindness; we call those alternative format documents. Our goal was to add meaningful features and intentional accessibility to restaurant menus. We accomplish this redesign through useful braille tables of contents, numbered pages, curated section and line breaks, compact menu sizes, and inter-point/duplex embossing, meaning the braille is embossed onto both sides of the paper.
More than Just Braille
Building connections and community at your restaurant helps you keep customers coming back time and time again. With this in mind we work to include special features designed to fit your brand's specific needs and the special needs of your community.
Spanish sections or menu translations in other languages, large print versions for readers with varying types of visual impairments, and electronically accessible documents (that adhere to Section 508 compliance), are all options available upon request. Contact us for a customized quote, free of charge.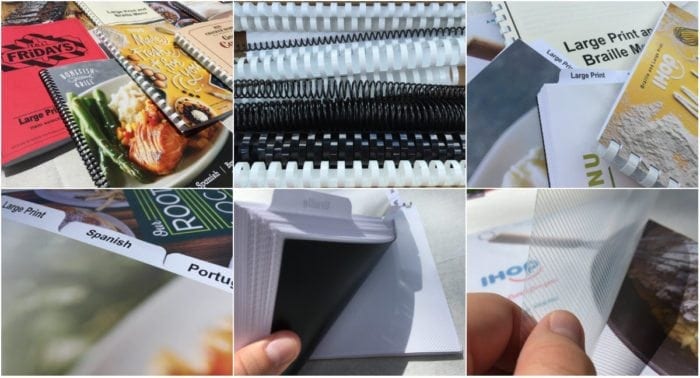 Join the Accessibility Movement.
Start Today.
For over 22 years we've been working with restaurants all across America, towards the mission of "Making the World a More Readable Place™." Here are some of their stories and the humbling things they've said about us:
"Supplying braille and large print menus to over 1,800 restaurants with differing menus is not the easiest task. With the excellent customer service provided by Braille Works, my job is much easier. I've worked with Braille Works since 1994 and they have proven to be the best in supplying braille and large print menus to our customers. I've never had a complaint on the menus, only glowing thanks. You can't go wrong with Braille Works!"

– Applebee's

"Working with Braille Works has been an absolute pleasure. Everyone is so personable and professional, and the turn around time on our braille menus is amazing. We continue to rely on them year after year, not only for their reliability, but their continued dedication to providing the best possible service; and their commitment to getting the job done right."

– Red Lobster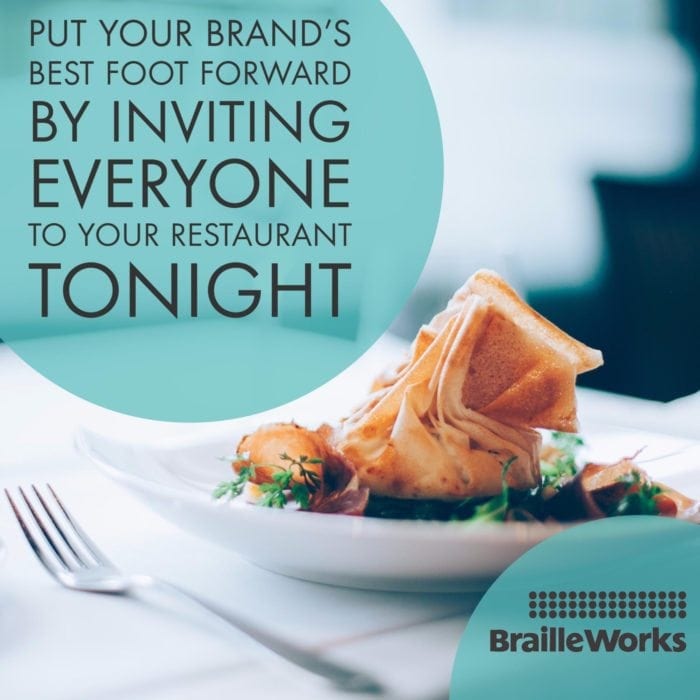 Accessibility Without Compromise
Putting your brand's message at the forefront and guiding readers in the same way that someone with sight might browse a menu, we've added the same elements you've grown to expect from traditional restaurant menus. Accessibility and design without compromise.


Thank You for Helping to Make the World a More Readable Place!
We're also happy to send a sample pack of restaurant menu options at your request, so that you can see, hold, read, or otherwise find out for yourself what makes our menus different [Learn more].
---
Tags: Accessibility, Blind, Braille, Braille Menus, braille restaurant menus, For the Blind, large print menus, restaurant menus, restaurants


Categorized in: Accessibility, Informational, Restaurants

This post was written by Braille Works