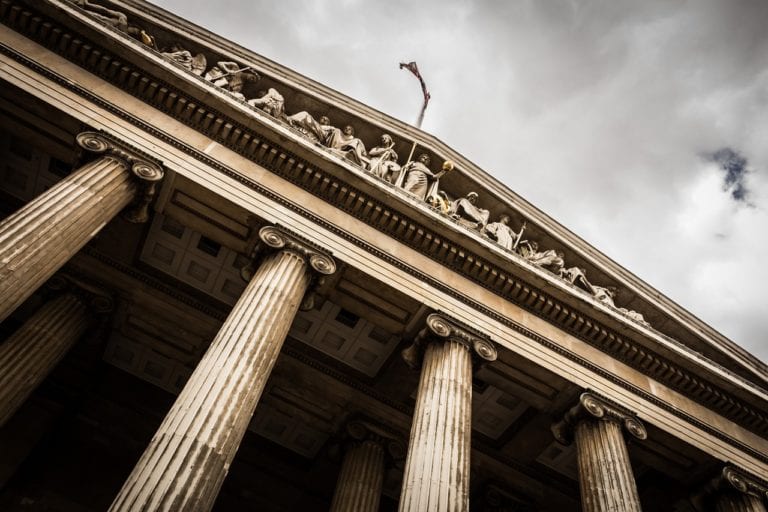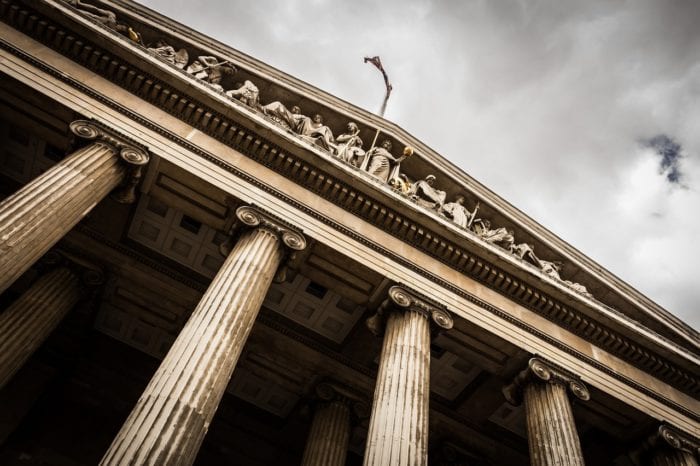 As a trusted partner to numerous Federal, State, and Local Government agencies, Braille Works understand that your goal is to find an accessibility partner that can deliver at a reasonable price. We provide superior alternative formats that people want in a secure environment at a reasonable price. Braille Works ensures a low-risk, high-performance solution for your agency. We're the whole package.
Experience
Over twenty-five years of experience
A reputable organization with a demonstrated history of excellent performance
Currently contracted to provide statements and notices for some of the U.S. Federal Government's largest agencies (contractual non-disclosures prevent us from disclosing organization names)
GPO SPA Vendor
Security
Braille Works is SOC 2 Type II Certified w/ HITRUST Common Security Framework (CSF v9).

Under this audit, Braille Works is SOC 2 Certified with Additional HITRUST Considerations:  HITRUST CSF Implementation/Segment Specific Requirements and Risk Factors.

Our complete in-house process ensures your confidential documents remain secure
Each of our four company-owned buildings and our DR site are equipped with cameras, key fob entry, computerized sign-in for guests and more
Highest industry security standards for data encryption, handling, and storage
Strict quality control procedures keep data accurate and confidential
Capabilities
We employ over 200 full-time team members – including designated Government Program Managers, ADA and 508 Compliance Specialists, expert Braille Transcribers and Proofreaders, and factory-trained Repair Technicians for embosser maintenance
We have over 30 high-speed braille embossers, 25 high-volume printers, Text-to-Speech (TTS) audio, and programmers and – Meaning we can handle high volume projects and are never at a production stand-still.
Expert Braille, Large Print, Audio, and 508 Document Remediation Services
---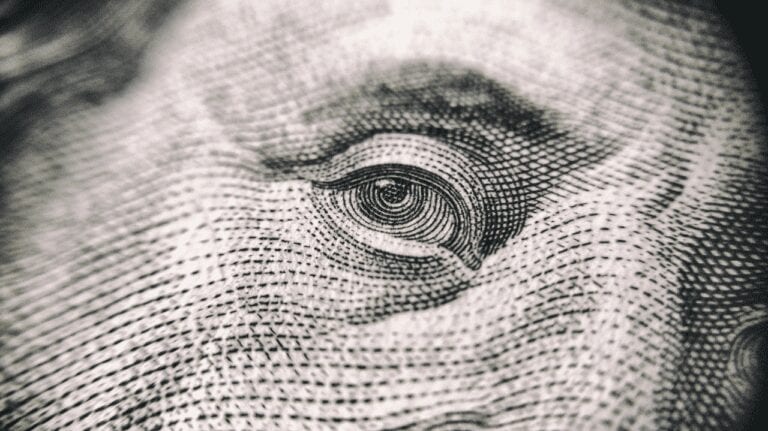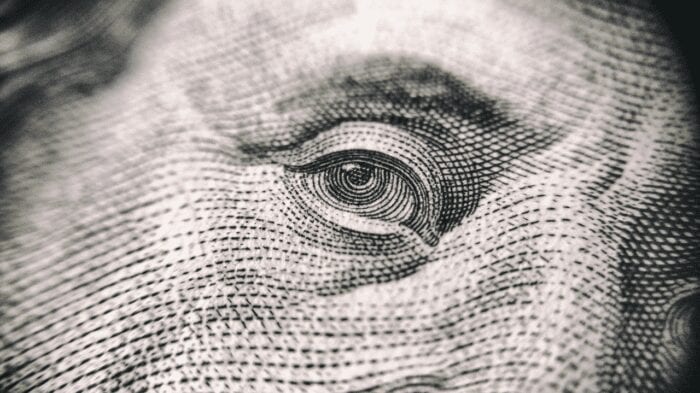 Our pricing is based on the actual documents and specific services that you need, not just page counts, because we not only want you to get a good price for your project, we also want your end-user to have a quality product. Not all documents are created equal; some have tables, images, columns, and more data than others, and therefore need more remediation effort than their counterparts. Because we do not take shortcuts on braille, large print, audio or accessible PDFs, we have never had an end-user compliant. That's valuable as well.
Many companies in the industry either don't understand the intricacies involved in working with the government or do not have the resources and workforce to effectively perform on your contracts, which means they'll require a large learning curve.
Due to our experience and expertise, we are familiar with the budgetary, oversight, and timeline restrictions you face. Simply put, you can trust us to deliver!
Braille Works is registered with SAM, GPO, and most State procurement systems.
| | | |
| --- | --- | --- |
| NAICS | 323111 | Commercial Printing |
| | 561410 | Document Preparation Services |
| | 624120 | Services for the Elderly and Persons with Disabilities |
| PSC | T011 | Print/Binding Services |
| | T099 | Other Photographic, Mapping, Printing, and Publication Services |
| NIGP | 961-72 | Transcription Services: Academic, Braille, Legal, Medical, Electronic Duplication, etc. |
| | 918-25 | Compliance Consulting, American Disabilities Act (ADA) |
| | 82111804 | Written translation svcs |
Braille Works Capability Statement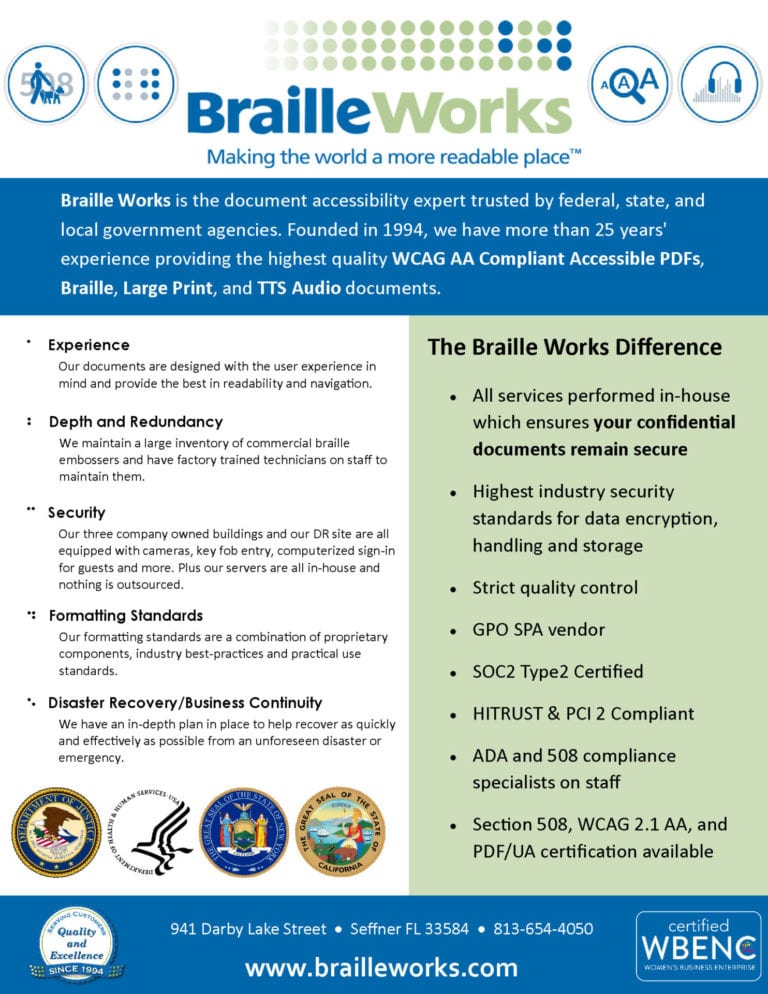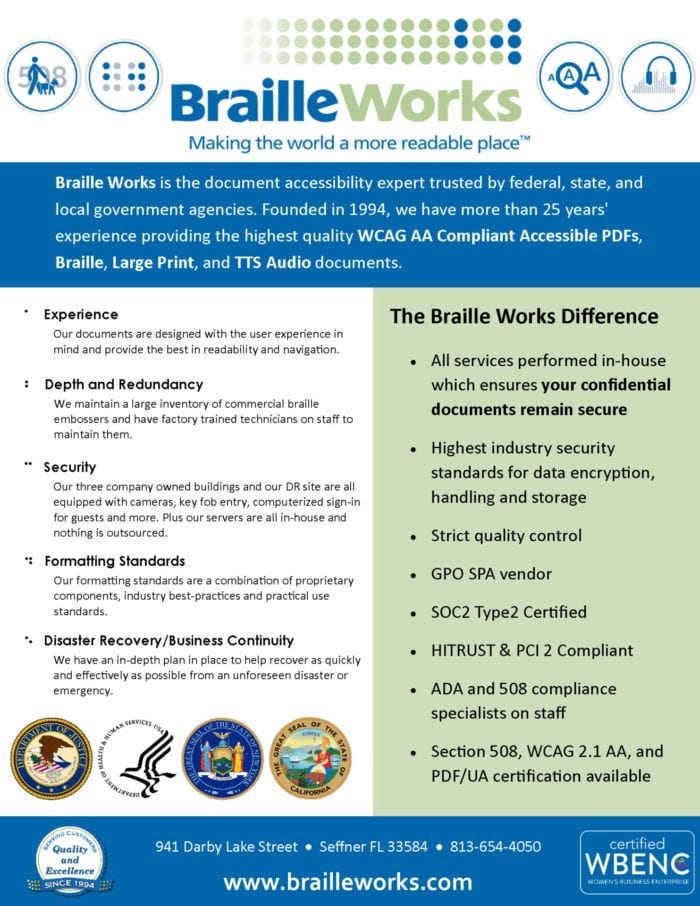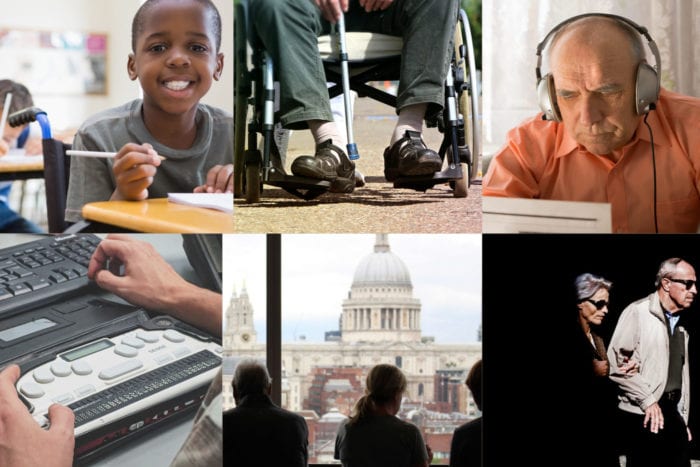 Your government agency provides the much-needed information for the public. So, when an end-user can't read the resource provided, people miss out on valuable resources, and you miss valuable opportunities to communicate crucial information.

Braille Works has partnered with various government agencies since 1994. We've never dropped the ball or failed to deliver on our contracts in the more than 25 years that we've been doing this. Our track record speaks for itself: we provide superior alternative formats that people want in a secure environment at a reasonable price. We're the whole package.
If your agency is not compliant, you miss out on valuable opportunities to communicate important information to people (approx. 12 million Americans have a visual disability). Additionally, your agency could be sued for negligence. The costs associated with litigation and settlements would far outweigh the cost of being proactive about compliance by procuring alternative format services now.
DYK? The Information Technology and Innovation Foundation (ITIF) analyzed the accessibility of government websites and found 58% of the 300 most widely used government sites indicated significant accessibility problems. (03/2017)
As Government agencies are adopting the technologies of the 21st Century, and cutting down on paper to move digital, you have options.
---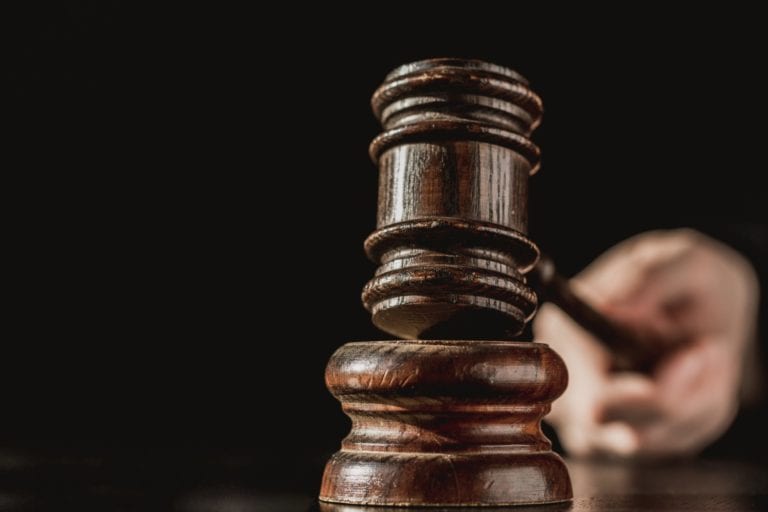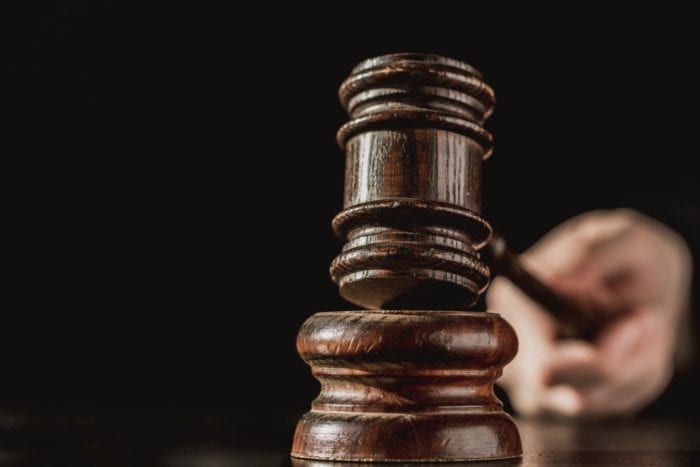 Government agencies and institutions have a clear mandate to provide consumers with information in accessible formats. Here are the laws that govern your bodies, in order of their signing:
ADA
The Americans with Disabilities Act (ADA) requires businesses and organizations to provide equal access to goods, services, and communication. The law addresses providing braille, audio, closed caption, wheelchair ramps, doorway widths, and more.
Section 508
The 21st Century IDEA
Effective Communication Rule
The "Effective Communication Rule", under Title II and Title III of the Americans with Disability Act, makes it mandatory for public and private businesses to provide equal access to all communication.
If there is a national emergency or FEMA forms to be filled out, it's important for people who have a visual or reading disability to have access to the same information, warnings, and resources as everyone else. When government agencies are compliant lives are saved and systems run more smoothly.