Braille Choices in Accessible Documents
Published on
Paper Braille or Electronic Braille? That's the Question.
Paper Braille or Electronic Braille is a question of personal preference and sometimes dependent upon the circumstance. Both Braille choices are a necessity to blind and low vision readers.
There are many things to consider when purchasing Braille. Make sure to investigate all options when selecting the best format for your clients.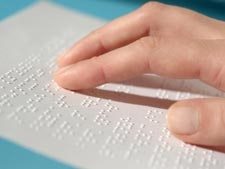 What's the Difference?
Paper Braille allows for better reader fluency, ease of document review and is always accessible – even when the power goes out. Not everyone reads Electronic Braille or has the necessary tools, like a Braille Display or screen reader software, available to them.
Electronic Braille has advantages, though. The Braille Display dots don't wear or fade overtime, it's not bulky, it's easily accessed in tight spaces (like on an airplane), and is easily stored and accessed at the tip of the users' fingers.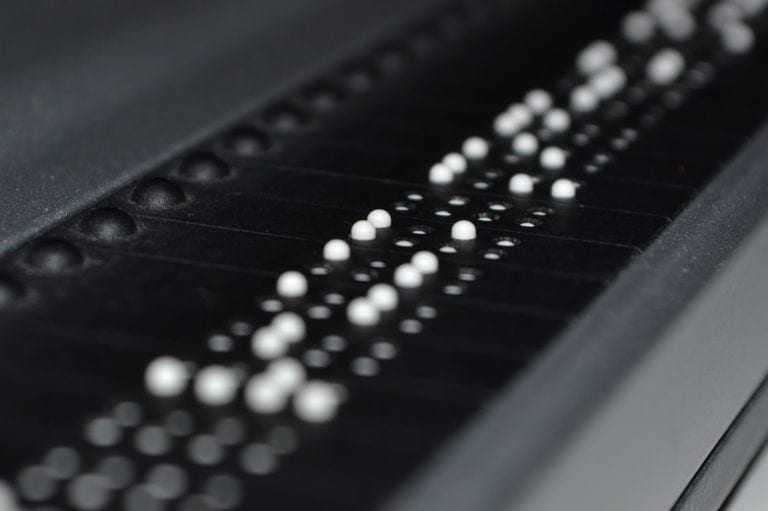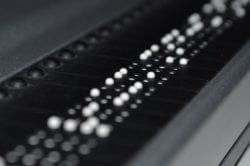 Which do I Choose?
First, think about the type of document you are preparing for your client. Does the document contain private information or ask the reader to make important decisions? Is it a reference guide or take-home material to review at a later date?
Paper Braille works well for documents requiring security, detailed overviews and important decisions for clients.
Electronic Braille works well for conferences and presentations. The document needs to follow 508 Compliance and WCAG 2.0 guidelines so it's screen reader accessible.
We ultimately suggest asking your clients which formats they prefer.
Don't Lose Clients Because of Lack of Accessibility.
All of our Braille transcriptions are done in-house and are in compliance with ISO 27002 and COBIT Standards. This makes us a leader in sensitive document transcriptions and ensures your clients' documents are protected while in our facility.
We're here to meet the alternative format needs of you and your clients. Contact us today to discuss your project or give us a call at 1-800-258-7544 anytime. We welcome the opportunity to discuss your specific needs and the quality solutions we provide.

Paperless Braille (508 Compliant Electronic Documents)
For fast and Accurate ADA compliance in banking and finance documents, Braille Works offers 508 Remediation of Online Documents and is your solution for public-facing documents. Learn More »
Paper-Based Braille
Custom Braille Transcription & Embossing – We make it easy. Transcribe materials in English, Spanish, French, Italian, and German. Learn More »
Large Print
Fully Compliant Large Print Documents – Tested by those with visual impairments and developed for ease of reading. Learn More »
Audio
Live Reader and Text-to-Speech (TTS) Audio Documents – making documents accessible for your Customers with Blindness or Low Vision. Learn More »

Tags: 508 Document Remediation, Accessibility, Accessible Documents, Accessible PDF, Blindness, Braille, Section 508


Categorized in: Accessibility, Informational, Opinion, Technology

This post was written by Braille Works