We're suspending business card production for now.
We'll update this page if we begin business card production again.
Make a Great Impression with Professional Braille Business Cards
The majority of the time your business card is the only thing a potential client takes away from a meeting with you, so make yours unforgettable by adding braille! We print and emboss braille business cards from scratch without the use of labels, leaving you with stylish, professional business cards that can be read by anyone, sighted or not.
Braille Business Card Services:
Braille and Print: Send us your camera ready artwork in PDF format and we will print and braille your business cards. We print one or two sided cards in color or black ink, the choice is yours. Braille is embossed directly onto thick and strong 80 lb. white cover-stock. We also offer graphic design services if you need your business card artwork created.
Braille Business Card Parameters
All braille business cards are embossed in BANA compliant braille. Embossed braille is much larger than regular print font. This means in most cases braille business cards are limited to:
Company Name
Your Name
Phone Number, E-mail OR Website
We braille up to 4 lines, 13 characters per line, on a standard-sized business card (3 ½ x 2 inches). This includes spaces and every capital letter requires 2 spaces. Text can wrap several lines if needed.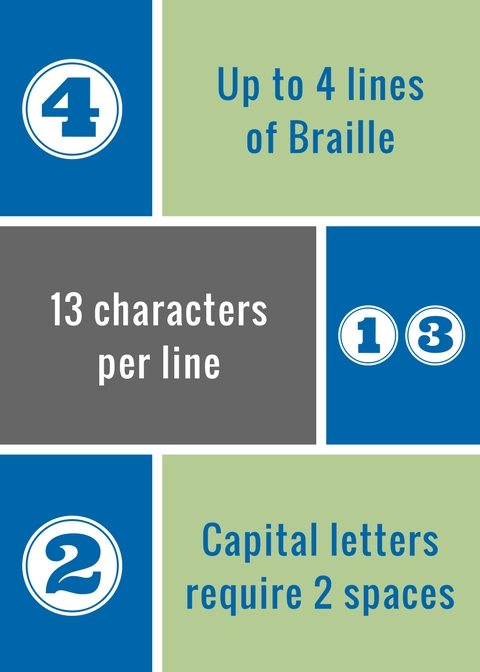 Braille Business Card Minimum Order Size
The minimum order size is 250. Full color is available as well as grayscale (black and white), the choice is up to you. All braille business cards will display regular print and/or logo graphics on the cards and braille is embossed on the back.
Click the Icons Below for Solutions Specifically Geared Towards Your Industry
Accessible Document Remediation Services
We also provide a service for converting documents to a "screen reader friendly" format.  This process gives your customers with blindness or low vision an accessible document (Section-508 compliant) they can listen to independently using their PC.  [Learn More]