Fictional Characters Who Are Blind
Published on
Blind Characters from Movies, TV, Cartoons, Video Games and Comic Books.
Fictional characters who are blind in entertainment are rare but when they are included the characters are often interesting and provide a perspective on life not normally noticed by those with sight. Blind characters are usually popular with audiences, especially when their other senses have heightened abilities. A great example of this is Denzel Washington's portrayal of "Eli" in The Book of Eli, a 2010 American post-apocalyptic action film.
So why are people so intrigued? Blind characters often evoke feelings and responses from the audience that aren't always felt for other characters. The characters below are split into categories by entertainment-genre and cover several eye conditions including partial vision, visual impairments, total and temporary blindness.
Skip to:
---
Film/Movie
Frank Slade (Al Pacino – Scent of a Woman)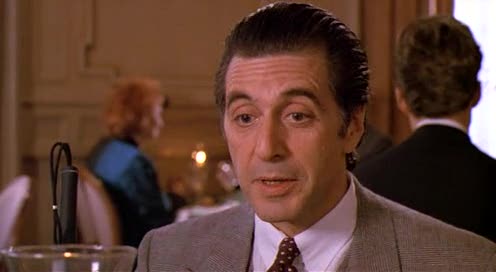 Scent of a Woman is a 1992 American drama film that tells the story of a preparatory school student who takes a job as an assistant to an surly, blind, retired Army officer. Pacino won the Academy Award for Best Actor for his performance and the film was nominated for Best Director, Best Picture and Best Adapted Screenplay.
---
Virgil Adamson (Val Kilmer – At First Sight)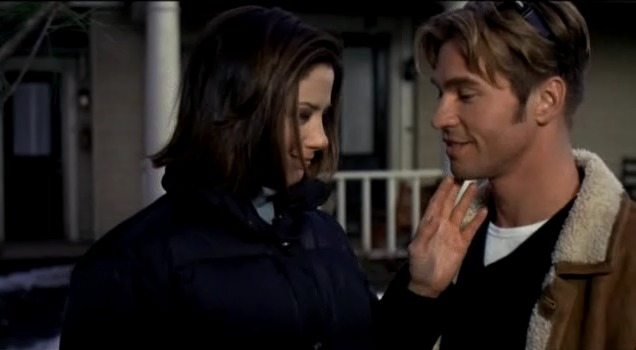 At First Sight tells the story of a man who has grown accustomed to blindness. At the urging of his girlfriend, Virgil undergoes an operation that restores his sight and subsequently deals with all the changes to his life.
---
Eli (Denzel Washington – The Book of Eli)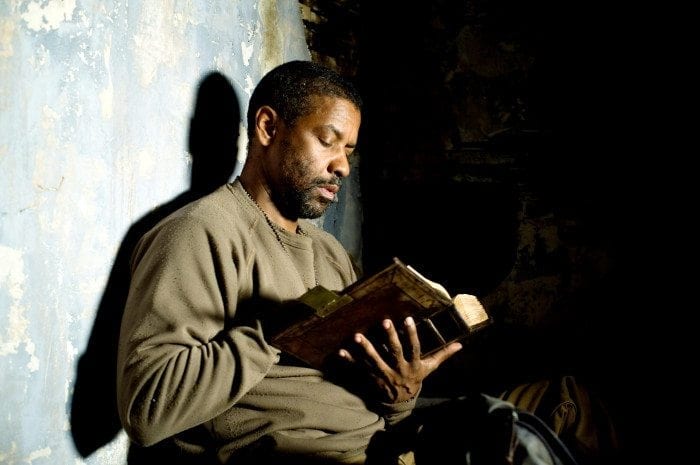 In a post-apocalyptic America where the once-picturesque countryside has become a desolate and violent wasteland, Eli fights to protect the sacred tome that could hold the key to the survival of the human race in this futuristic thriller. Audiences don't find out Eli is blind until the end of the movie when the antagonist steals Eli's Bible, the last known copy in existence, and realizes it's a braille book.
---
"The Blind Man" (Stephen Lang – Don't Breathe)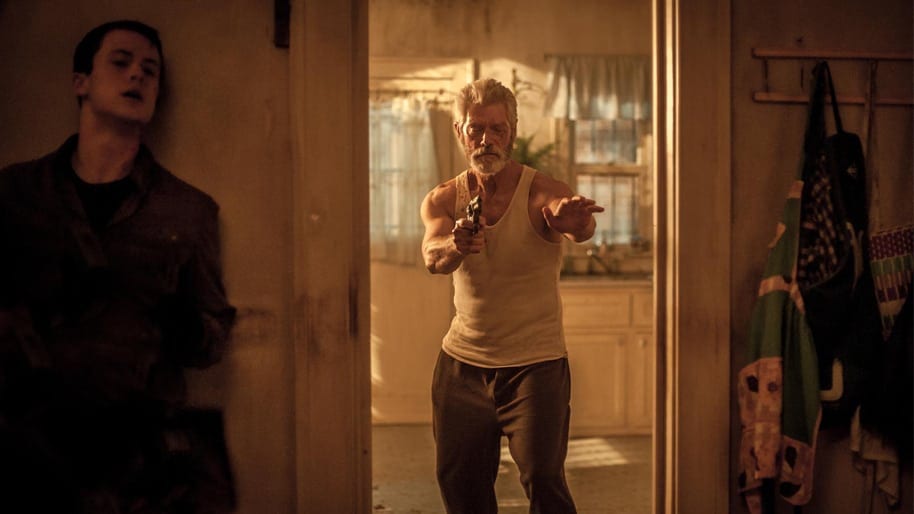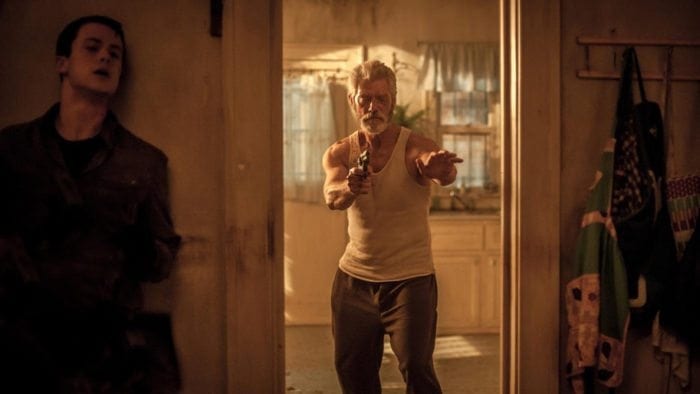 Don't Breathe is a 2016 American thriller film which tells the story of three Detroit thieves who like breaking into the houses of wealthy people. After hearing about a blind veteran played by Stephen Lang, who received a large cash settlement following the death of his only child, the trio decides to invade the man's secluded home in an abandoned neighborhood figuring he's an easy target. Finding themselves trapped inside, the young intruders must fight for their lives after making a shocking discovery about their supposedly helpless victim.
---
Suzy Hendrix (Audrey Hepburn – Wait Until Dark)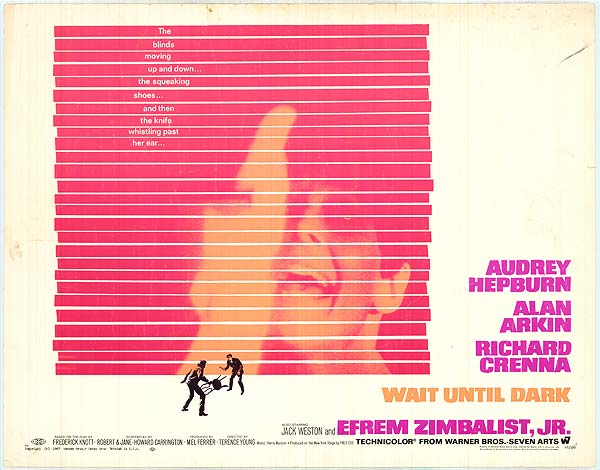 Wait Until Dark is a suspense-thriller released in 1967. It stars Audrey Hepburn as a young blind woman. Hepburn was nominated for the Academy Award for Best Actress for her portrayal of Suzy Hendrix but didn't take the award home.
---
Blinkin (Mark Blankfield – Robin Hood: Men in Tights)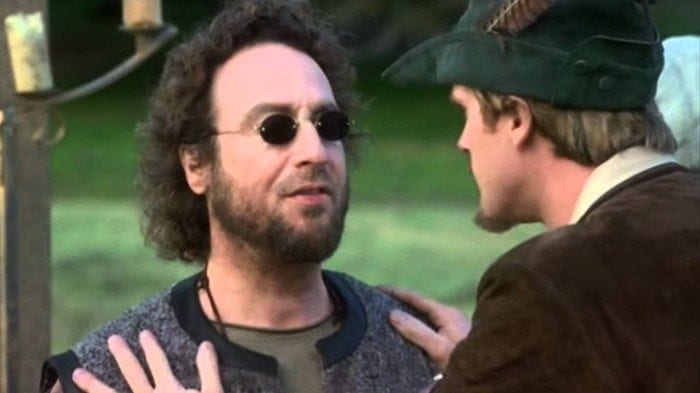 A spoof of Robin Hood in general, in Robin Hood: Men in Tights, Director Mel Brooks adds his own personal touch, parodying traditional adventure films, romance films, and the whole idea of men running around the woods wearing tights. Robin's family has a servant named Blinkin, who happens to be blind. Robin brings Blinkin along on his quests to get revenge on Prince John and the Sheriff of Rottingham for their roles in his family's death. Because it's a comedy, there are a lot of stereotypical "blind" jokes but they are presented in a lighthearted manner, making Blinkin one of the more humorous and memorable characters in this cult-classic.
---
Han Solo (Harrison Ford – Star Wars)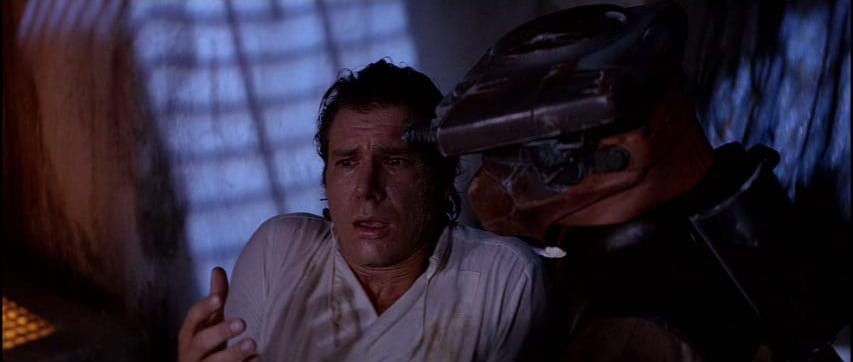 In the film "The Empire Strikes Back" Han Solo is frozen in carbonite for a full year before he's released in the next Star Wars film, "Return of the Jedi". Once he's released from the carbonite, he's struck with an illness called "hibernation sickness" which includes temporary blindness amongst other things.
---
Thomas A. Anderson (a.k.a. Neo & The One) (Keanu Reeves – The Matrix Trilogy)
In the third and final edition of The Matrix Trilogy, "The Matrix Revolutions", Neo is blinded by his adversary Agent Smith near the end of the film. One of Neo and Trinity's crew-mates named Bane is overpowered then possessed by Agent Smith, who subsequently ambushes and blinds Neo. However, this backfires on Smith when Neo discovers he now had the ability to "see" programs and machines independently of his eyesight. Of course we all know "The One" eventually destroys Smith and saves Zion.
---
Television
Geordi La Forge (LeVar Burton – Star Trek: The Next Generation)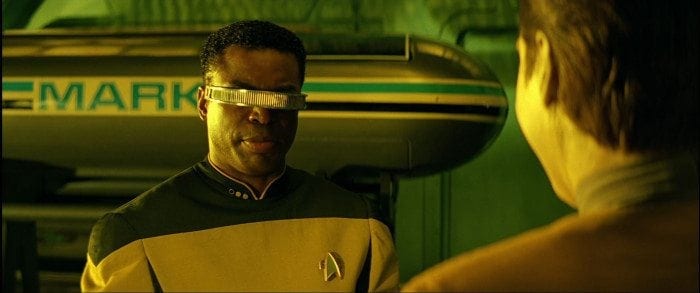 Lieutenant Commander Geordi La Forge is a main character in the television series Star Trek: The Next Generation and its feature films. He served as helmsman of the USS Enterprise in the first season, then promoted to the role of the chief engineer for the rest of the series and "The Next Generation" era films. Geiordi is naturally blind and his trademark in the series is wearing a Visor, which is replaced in the later films by ocular prosthetic implants.
---
G'Kar (Andreas Katsulas – Babylon 5)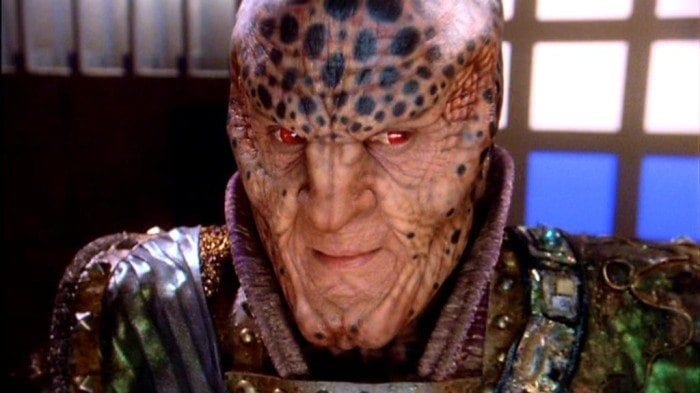 G'Kar is a fictional character in the Sci-Fi television series Babylon 5. He is blind in one eye and initially appeared as a villainous diplomat. As the series progressed, G'Kar transformed into a Messianic figure and the foremost spiritual leader of his people, the Narn.
---
Zatoichi (Shintaro Katsu)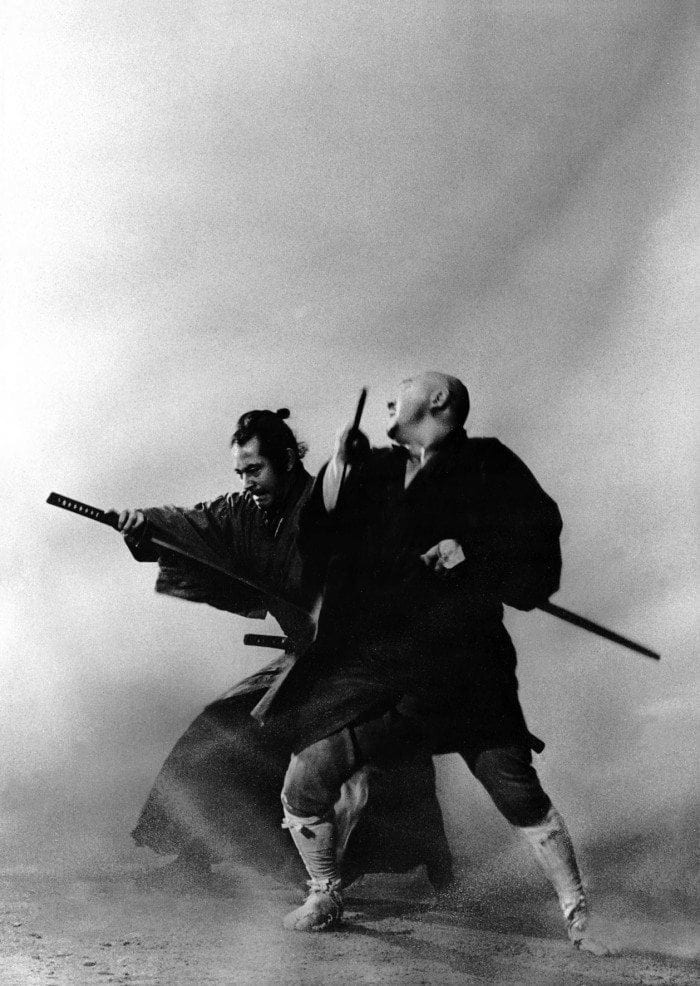 Zatoichi is a fictional character featured in one of Japan's longest running series of films and a television shows that are both set during the late Edo period. Zatoichi is a blind masseur and sword-master created by novelist Kan Shimozawa and the character has become an institution in Japanese film, almost like James Bond or Star Trek films here in America. The major difference being that Shintaro Katsu has played the main character since the series started in 1962 through the final installment 1989. Shintaro Katsu played many roles in his life, but in the hearts and minds of fans who loves samurai films he will always be Zatoichi.
---
Mary Ingalls (Melissa Sue Anderson – Little House on the Prairie)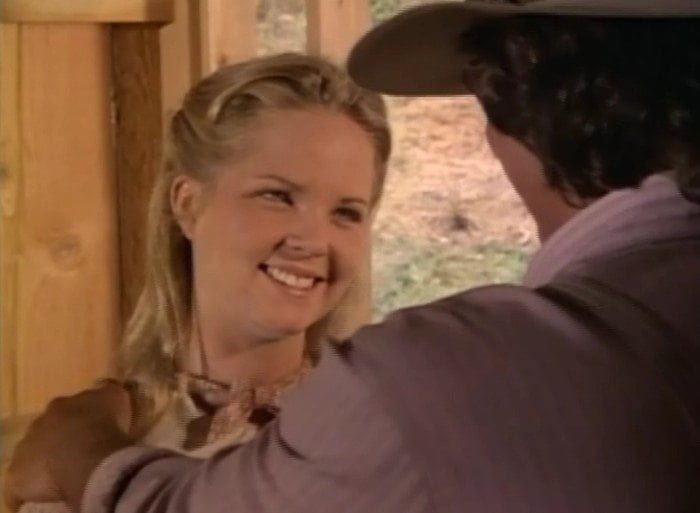 As if growing up in the 1800's wasn't hard enough, the eldest daughter on Little House went blind as a teenager due to scarlet fever. However, in the minds of many people, Mary's triumph over adversity makes her one of the most memorable TV characters in history.
---
Butchie (S. Robert Morgan – The Wire)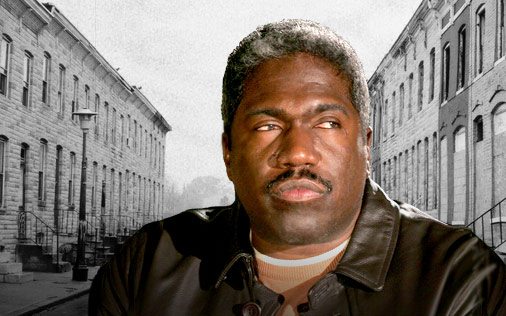 Butchie is the fictional blind man on the HBO drama, The Wire. The exact extent of Butchie's blindness isn't really known but the fact that he runs his own bar in East-Side Baltimore and knows how to handle business shows he's a strong character regardless of whether or not he can see.
---
Mike Longstreet (James Franciscus – Longstreet)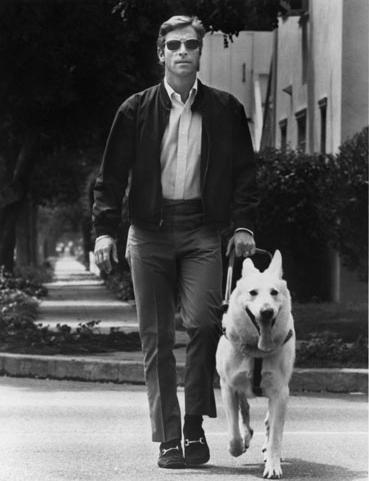 Longstreet is an American crime drama TV series that was broadcast on ABC in 1971-1972. A 90-minute pilot movie of the same name aired prior to the debut of the series as an ABC Movie of the Week. Insurance investigator Mike Longstreet loses his wife and is left blind after a bomb hidden in a champagne bottle explodes. Mike then dedicates himself to the pursuit and capture of his wife's killers. Longstreet's seeing eye dog was a white German Shepherd called Pax.
---
Alison (Courtney Thorne-Smith – Melrose Place)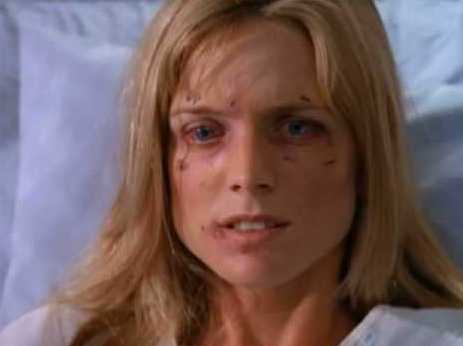 Alison went blind on Melrose Place after Kimberly blew up the building at the beginning of Season 4. Her temporary blindness lasted from episode 4-1: Postmortem Madness to episode 4-3: Blind Ambition.
---
Spock (Leonard Nimoy – Star Trek)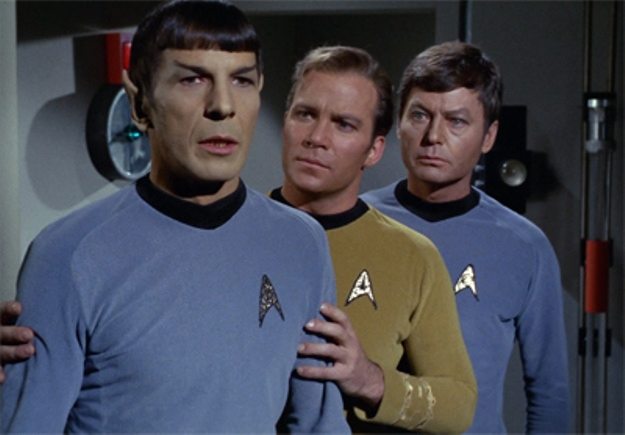 In the last episode of the first season of the original Sci-Fi television series Star Trek, "Operation: Annihilate!", Spock is temporarily blinded while the crew of the USS Enterprise finds a way to exterminate malevolent parasitic creatures that have taken over the residents of a Federation colony.
---
Hawkeye Pierce (Alan Alda – M*A*S*H)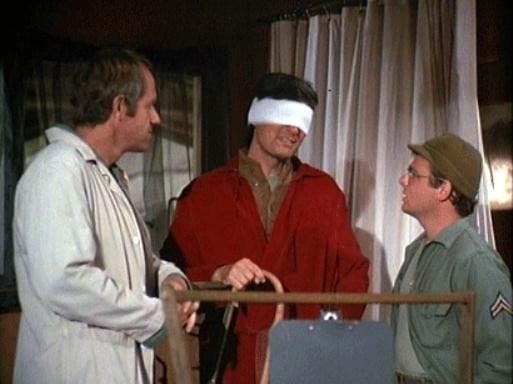 "Out of Sight, Out of Mind" was the 99th episode of the M*A*S*H television series. The third episode of the fifth season was originally aired on October 5, 1976. During the episode Hawkeye contends with sudden blindness after a heater explodes in his face.
---
Blake Carrington (John Forsythe – Dynasty)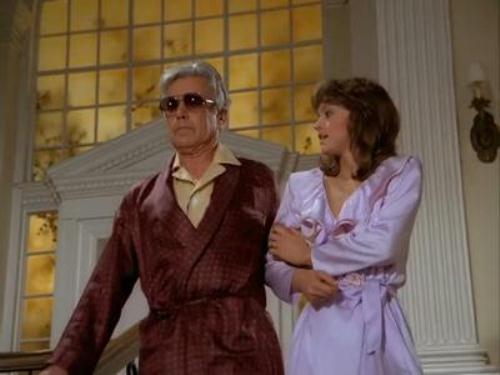 Dynasty is an American prime-time television soap opera that aired on ABC from January 12, 1981 to May 11, 1989. The second season featured an episode called "Blake's Blindness" wherein Blake finds out what it's like to be blind when the "bad guys" blow up a car beside him. He was angry and didn't take it very well at first but eventually decided he would use the temporary blindness to his advantage. Once his sight returned, Blake didn't tell anyone and pretended to still be blind in an effort to find out if his wife was being unfaithful and who his enemies were, etc.
---
Arthur Herbert Fonzarelli (a.k.a. Fonzie, Fonz, and The Fonz) (Henry Winkler – Happy Days)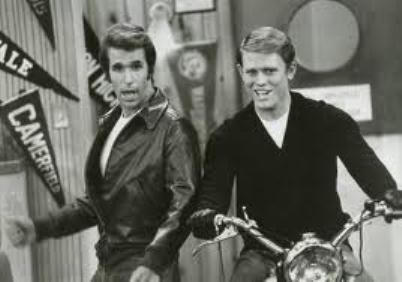 Ay! Where did they come up with this corny story-line? Al accidentally hits Fonzie in the head with a serving tray and he's blinded as a result. Richie tries tough love to snap the leather-jacketed legend out of his self-pity but unexpectedly adds a new four-letter word to The Fonz's vocabulary…..fear.
---
David Banner (Lou Ferrigno – The Incredible Hulk)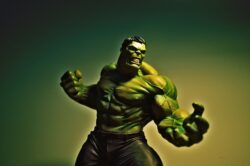 In an episode called "Blind Rage", David's life is in peril when an accident at chemical warfare test site leaves him blinded and at the mercy of a corrupt military official.
---
Steve McGarrett (Jack Lord – Hawaii-Five-0)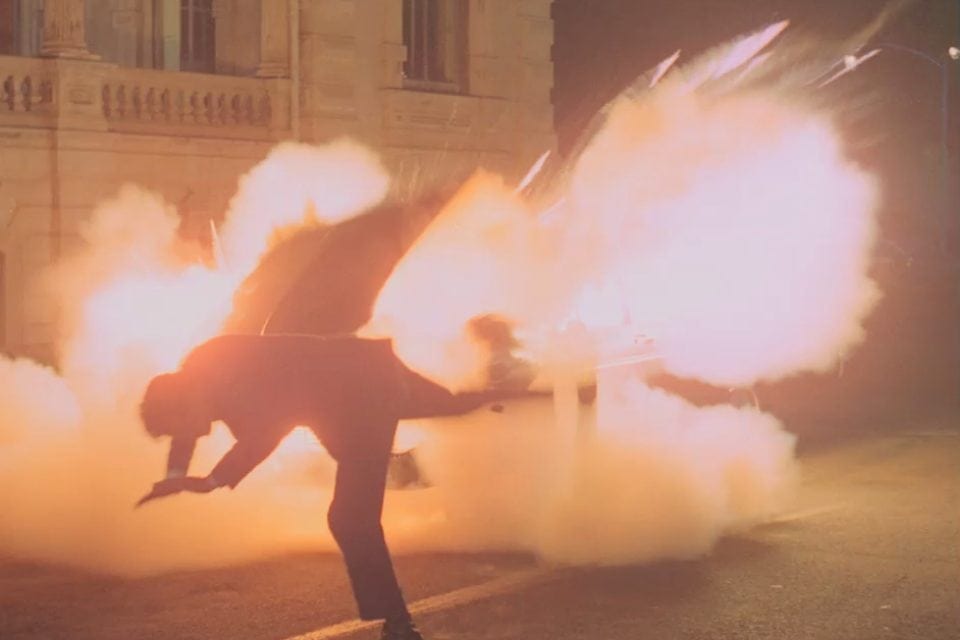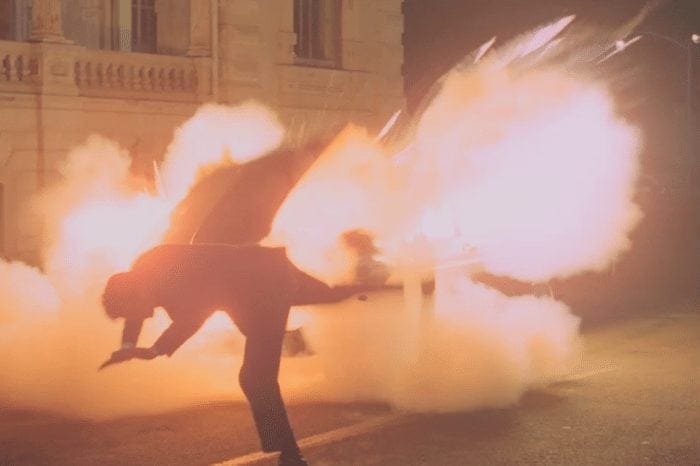 In an episode called "Blind Tiger", Steve McGarrett is blinded during a car-bombing (Jeez, yet another car bomb! How original ;)). Set in Hawaii, the show originally aired for 12 seasons from 1968 to 1980, and continues in reruns.
---
Jake Malinak (Alex Désert – Becker)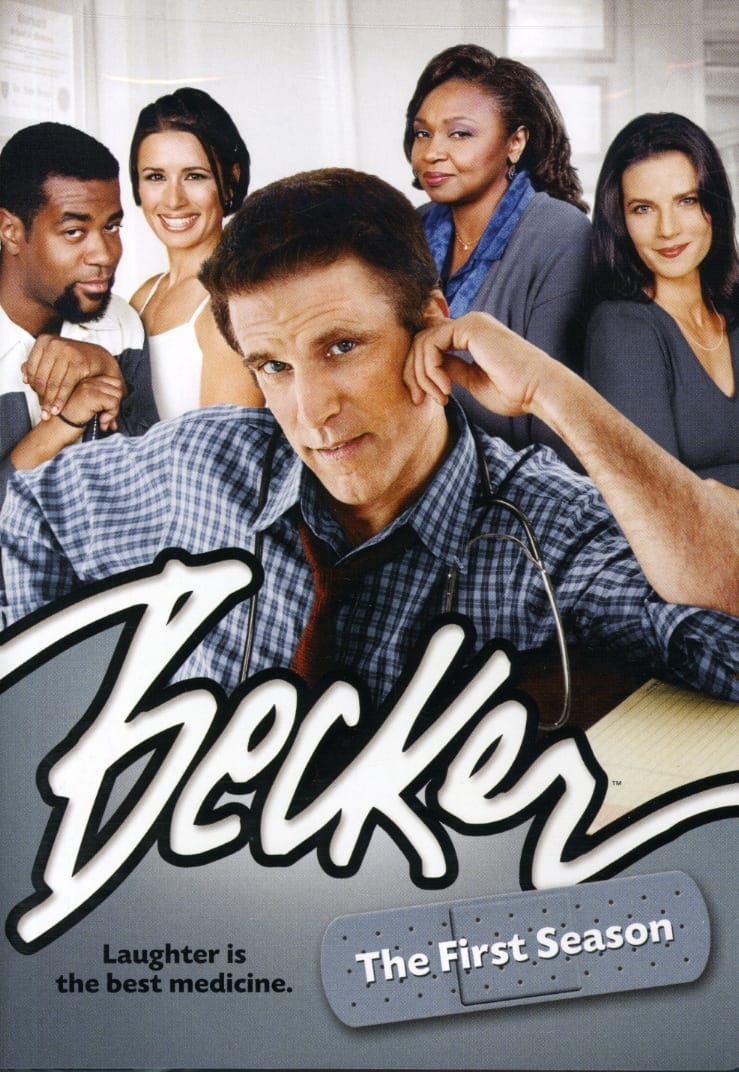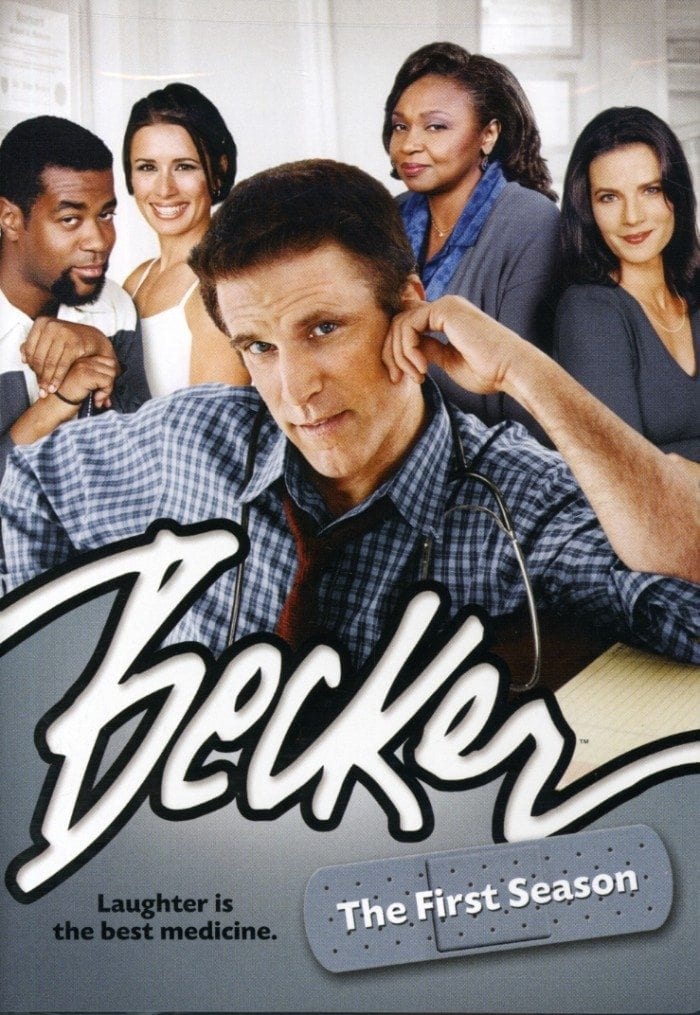 Becker is an American television sitcom that ran from 1998 to 2004 on CBS. Set in the New York City borough of The Bronx, the show starred Ted Danson as John Becker, a misanthropic doctor who operates a small practice and is constantly annoyed by his patients, co-workers, friends, and practically everything else in his world. Jake Malinak is Becker's best friend and works at a diner selling newspapers and miscellaneous items such as candy, magazines, cigarettes, gum, etc. Jake is blind following a car accident several years before.
---
Peter "Pete" Thornton (Dana Elcar – MacGyver)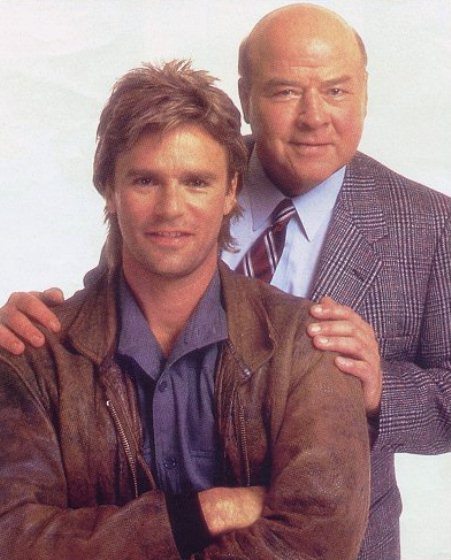 Pete Thornton is a fictional character in the ABC TV series MacGyver. Pete is Angus MacGyver's best friend and boss at both the Department of External Services (DXS) and the Phoenix Foundation. Along with MacGyver, Thornton is the only regular character in the series. During 1991, Dana Elcar began to develop glaucoma in real-life and the writers decided they'd write it into the show, having Pete develop the eye condition as well. Glaucoma is a degenerative condition of the eyes that causes blindness.
---
August "Auggie" Anderson (Christopher Gorham – Covert Affairs)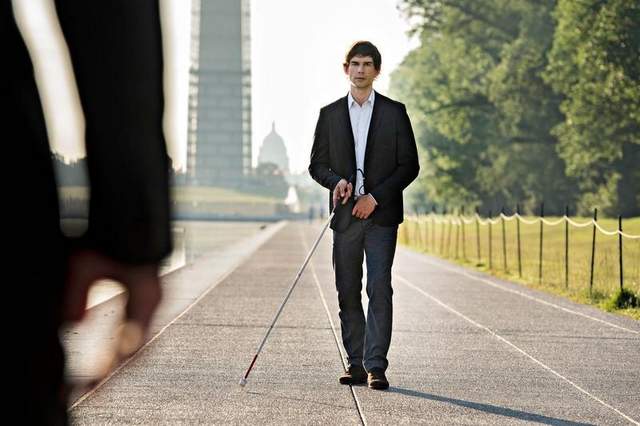 Covert Affairs is a one-hour drama series that premiered on the USA Network July 13, 2010. On September 25, 2012, Covert Affairs was renewed for a 16-episode fourth season. Auggie Anderson is a CIA military intelligence/special ops officer who was blinded while on a mission in Iraq. Even though he is still grieving about his injury, he regularly lightens the mood in the show by cracking jokes about his blindness.
---
Cartoons
Marge Simpson (The Simpsons)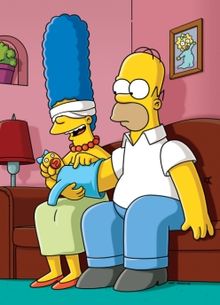 During the 13th episode of season 20 (Gone Maggie Gone), Marge is temporarily blinded after viewing an eclipse without an eclipse shoe box viewer.
---
Peter Griffin (Family Guy)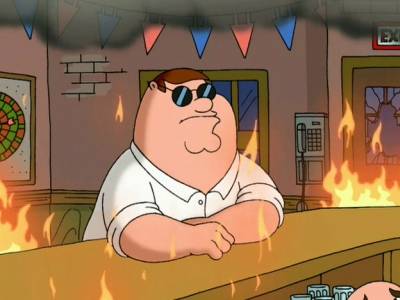 Peter loses his sight in one episode of Family Guy after setting a world record for eating the most nickels. "Blind Ambition" is the third episode of season four, first broadcast on Fox on May 15, 2005. He becomes a hero after unwittingly saving Horace the bartender from a fire at his bar, The Drunken Clam. At the end of the episode, Peter regains his sight with the eyes of a dead homeless man.
---
Turanga Leela (Futurama)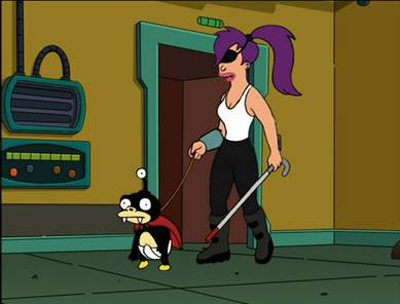 The Planet Express crew attends a taping of Elzar's television show, much to the joy of Bender, who secretly wants to be a chef. Bender continually disrupts Elzar in the middle of the show, until Elzar accidentally sprays Leela in the eye with his spice weasel. Leela is the daughter of two mutants and only has one eye so the accident leaves her temporarily blinded. She's forced to wear an eye patch to protect her eye until it heals. In order to make up for the incident, Elzar invites the entire crew to dinner at his restaurant, serving them the most expensive and appetizing things he has to offer. After the dinner, he actually bills them, despite the crew being led to believe that the dinner was free.
---
Hank Hill (King of the Hill)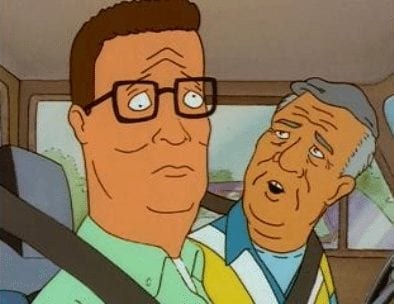 "The Unbearable Blindness of Laying" is the 23rd episode of King of the Hill and first aired on December 21, 1997. Hank, Peggy, Luanne, and Bobby pile into the car and head off for a basketball game. Peggy turns the car around when her husband realizes he forgot his Styrofoam #1 finger. When Hank enters the house, he inadvertently catches a glimpse of his mother and her boyfriend making love on the kitchen table. The psychological shock causes Hank to go blind and hilarity ensues.
---
Toph Bei Fong (Avatar: The Last Airbender)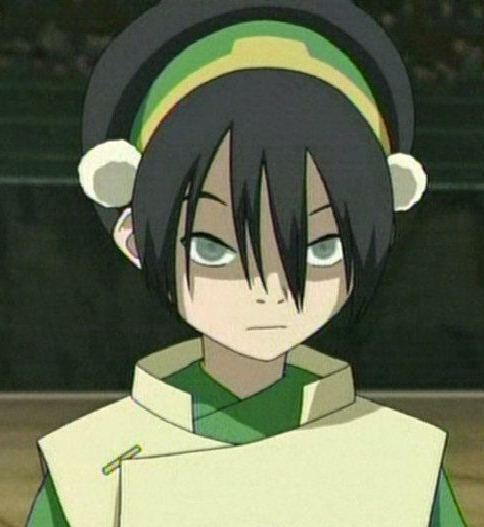 A fictional character in Nickelodeon's animated television series Avatar: The Last Airbender; Toph Bei Fong is an earth-bending master, one of the most powerful of her time. She's also responsible for the discovery of metal-bending. Blind since birth, Toph was constantly treated with contempt because of her disability and stature, especially by her overprotective parents. Upon discovering badger-moles, earth-bending animals who were also blind, she learned how to use earth-bending as an extension of her senses. This gave her the ability to "see" through every tiny vibration that passes through the ground.
---
Quincy Magoo (Mr. Magoo)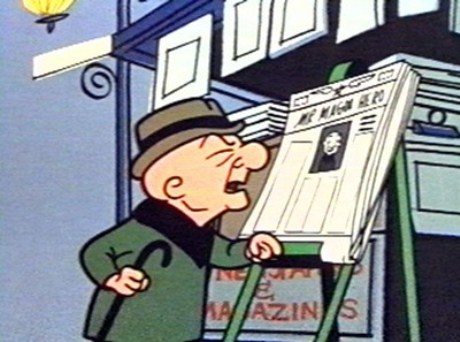 Mr. Magoo was created at the United Productions of America (UPA) animation studio in 1949 and was voiced by Jim Backus. He's a wealthy, short-statured retiree who gets into all kinds of comical situations as a result of his extreme nearsightedness, compounded by his stubborn refusal to admit the problem. Through uncanny streaks of luck, the situation always seems to work itself out for him.
---
Colonel H.M. Stinkmeaner (The Boondocks)
A fictional character from Cartoon Networks' Adult Swim animated television series The Boondocks, Colonel Stinkmeaner was voiced by Cedric Yarbrough. The character is a recurring antagonist in the series, and is portrayed as an extremely foulmouthed, racist, blind old man who enjoys spreading hatred, ignorance, and chaos throughout the world.
---
Teenage Mutant Ninja Turtles
Raphael – In the 2003 Teenage Mutant Ninja Turtles episode "Lone Raph and Cub", Raphael is temporarily blinded, and must rely on the kid he was trying to help to orient him during a fight.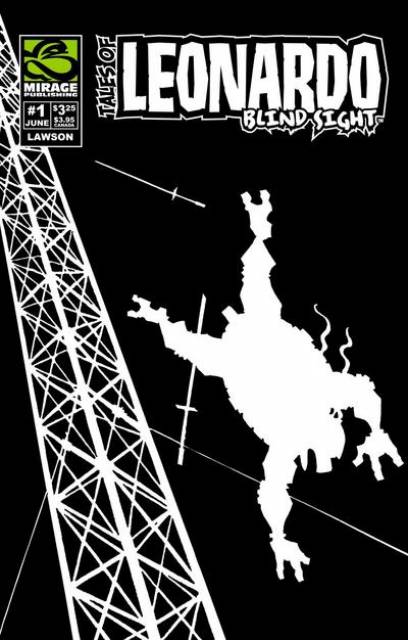 Leonardo – Technically, this is a comic book and not a television show but I wanted to keep all the TNMT occurrences together. In the Mirage comic book story "Blind Sight", Leonardo is blinded via poison during a fight with a Foot Ninja, who was himself blinded by Leonardo in a previous battle.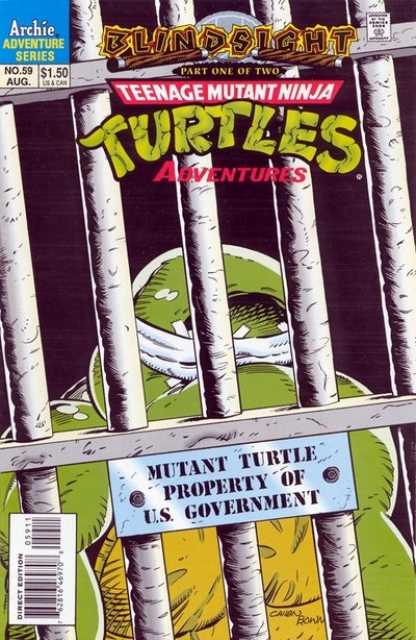 Michelangelo – Michelangelo also has his own "Blind Sight" arc, but this time it's in the Archie comic book series "TMNT Adventures". He gets blinded by a Molotov Cocktail and later survives a plane crash into the ocean. All this trouble and yet he still gets captured and tortured by the U.S. government. Talk about a bad day!
---
Video Games
Kenshi (Mortal Kombat)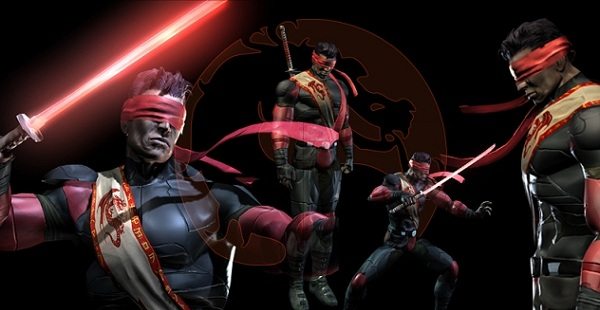 Kenshi is a video game character from the highly-successful Mortal Kombat series, first appearing in Mortal Kombat: Deadly Alliance. He's a rogue swordsman of Eurasian heritage. He is a blind, bad-tempered man who has mastered the arts of Tai Chi, San Shou and Judo. Kenshi also possesses the power of psychokinesis which enables him to throw opponents off-balance or across the room when necessary.
---
Comics
Daredevil (Marvel Comics)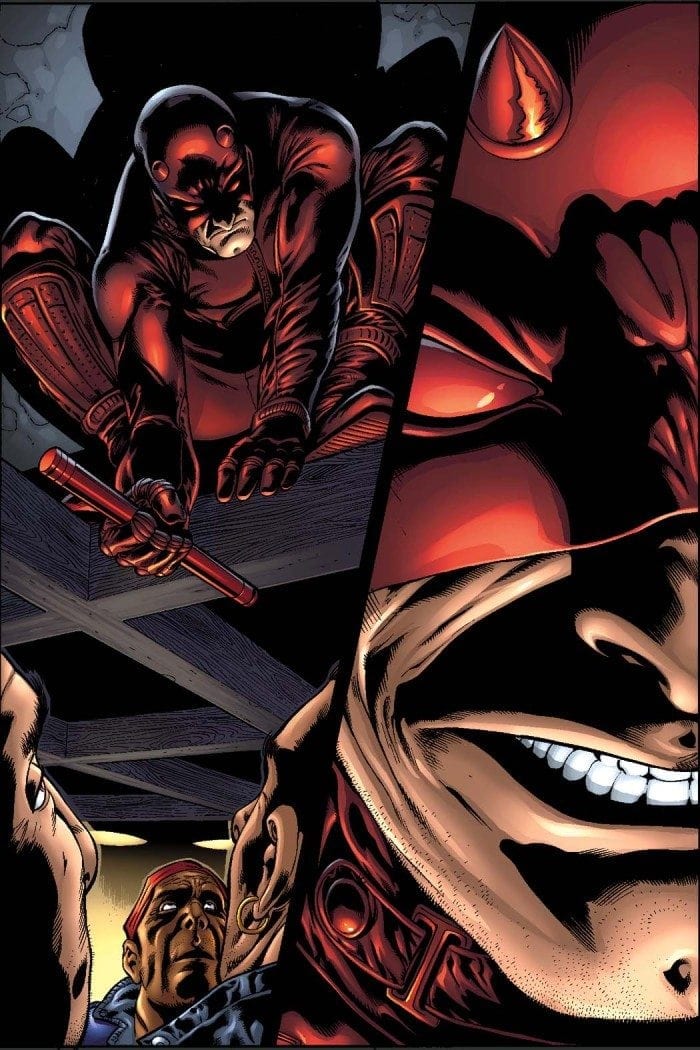 Comic book superhero Daredevil was created by writer-editor Stan Lee and artist Bill Everett, with input from Jack Kirby. He first appeared in Daredevil #1 (April 1964). Living in the Hell's Kitchen neighborhood of New York City, Matt Murdock is blinded by a radioactive substance that falls from an oncoming vehicle. While he no longer can see, the radioactive exposure heightens his remaining senses far beyond normal human ability.
---
Doctor Mid-Nite (DC Comics)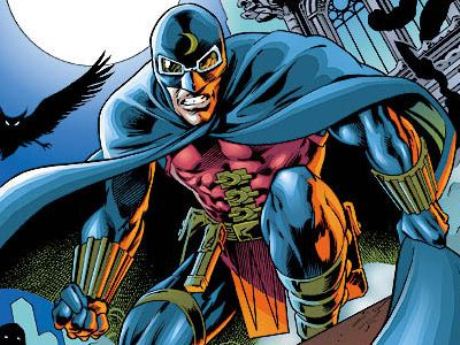 DC Comics superhero, Doctor Mid-Nite is widely regarded as the first superhero in comics to exhibit a physical impairment (blindness). Dr. Mid-Nite was originally created in 1941 and he pre-dates the arrival of Daredevil by over 20 years. He exhibits a hooded costume featuring a crescent moon symbol and a keen ability to see in total darkness at the cost of near or complete blindness in sunlight. His special visors and "blackout" smoke bombs help Dr. Mid-Nite gain tactical advantages in combat.
---
Blind Al (Marvel Comics)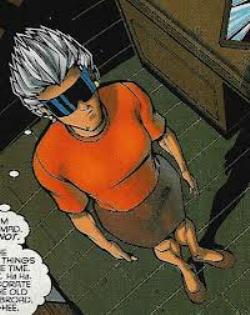 Blind Al is a supporting character of Deadpool, a Marvel Comics antihero. Al (aka Althea or Blind Alfred) first appeared in Deadpool #1, living with him in "The Deadhut", his house in San Francisco. Al is a skinny old woman who was already blind when she was introduced. The reason behind her blindness was never adequately explained. Her relationship with Deadpool was highly complex and bizarre with Al acting as a cross between a prisoner, friend, housekeeper, and mother-figure to him. Although she was treated with contempt most of the time, Al seemed to wield a subtle authority over Deadpool, being the only person who wasn't afraid to stand up to him.
---
Spider-Man (Marvel Comics)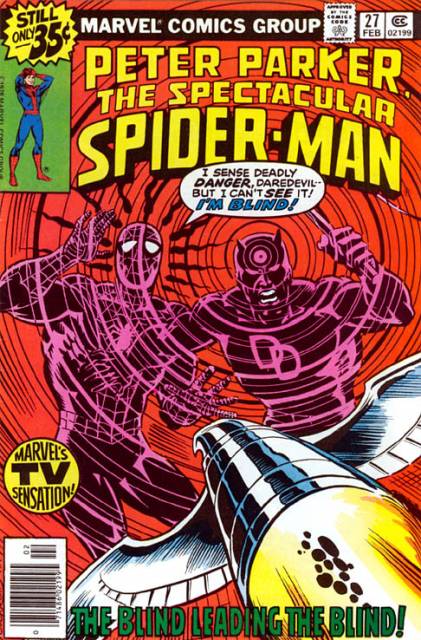 Spider-Man is blinded by the Masked Marauder in "The Spectacular Spider-Man #27: The Blind Leading The Blind". Daredevil helps Spider-Man hone his Spider-Sense in order to navigate.
---
Cassandra Craft (DC Comics)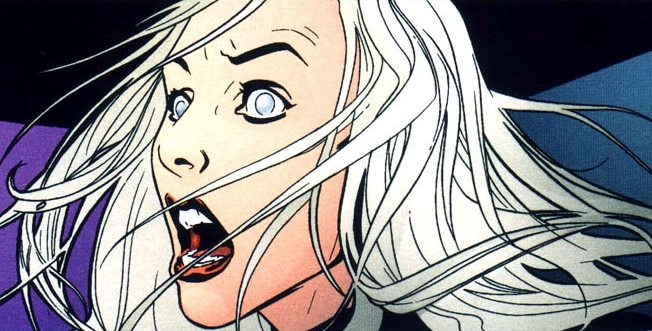 Cassandra Craft is a blind psychic who runs an occult bookstore in San Francisco, California. Her first appearance in comics was in "The Phantom Stranger vol. 2 #17". She also plays an important role in Grant Morrison's "Seven Soldiers of Victory" crossover.
---
Destiny (DC Comics)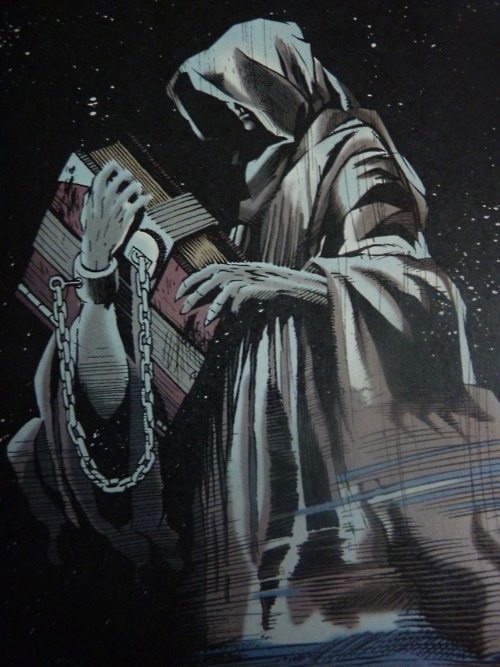 Destiny is a DC Comics character first appearing in "Weird Mystery Tales #1" in 1972. He reminds me of the Grim Reaper because he's portrayed as a tall figure, obscured within a purple or brown robe and hood. He reads from a large book called the Cosmic Log that's chained to his right wrist, which contains all past, present, and future events. He doesn't leave footprints or cast a shadow. Although it doesn't appear to hinder him at all, Destiny is blind. It has been said that Destiny "sees everything" so he either has some type of vision through his minds-eye or they are referring to the Cosmic Log that allows him to "see" everything. His demeanor is always calm, detached, and somber even in extreme situations.
---
I-Ching (DC Comics)
I-Ching is a fictional, blind martial artist created by DC Comics. He first appeared in "Wonder Woman vol. 1 #179" in November 1968. He's the last surviving member of an ancient sect whose monastery was hidden high in the mountains. Their task was to maintain ageless knowledge lost centuries past. During an attack on the monastery, all members of the sect were murdered with the sole exception of I-Ching, who managed to escape with serious injuries.
---
Madame Web (a.k.a. Cassandra Webb) (Marvel Comics)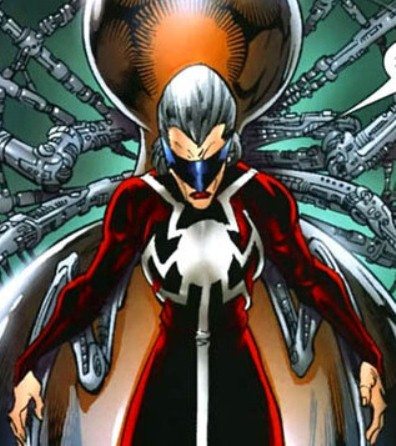 A fictional supporting character in the Spider-Man comic book series, Madame Web first appeared in "The Amazing Spider-Man #210" (1980). She is a paralyzed, blind, telepathic, clairvoyant, and precognitive mutant, allowing her to work as a professional medium. She was originally stricken with myasthenia gravis and was connected to a life support system which included a series of tubes shaped like a spider-web.
---
Alicia Reiss Masters (Marvel Comics)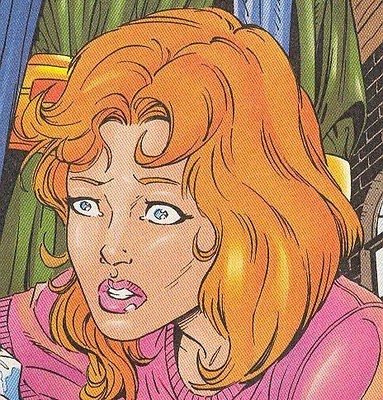 Alicia Masters a supporting character to the Marvel Comics superhero-team the Fantastic Four and Silver Surfer. Created by Stan Lee and Jack Kirby, she first appeared in "The Fantastic Four #8" (Nov 1962). Alicia is a blind sculptress who is able to create incredibly lifelike representations of real people by touch and memory alone. A caring, sensitive character, she's been a romantic interest and confidant of The Thing, a member of the Fantastic Four who is frequently ashamed of his monstrous appearance. She has also helped explain human life and emotion to the alien Silver Surfer.
---
Professor Ojo (DC Comics)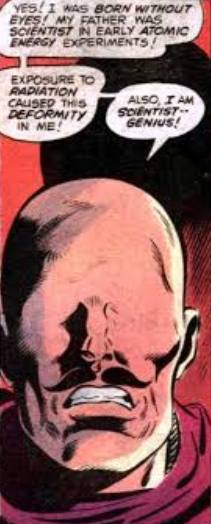 Super-villain Professor Ojo's main enemies are Richard Dragon and Green Lantern. He first appeared in "Richard Dragon, Kung Fu Fighter #16" (1977). The son of an assistant in an atomic energy facility with poor safety standards that exposes workers to massive doses of hard radiation, Ojo was born without eyes. Blind and brilliant, Ojo eventually creates a helmet-device with one large mechanical eye on top that allows him to see, and eventually became associated with the League of Assassins. "Ojo" is the Spanish word for "eye".
---
Snowblind (Marvel Comics)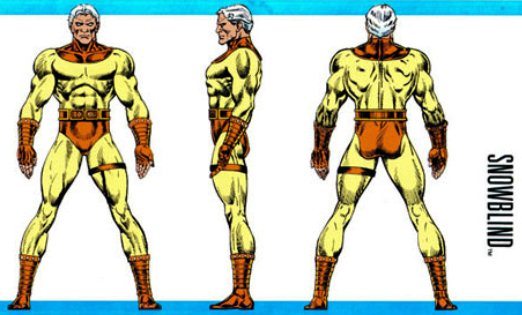 Snowblind made his debut in "Ghost Rider vol. 2 #13". An underworld drug lord who has been blind since birth, Snowblind is a businessman who heads his own narcotics distribution organization and sometimes works as an assassin as well. He has the power to see by generating a mystical field that ironically blinds anyone in his vicinity. The field also increases his physical abilities giving him enhanced toughness, speed, and strength, on par with Ghost Rider. Putting together his ugly costume and his mediocre power; it's easy to understand why the writers killed this character off after only a few appearances in the 2nd volume of Ghost Rider comics.
---
Additions By Readers
Irwin "Whistler" Emery (David Strathairn – Sneakers)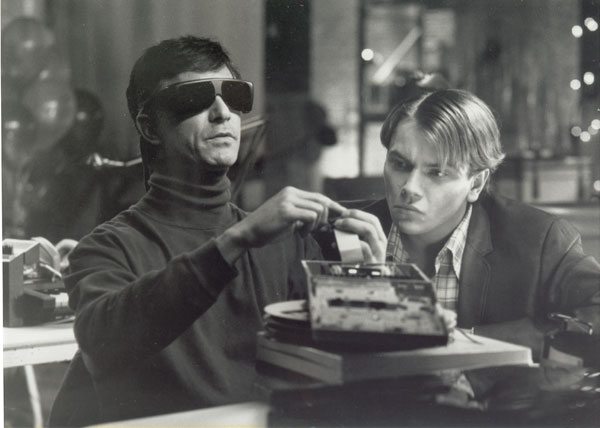 Sneakers is a complex 1992 thriller film starring Robert Redford and an All-Star Cast. A team of shady security experts find themselves in a conspiracy about cryptography, espionage, secrets, and betrayal. Whistler is a blind soundman with perfect pitch whose the "smart-one" of the group. He even get the chance to drive a truck during the movie!
---
Selina D'Arcey (Sidney Poitier – A Patch of Blue)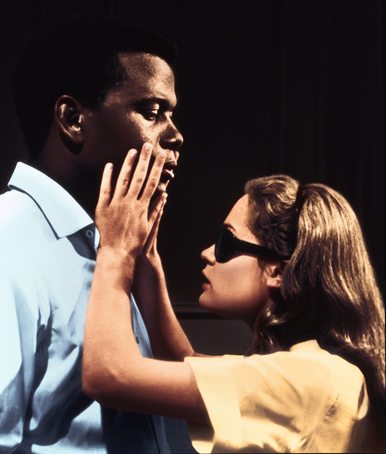 A Patch of Blue is a 1965 American drama film directed by Guy Green about the relationship between a black man and a white female teenager who is blind, and the problems that plague their relationship when they fall in love in a racially divided America. Against the backdrop of the growing civil rights movement, the film explores racism from the perspective of "love is blind."
---
Tom Sullivan (Marc Singer – If You Could See What I Hear)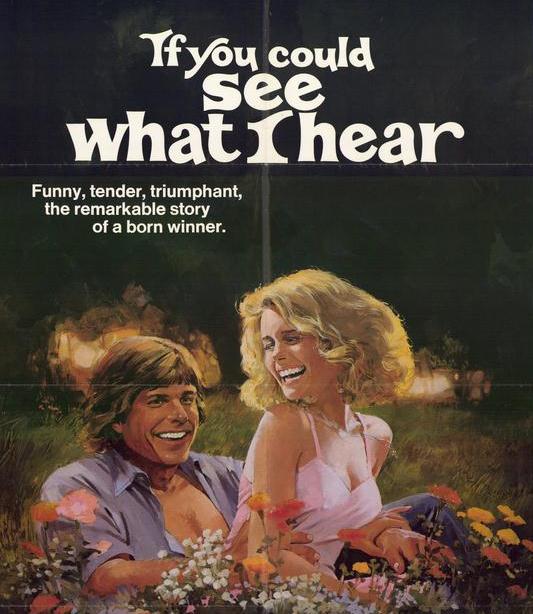 This one is on the border-line for fictional characters because Tom Sullivan is a real person but is played by Marc Singer in this 1982 biography/drama movie about well –known blind musician Tom Sullivan. The movie starts with Tom Sullivan as college student who just wants to be accepted as "normal" by his peers. Tom's best friend Sly plays a special role because he doesn't treat Tom like a blind person. In fact, Sly goes out of his way to challenge Tom in ways other people never did. Tom meets a black woman named Heather and falls in love, but she eventually breaks off the relationship because of the whole "black and white thing" was a roadblock for her. Coupled with Tom's blindness, the relationship was simply too complicated for her. Crushed by Heather's abandonment and experiencing loneliness, Tom continues to struggle with himself, still denying that his blindness affects his "normalcy". Afterwards he meets his future wife, Patti, and his life changes forever!
---
Wally Karew (Richard Prior – See No Evil, Hear No Evil)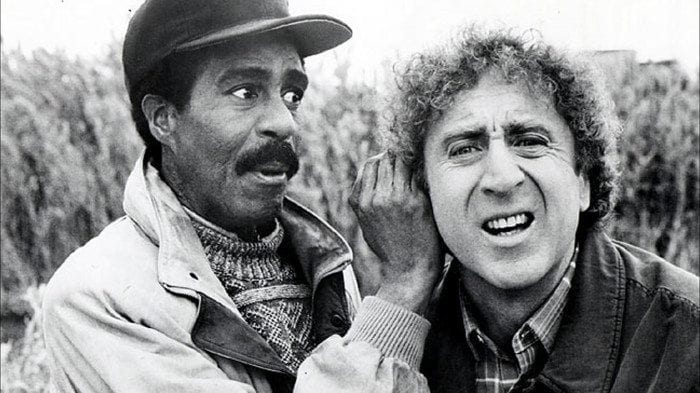 See No Evil, Hear No Evil is an awesome 1989 American comedy film starring Richard Pryor as a blind man and Gene Wilder as a deaf man who work together to thwart a trio of murderous thieves. After a short time of confusion and antagonism, Wally and Dave become good friends. Using each other's remaining senses, Dave reads lips and guides Wally when they travel, and Wally tells Dave about invisible sounds and what people say behind his back. At a local bar, Wally defeats a belligerent man in a fistfight with assistance from Dave, who uses clock-face directions to tell Wally where his opponent is. Not sure how realistic that really is but it makes for a scene in this comedy classic.
---
Nick Parker (Rutger Hauer – Blind Fury)
Blind Fury is a 1989 samurai/action film loosely based on "Zatoichi Challenged", the 17th film in the Japanese Zatoichi film series (listed above). The film stars Rutger Hauer as Nick Parker, a blind, sword-wielding Vietnam War veteran. Upon his return to the United States after the war, he befriends the son of a close friend from his past and decides to help the boy locate and rescue his father, who was kidnapped by an organized crime syndicate.
---
Hope Adams-Wilson (formerly Hope Newman) (Signy Coleman – The Young and The Restless)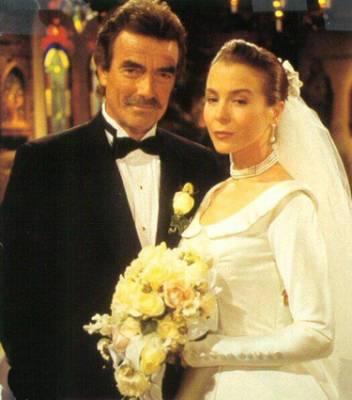 Hope was a fictional character from the CBS soap opera The Young and the Restless. The character was introduced as a love interest for Victor Newman (Eric Braeden) in 1993. Victor arrived at Hope's Leavenworth, Kansas farm just in time to rescue her from a rapist and their relationship grew from there. Hope's character was strong and independent, but she needed help and protection while living alone on her farm.
---
Jody (Andrea Covell – ALF)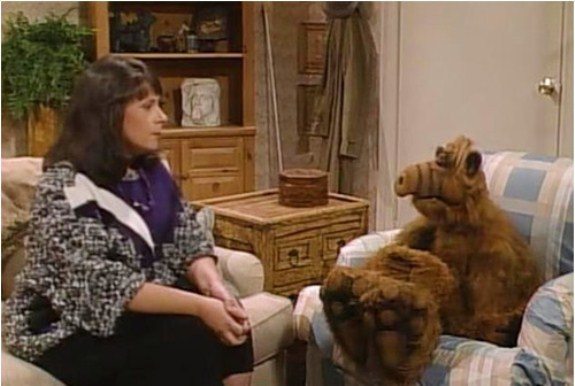 Jody is a blind woman who ALF meets through a radio talk show during the first season of the series. They become good friends but Jody is unaware that ALF is an alien and instead thinks he is just a really weird person. She appeared again in Season 2 when ALF celebrated a reunion, featuring everyone who's ever met him at a party. After she moves out of her apartment, ALF invites her to stay with the Tanners until she finds a new home. When she finally does find a new apartment, ALF moves in with her uninvited until Kate and Willie can figure out how to make him come home again.
---
Suggested by Alice Lynch
Tony Kaiser (Richard Dean Anderson – Ordinary Heroes)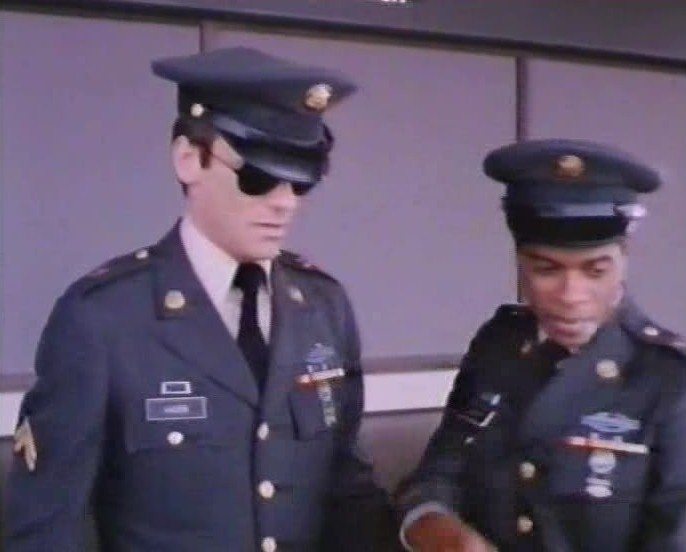 Ordinary Heroes was a direct-to-video movie starring Richard Dean Anderson as a blinded Vietnam veteran. After returning from the war with his spirit in tatters, Tony tries to put his pre-military life back together and rekindles his relationship with former girlfriend Maria (Valerie Bertinelli). The "all-but-forgotten" film is certainly worth a second look, if only for its intelligent, non-sensational treatment of the subject matter.
---
Helena Robertson (Uma Thurman – Jennifer 8)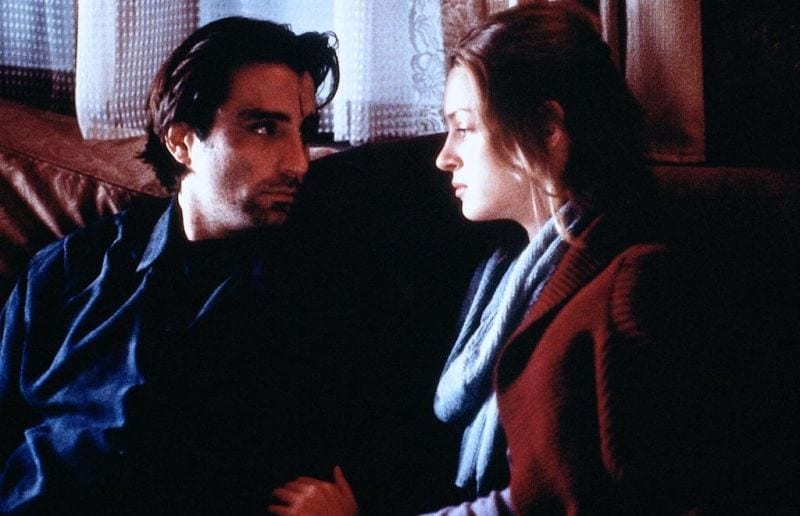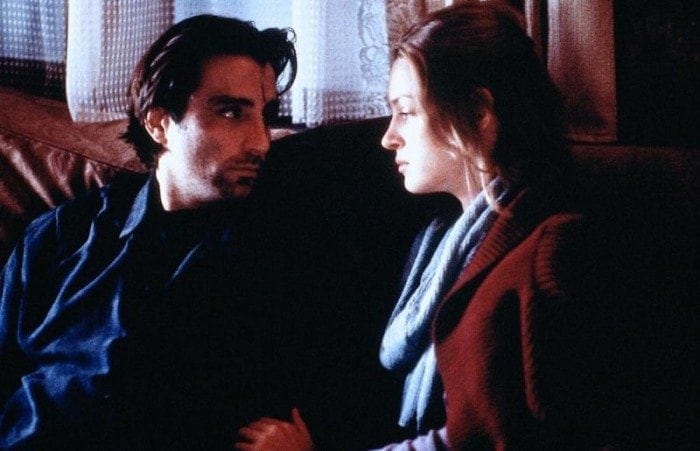 Jennifer 8 is a 1992 crime-mystery/thriller film starring Andy García, Uma Thurman, and John Malkovich. Former Los Angeles cop John Berlin is spiraling downward after the collapse of his marriage. At the invitation of an old friend, Berlin moves to rural northern California, for a job with the Eureka police force. That's where he meets a music student who is blind named Helena Robertson and becomes romantically involved with her. When researching this film, I saw a lot of excitement from people about Uma Thurman's topless scene but they may be disappointed to know a body double was used.
---
Don Baker (Edward Albert – Butterflies Are Free)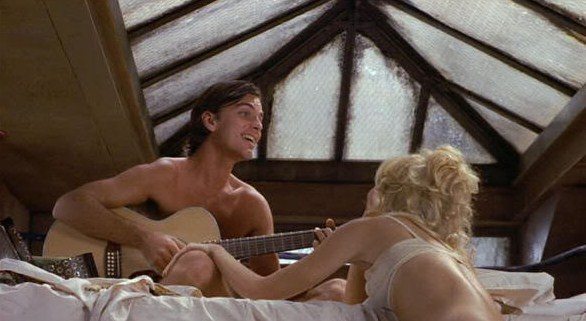 Released on July 6, 1972, a blind man moves into a San Francisco apartment against the wishes of his overprotective mother, and befriends the freethinking young woman next door played by Goldie Hawn.
---
Helen Phillips (Jane Wyman – Magnificent Obsession)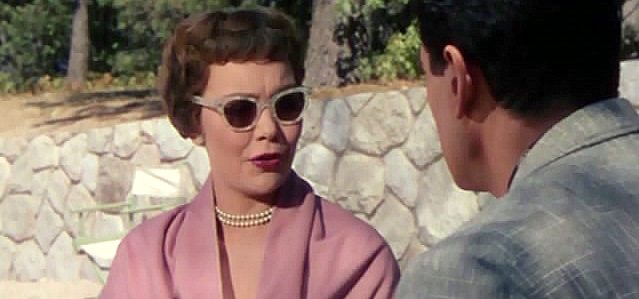 Magnificent Obsession is a romantic film released in 1954 that is sometimes said to be loosely based on the story of Greek legend Alcestis. Helen is blinded during a freak accident when she is struck by a moving car. Co-star Bob Merrick (Rock Hudson) falls in love with Helen and tries to help her adjust to her blindness and arranges for her to travel to Europe and consult the best eye surgeons in the world. After extensive tests, the surgeons tell Helen there is no hope for recovery. Years later, Merrick learns Helen will need complex brain surgery to save her life. After the procedure and a long night of waiting for results, Helen awakens and discovers she can see again!
---
Larry Nevins (Arthur Kennedy – Bright Victory)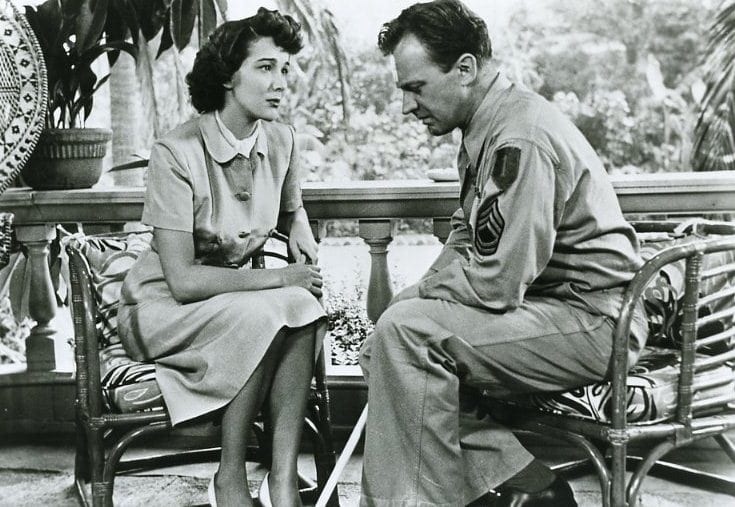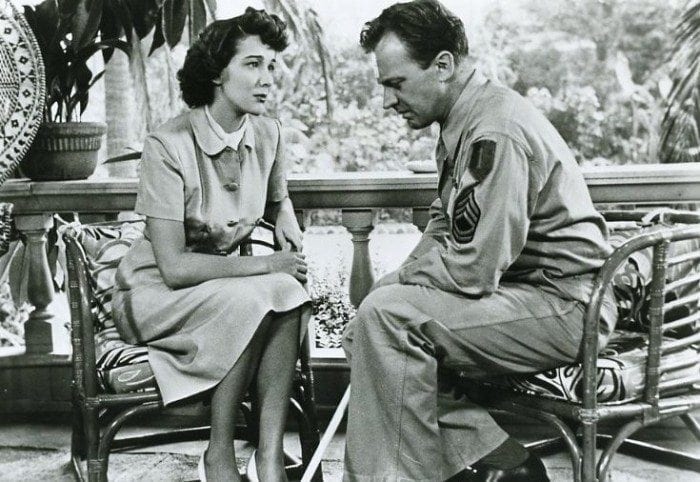 Larry is an American sergeant during World War II and is blinded by a German sniper while fighting in North Africa. He is then taken to a hospital for blinded soldiers where he struggles to come to terms with his disability.
---
Dr. Sam Beckett (Scott Bakula – Quantum Leap)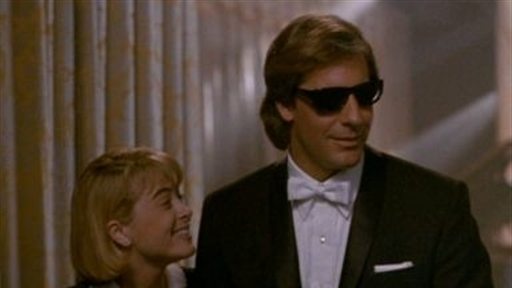 Season 2 of Quantum Leap features and episode named "Blind Faith" in which Sam leaps back to February 6, 1964 and into the body of a blind concert pianist. The story goes on and Sam must save his girlfriend from a serial killer despite the interference with her overbearing mother.
---
Little Joe (Michael Landon – Bonanza)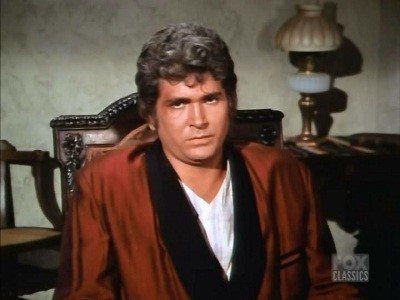 During the 1971 season of Bonanza, Little Joe is blinded by an explosion and wallows in self-pity as he struggles to come to grips with his condition, which could be temporary or permanent. A teacher from the Institute for the Blind is hired to help Joe come to terms with his predicament.
---
Did I forget anyone? If so, you can leave your suggestions in a comment below and I'll add the character(s) to this page and give you credit for the addition :).
Now that you've read about all these fictional characters; check-out the amazing accomplishments of real-life famous people with visual impairments or blindness.

---
Photo Sources
Nick Parker: CraveOnline.com
Peter Griffin: StuffPoint.com
Snowblind: AllAboutDuncan.com
Teenage Mutant Ninja Turtles

Wait Until Dark: MoviePoster.com
Tags: blind characters, Blind Fictional Characters, Blind Superhero, Fictional Blind Characters, Fictional Characters Who Are Blind


Categorized in: Informational, Offbeat, Opinion

This post was written by Jeff Frcho