Medicare Open Enrollment & Visual Disabilities: How to get the format you need
Published on
It's just about time for Medicare's open enrollment period and we know you're doing your research. The problem is that all of the print materials you've received aren't in an accessible format and it's often difficult to read. Luckily the Centers for Medicare & Medicaid Services (CMS) offers this material in a format you can read. You just have to request it!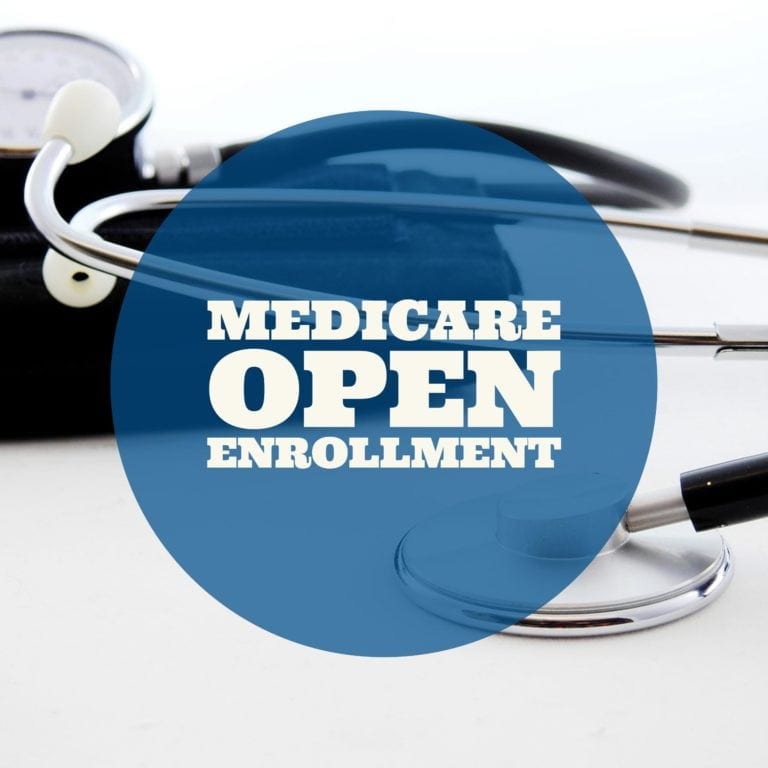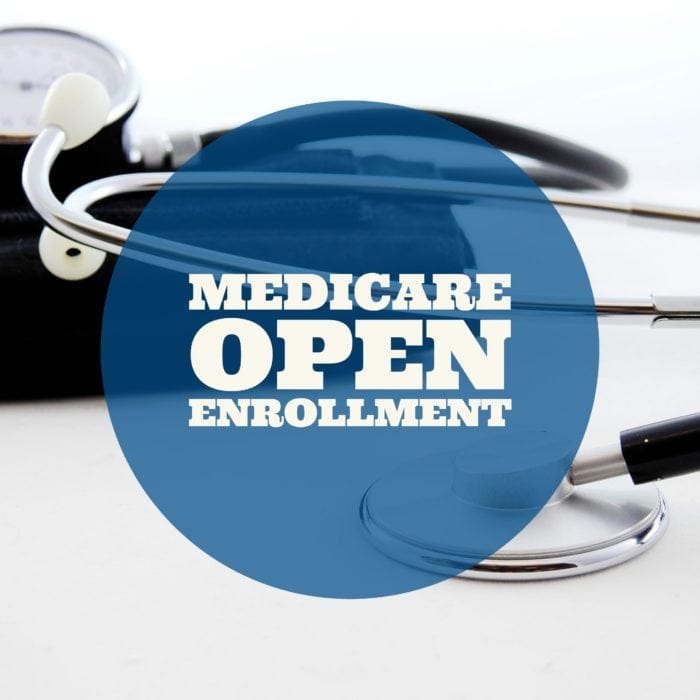 "Medicare & You" Handbook
It's essential to do your research and understand your options; especially when it comes to your health. That's where the "Medicare & You" handbook comes into play. This handbook not only helps you understand the basics of Medicare, but it also breaks down plans and policies so you can make the best decisions for you. However, that's only helpful if you can get it in a format you can read and understand. Luckily, Medicare has you covered! You're able to download the "Medicare & You" handbook in different formats from their website. Your options include a standard PDF, large print PDF, eBook, and audio. You may also request a braille copy but you'll have to contact Medicare directly.
Let's look a little more closely at what you're able to download with each version.
PDF
The standard English or Spanish PDF is the digital version of the handbook you receive in the mail. This version is handy if you're trying to avoid paper clutter in your house or prefer storing your information digitally.
Large Print
Next is the large print option. This downloadable PDF, with both an English and Spanish version, is great for people with minimal vision who are still able to read print. There's large, black text on a white background with an occasional yellow highlight to point out a heading or other important information. Other than that, there aren't any other colors or crazy graphics. It's straightforward and easy to see.
eBook
Who doesn't love a good eBook? And, while this won't be an exhilarating read, the "Medicare & You" handbook is easy to navigate on your eReader. Medicare offers 3 versions for download: Kindle, non-Kindle, and all-device versions. Self-explanatory, the Kindle version works with a Kindle eReader. Looking for more diversity? The non-Kindle version works with an iPad, Nook, Sony, and all other eReaders. The all-device version is also self-explanatory but, unfortunately, doesn't have the full functionality of the other eBook options.
Audio
This handbook's audio version comes in podcast form and allows you to listen on just about any device. There's an English and Spanish version of the handbook and both have a table of contents that's easy to navigate. This version is great because you can jump to the portion of the handbook you want to review.
Braille
Like we said before, the braille option is harder to get. We expected a .brf (braille ready file) available to download but that's not something Medicare offers. Instead, you can call Medicare directly at 1-800-MEDICARE (1-800-633-4227) and request your "Medicare & You" handbook in braille.
Statements and Other Information
Once you decide which Medicare plan is best for you, you'll need to make sure you can read the other information Medicare sends you. Most importantly, you'll need to be able to read your monthly statements. Since most of your future communications with Medicare will be personalized, there's not an easy resource page to download your documents in the format you want like with the "Medicare and You" handbook. However, CMS and Medicare provide four ways in which you can request your future communications.
Phone Call
When requesting your statements in an accessible format, a good ol' fashioned phone call may be the way to go. Medicare requests that you call their main phone line, 1-800-MEDICARE (1-800-633-4227), and speak to an automated system about your need for braille materials. Though we didn't follow this method through to the end, we found it was less frustrating than many phone systems we've dealt with in the past. It's definitely worth a try, especially if you're not a fan of the other options.
Email
Emailing your request to Medicare, to us, feels like the easiest option. Send it and forget it, right? Well, maybe add a reminder in your calendar to make sure you hear back in a timely manner. Luckily, Medicare has an inbox set aside specifically for accessible format requests! So it's likely that the right people will see your email and it won't get lost among the many other emails they receive. Just reach out to altformatrequest@cms.hhs.gov with your information and you're all set.
Fax
Old-school technology to the rescue! If you need a good dose of nostalgia, slap on a cover sheet and send your request for accessible Medicare materials to 1-844-530-3676. Don't forget to wait for that "sent" confirmation, though!
Mail
Is the art of letter-writing dead? Well, you can revive it and send your request to Medicare via letter. Break out your fanciest pen and let the Centers for Medicare & Medicaid Services know that you need your information in an accessible format. We're sure they'll be delighted to receive it!
Centers for Medicare & Medicaid Services
Offices of Hearings and Inquiries (OHI)
7500 Security Boulevard, Mail Stop S1-13-25
Baltimore, MD 21244-1850
Attn: Customer Accessibility Resource Staff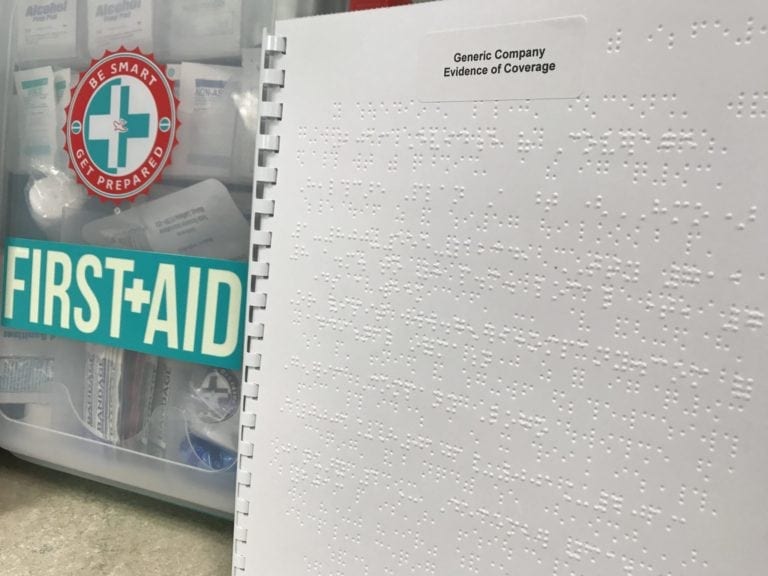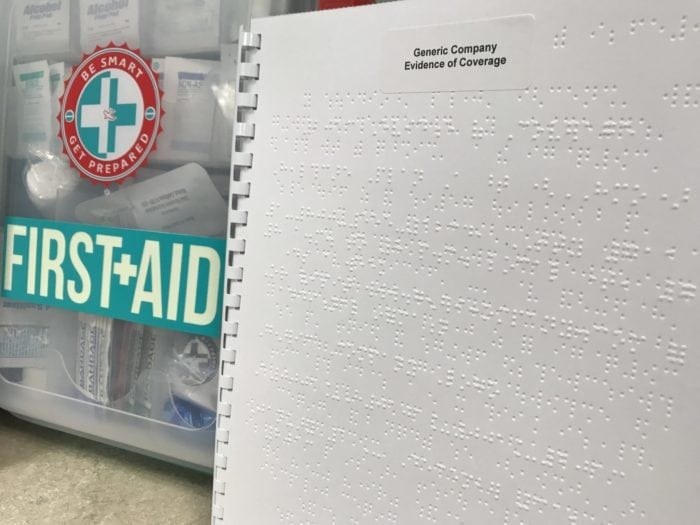 What to send
When you reach out to Medicare, they'll need some important information from you in order to send an accessible format. Whether you're making a call, warming up the fax machine, or using your best handwriting skills, there are a few things you'll need to include in your request.
First, tell them who you are. Medicare won't need your life story but they'll definitely need your full name. First and last is ideal but it couldn't hurt to throw in a middle name just to be sure.
Next, give them your phone number. We know phone calls aren't always the best, especially since you get several spam calls a week, but it's on their "must send" list. Worst case Medicare will leave a message and (hopefully) a way to get back in touch with them. This is especially helpful if they need clarification on your request.
Now, if you know exactly what information you need in an accessible format, Medicare would like to know that, too. You're welcome to say, "all information," but chances are you'll get a phone call from them. We recommend including "statements" in your information request so you're guaranteed to get them in the accessible format you need.
Finally, Medicare needs to know where to send your accessible materials. It's important to double-check this information; you don't want your large print statements ending up at the wrong address.
Already enrolled?
If you're currently enrolled in Medicare Part C or D, you'll need to contact your plan provider directly to request an accessible format. They'll need to know the same information listed above, and it's likely your Medicare card will have your plan's contact information.
Ready, Set, Go
Now you're ready to request your Medicare materials in an accessible format. And, once you've done that, you can sit back, relax, and wait for your readable Medicare material to roll in.
Categorized in: Accessibility, Health and Wellness, Informational, Uncategorized
This post was written by Jessica Sanders