Technology and Document Accessibility Services
Published on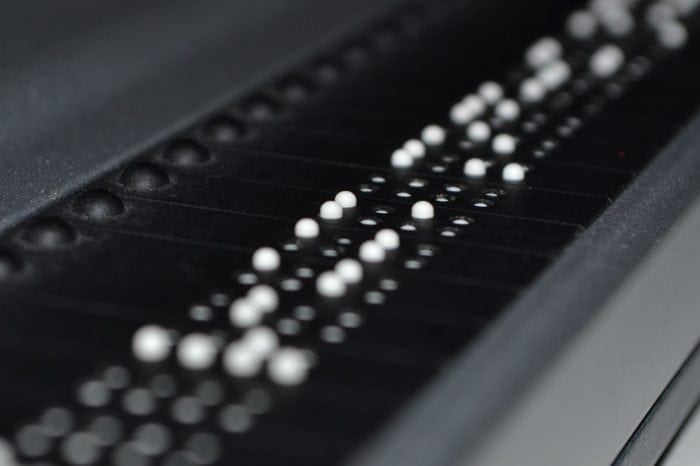 Imagine you enter a restaurant, bank, or another place of business and can't read any of the signs or materials. How would you navigate this situation? And how would it make you feel about the business and its level of commitment to its customers? This is the reality for millions of Americans with visual and reading disabilities.
Document accessibility can change that, and new technology is making it easier than ever for everyone to have equal access to the goods, services, and information they need.
What is an accessible document?
Printed text dominates much of the world's business communications, but for many it is completely inaccessible. Alternative document formats empower people with visual and reading disabilities to participate in everyday life transactions with greater independence. Standard accessible document formats include:
Braille
Audio documents
Large print
Accessible PDFs
Who benefits from accessible documents?
Accessible documents aren't just for people with blindness. There are millions of Americans with limited vision or who have difficulty reading traditional printed text materials due to a visual, cognitive, or reading disability.
Chances are you already have customers with limited vision or blindness, and customers with reading disabilities or cognitive differences. When your organization provides accessible documents, you're letting those customers know that you respect their independence, care about their experience, and value their business.
There's also a business benefit in accessibility. The customers you have empowered through accessible documents may share that positive experience with their family and friends, by word of mouth and through social media. This can affect your brand's overall impression online and in your local community.

Braille, then and now.
Braille has been around since the 1800s. It may surprise you to learn that braille is not a language, but a code for transcribing text. Sequences of raised dots create an alphabet code, as well as some shorthand phrases. Because the dots are raised, they can be felt and read by people with total blindness.
The quality of braille depends largely on the type of braille printer that is used to create the document. A printer that isn't well-maintained, or is a low-quality machine, can produce uneven or faint dots, which make any document it produces hard to read.
New braille technology, such as the braille watch and other smart braille devices, are making it easier for people with blindness to navigate daily life when braille documents simply aren't available. These devices allow people with blindness to read and send emails, navigate websites and take notes.
Audio is more than a recording.
Reading documents out loud to customers is not only a poor customer experience–in certain situations it can be a violation of their privacy rights. Audio documents, provided for them to listen to at home or in a secure, private setting, are a great alternative that saves your staff time and restores your customer's independence and privacy.
There are two types of audio documents commonly available. These are text-to-speech (TTS) and Live Reader. TTS uses state-of-the-art synthesized voice technology to create audio versions of documents. Live Reader uses a professional voice-over actor reading the document.
For either of these options to create an effective and understandable document, there should first be an analysis of the document's elements and content hierarchy. It's important to focus on user experience and readability as well as accuracy when creating accessible documents.

How accessibility affects your business online.
Much of today's business marketing, communications and transactions take place online, and accessibility is just as important here as in "the real world." This means designing and building a site that is screen-reader friendly and compliant with WCAG and Section 508 regulations.
Screen readers use TTS technology to translate content on the page and "read" it out loud to a user. Screen readers can also translate content into braille with a refreshable braille device. For this technology to work, websites must have accessibility best practices in place. This includes alt-text on images, HTML tags for headers and captions for the screen reader to navigate, and certain keyboard commands to open and close pages and pop-ups.
Portable Document Format, or PDF, is the most common document type used online in business communications. However, it surprises many business owners that PDFs are not screen-reader friendly and are not considered accessible. For PDFs to be accessible and Section 508 compliant, they must go through a process called 508 remediation.
Ready to become an accessible organization?
Technology has already improved document accessibility efforts, with refreshable braille displays, TTS voice synthesizers, and accessible websites and PDFs, but it all starts with you. Your commitment to providing every customer with a positive, empowering experience.
Accessibility should extend beyond providing documents in braille, large print, audio and WCAG 2.0 AA PDFs. Here are a few tips to start building an accessible culture in your business:
Make "accessibility" part of the business strategy. Consider the strategic business advantage of being accessible.
Audit your public-facing documents. Provide braille, large print and audio versions of all critical public-facing documents.
Make sure your website is WCAG 2.0 AA and 508 compliant.
Train employees on the best practices when interacting with a person who has a disability.
Do your employees know how to properly greet, service and communicate with customers who have a visual disability or blindness? Our latest ebook, 10 Tips for Improving Accessibility, Service and Experience for Customers with Blindness or Visual Impairments, can help.

Tags: Accessibility, Accessible Documents, web accessibility


Categorized in: Accessibility

This post was written by Braille Works