What To Look For When Choosing a Document Accessibility Partner
Published on
When your organization implements an accessibility policy, one of the first steps is to select a document accessibility vendor. There are a lot of companies offering accessible document services, so how do you decide which is the right one for you? You may be tempted to choose the cheapest, but before you do, consider that the design, readability, and accuracy of your accessible formats can have a major impact on a customer's impression of your brand.
Here are 5 factors we think matter most when selecting a document accessibility partner.
Security
If a poorly-designed or inaccurate document can negatively impact your brand, imagine the fallout from a data breach at your document accessibility vendor. This isn't just a PR nightmare; it can be a legal issue. Also, your organization could be held responsible if sensitive information—such as financial data, healthcare information, passwords, or other private data—is compromised. Choose a document accessibility partner that meets the strictest security requirements.
The physical location should have strict security measures in place.
Digital security should be based on ISO 27002 and COBIT Standards.
Familiar with handling and securing sensitive information such as HIPAA, PHI and PII.
Reputation
If your reputation is in the hands of your document accessibility partner, then choose one with a reputation you can count on. How long have they been in business? Do they list their past clients and stand by the work they provide?
Finally, it never hurts to Google a company's name and see what pops up. Do they have a strong online presence, and are most of the related links positive in nature? Choose a vendor you can be proud to call your partner.
Launching an accessibility policy? That's great! Training your employees is critical to creating an accessible company. Check out our tips on providing the best service and experience for your customers with visual or reading disabilities. 
Format Variety
In order to meet the needs of customers with visual or reading disabilities, your organization should look for an accessible document partner that can provide documents in multiple formats. According to The Effective Communication Rule of The American Disability Act, a customer with a disability has the right to accessible information in the format they prefer. This means just having large print or braille versions isn't enough. Trust a document accessibility company that handles all of the formats you need:
Braille
Large print
Audio
508 and WCAG AA remediation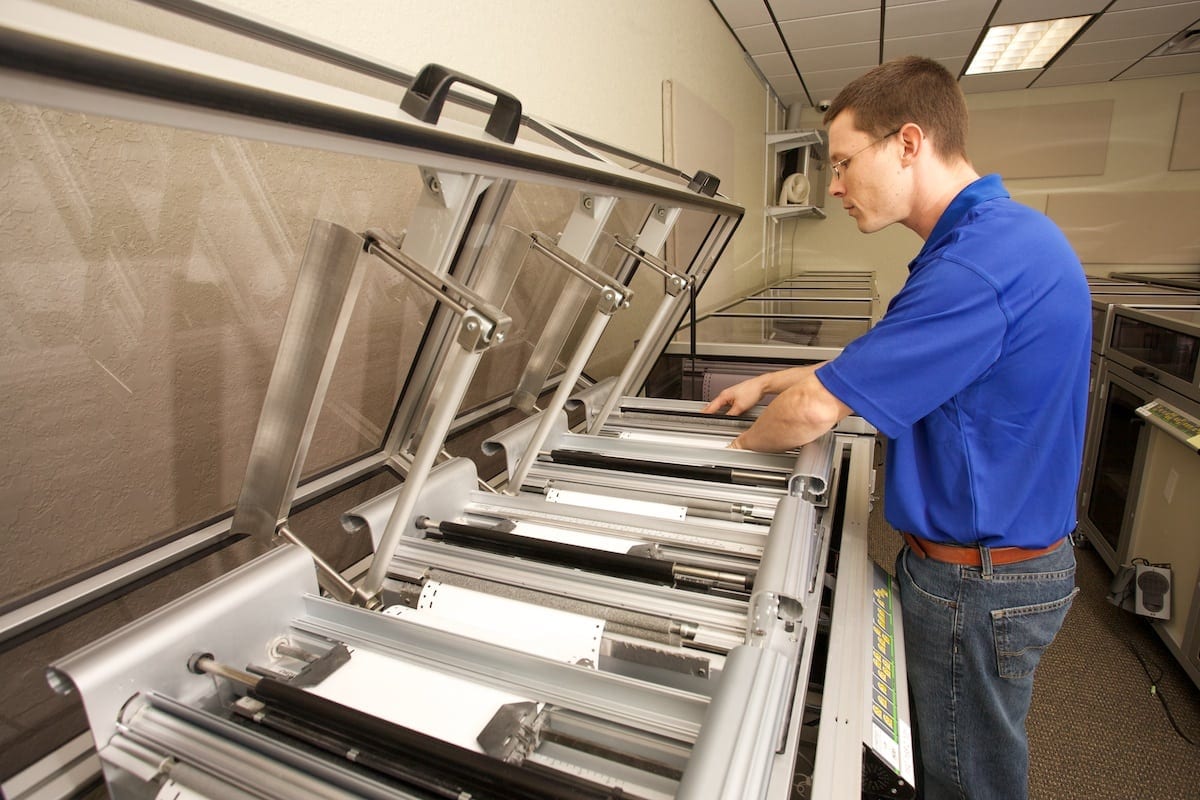 Technology and Process
When it comes to braille and audio transcription, technology really matters. Inferior braille embossing machines can produce braille dots that are uneven or faint, which dramatically affects readability. Also, audio documents can be created through a live reader or through Text-to-Speech (TTS) technology. Both are good options, but the quality of a TTS audio relies on the technology the accessibility partner uses.
Finally, creating an accessible document is more than just a literal transcription. Look for a company with a trusted and proven process of analyzing the components of your documents and producing accessible document formats that convey the meaning of your documents in a user-friendly design.
Commitment
Accessibility is our passion and our mission. We believe it should be the same for every company in our industry. When choosing your document accessibility partner, check out their blog and social media feeds. Are they invested in providing valuable information about accessibility? Are they vocal advocates for people with disabilities? Is "accessible documents" just one of the services they offer or is it an inherent part of their company's purpose?
Now that your company is starting its path to accessibility, we hope you'll learn more about Braille Works and why our mission is Making the World a More Readable Place.
Tags: Accessibility, Accessibility Compliance, Accessible Documents


Categorized in: Accessibility

This post was written by Braille Works