Hurricane Safety Tips For The Blind
Published on
Hurricane Preparedness For Blind Individuals.
Note: Article updated on June 1, 2016.
With the Atlantic hurricane season starting just a few days ago (June 1st); I thought now would be the perfect time to share some safety tips so you and your family can weather the storm.
For my fellow Floridians, hurricane preparedness is a normal part of life. More tropical storms and major hurricanes hit Florida than any other state in the U.S.
Top States for Hurricanes of Category 3 and Above (1851-2015)*
Florida – 37
Louisiana – 20
Texas – 19
North Carolina – 13
Mississippi – 9
Alabama – 6
South Carolina – 6
New York – 5
Rhode Island – 4
Connecticut, Georgia and Massachusetts – 3
The months from August to October are the height of the hurricane season but don't forget; Mother Nature doesn't read calendars.
There are several specific steps that everyone should take in preparation of hurricanes, including blind individuals. It's a really good idea (if not life-saving) for legally blind people to plan accordingly in advance; as well as the elderly who are experiencing sight loss and diabetics who have visual challenges. You will also be better off if you think about how you would handle a strong hurricane if it occurred at night without electricity in the household.
For the majority of us, it's nearly impossible to think clearly in the midst of a sudden natural disaster. That's exactly why we need to have a plan-for-action ahead of time for what we will do in any dangerous tropical storm or hurricane.
Your Hurricane Preparedness Plan Should Include the Following Steps:
Get in touch with your local fire and police departments in advance and let them know a person who is visually-disabled is residing at your address. This will allow officers to take the proper precautions while responding to your call.
Meet with your neighbors and coordinate a contact-plan. Promise to check-in with each other when bad weather is on its way, regardless of whether you are in town or not. This will keep your neighbors from spending valuable time looking for you if you're not home. This also allows you to receive a "warning" phone call from people who care about your well-being just in case you're not aware of the approaching storm(s).
Contact close family and/or friends to inform them of when and where you're taking shelter. Check-in with each other periodically. They should know the exact location in your house you will be taking shelter. If necessary, they can contact emergency officials on your behalf.
Pay close attention to the local news and weather forecasts during hurricane season. Do your best at staying aware of any upcoming weather related events by having a NOAA weather radio with an emergency alert system that goes off automatically whenever there's an emergency in your area. Here are a few links to major retailers where you can purchase weather radios:

Keep the weather radio in a centrally-located place where you can easily hear it. If your budget allows; it's also a good idea to have a second radio in your safety area, the place that you plan to take shelter during a hurricane. Make sure to purchase only "wind-up" radios that don't require batteries. This way you won't be dependent on batteries when the electricity goes out.
Beware of using headphones around the house during tumultuous whether patterns as it will keep you from hearing what is going on around you and in your area via the TV, radio and mobile devices.
As long as you still have electricity or an internet connection; utilize social media to state your whereabouts and condition. Keep people updated so no one worries about you.
Emergency drills should be practiced with your family in advance. Knowing where to go in times of emergency is very beneficial and could save a life in extreme cases. Designate one person to be in charge of rounding up any pets. Guide/service dogs are usually kenneled at night or sleep close by so it won't be difficult to get their attention.
Make sure you have up-to-date emergency food rations and water. Store these items in or near your shelter area, not in your kitchen.
Store your flashlights in handy places. Your best bet during a hurricane is to have wind-up flashlights rather than ones that require batteries. Flashlights can be a big help in rescue efforts.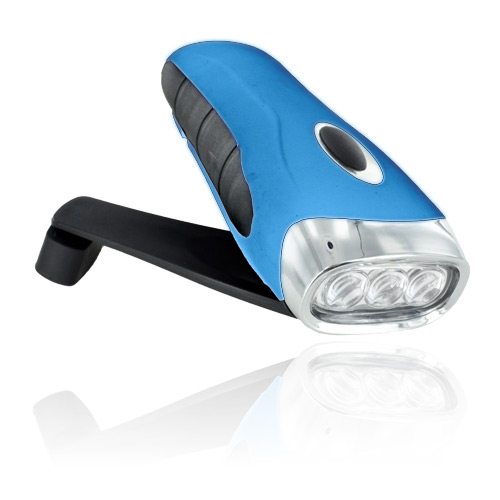 Keep your cell phone and other mobile devices close by. This step is simple since most of us always carry our phones in our pockets or purse. Obtain spare chargers for your devices and store them in or near the shelter area. It's wise to have a basic land line in your home for communication as well in case cell service is unavailable. Remember that if you have a cable phone service a power outage also means no phone service.
Keep your wallet or purse and medications near so you can take them with you when seeking shelter. Or you can simply move them to your shelter location as soon as a hurricane watch is announced.
Store an extra white-cane near your shelter location and/or bedside. This way if you need to evacuate, you'll have your cane with you without having to search for it.
If your home has a security system, get a key fob with a panic button (shown below) and keep it accessible. Key fobs are useful when trying to alert rescue personnel to your location.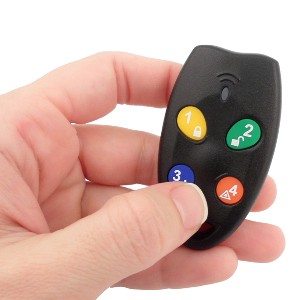 Trim trees and bushes around your home in an effort to make them more wind resistant.
Consider investing in a home generator. This isn't essential, but home generators can save you a lot of stress in the event of a prolonged power outage.
If you work in an office, make sure your co-workers are aware of your schedule so they can warn you if you're not already aware of evacuation orders. Try to keep a radio or television on during hurricane season if your employer allows you to do so.
Communication is Key During Hurricanes
As we all know; not all media is accessible to blind individuals all the time. This is exactly why communication with close family, friends and neighbors is imperative to helping everyone stay informed and as safe as possible.

*From the National Oceanic and Atmospheric Administration Hurricane Research Division

Tags: Blind, Emergency Preparedness, Hurricane Preparedness, Hurricane Safety Tips


Categorized in: Health and Wellness, Informational, News and Events, Opinion

This post was written by Jeff Frcho