Easing 508 Compliance Concerns with Some Practical Advice and Resources
Published on
Who needs to be 508 Compliant?
Let Braille Works help ease the 508 Compliance concerns with some practical advice and helpful resources.
All companies are required to have accessible websites, per the American's with Disabilities Act. Section 508 is an amendment to the 1973 Rehabilitation Act, requiring all government agencies (state, local and federal), companies that receive federal funding, or are contracted with a government agency to have accessible websites, that include all attachments and multimedia files.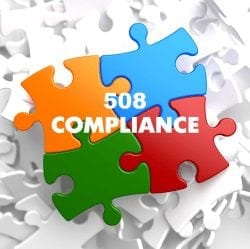 What attachments need to be 508 Compliant?
All attachments need to be compliant.  These include: Word, PowerPoint, HTML, Multimedia, Excel and PDF.  Human, Health and Services has an excellent resource for checking if attachments are 508 compliant.  The compliance experts at Braille Works provide a free service, verifying 508 compliance for website document attachments.
Is there one document that is preferred over another in 508 Compliance?
In order to be 508 compliant a process known as 508 Remediation must be done, to convert the file to a readable text for persons using an assistive device.  
Braille Works, 508 Compliance Specialist, Sonja Forbes explains the following regarding the advantages to using PDF format over other types of document programs:
PDF is a static document that cannot be altered or accidentally deleted.
Altering the document will not maintain the remediation, 

rendering the document non-compliant.
Other formats are labor intensive and can cost approximately 3-times as much as a PDF document to produce.

When reformatting non-PDF documents (.doc, .xlx, .ppt) it is likely that the new version will not look like the old version.

Microsoft Suite is not free, so not all users will be able to access the documents.  

Adobe Reader is free to download and can be used to read the PDF remediated documents.  
Contact Us
Contact Braille Works today for a free 508 Compliance analysis and a quote to remediate current and future content.  Braille Works has been providing high quality alternatives to print documents for over 21-years.  

Phone: 800-258-7544 | 813-654-4050

Email: info@brailleworks.com

Tags: ADA, Compliance, PDF, Section 508


Categorized in: Accessibility, Government, Informational

This post was written by Braille Works