Summer Camps in Rwanda: An Unexpected Place to Learn About Braille
Published on
This weeks post is written by Allison Snyder. Allison is an enthusiastic young American who loves to travel, explore and teach. She joined the Braille Works Corporate Production team in December 2013, after the conclusion of her Peace Corps service in Rwanda. As a Peace Corps Volunteer, she taught English, helped develop teaching materials, and hosted a number of events and trainings for students and teachers from 2010-2013. Allison received a Bachelor's Degree in International Affairs in 2009, has a strong background in education and enjoys working with learners of all ages.
Disclaimer: The content of this article does not represent the positions, views, or intent of the U.S. Government or the Peace Corps. The views expressed here are my own.
Under The Shadow of the Muhabura Volcano, Students Sing, Dance and Discover
The rainy season was in full force, but we still had a summer camp to run. Under the distant shadow of a beautiful volcano, in a worn-out but fully functional public school, 15 Peace Corps Volunteers were making the best of an up-hill battle. We had electricity issues and not enough fuel for the generator, we had budget concerns and a hundred hungry mouths to feed, we had fleas hiding out in the dormitories, we had ancient buses stuck in the mud, and we had constant wet rain soaking through clothes and shoes. Strangely enough, our spirits were high, and the participating teenagers were having a fun and memorable first camp experience.
The weeks spent working on this camp were some of the toughest I faced during my three years as a Peace Corps Volunteer in Rwanda, and they were also some of the most rewarding. We were in the Northern Province of Rwanda, East Africa, and over the course of two weeks we hosted approximately 140 students and 20 teachers from over 10 secondary schools scattered throughout the country.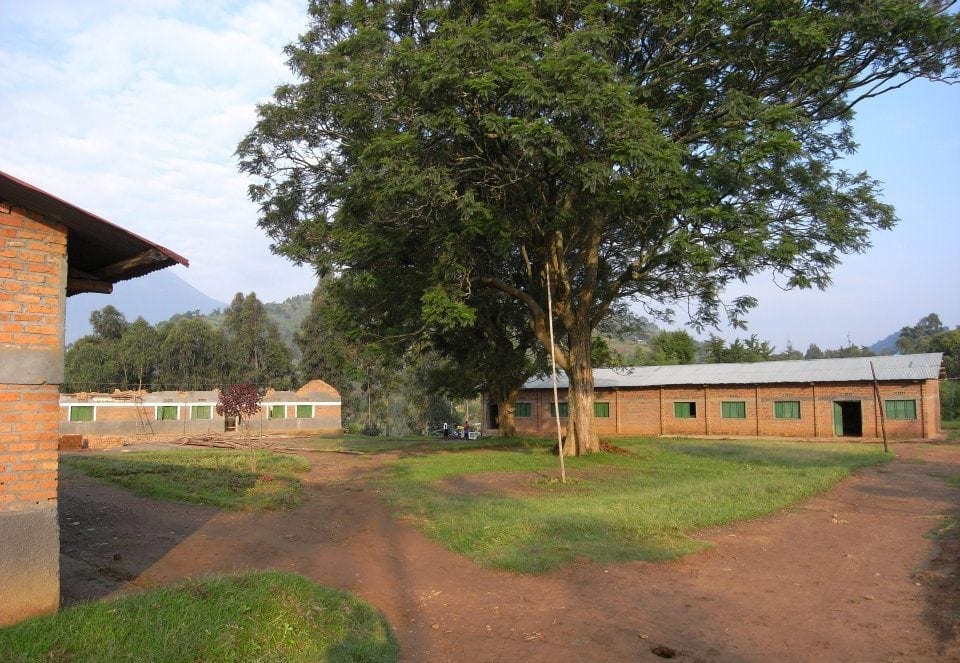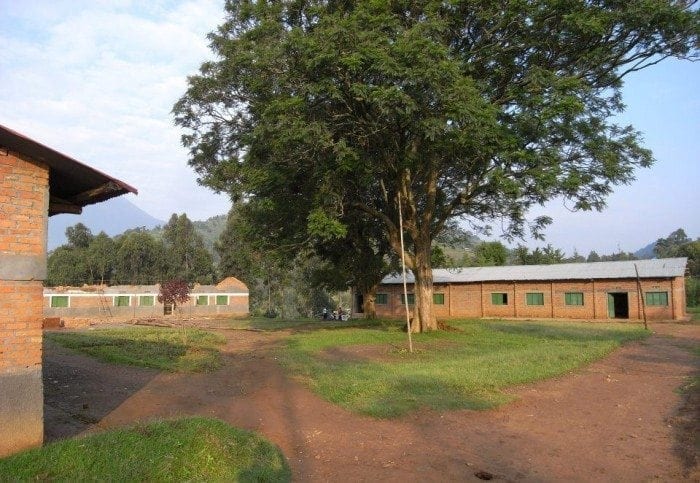 We conducted our own version of Camp GLOW (Girls Leading Our World) and Camp BE (Boys Excelling). Peace Corps Volunteers all over the world, in over 60 different countries, have led similar camps for teenaged students. The camps are designed with students in mind, and provide a safe place to talk about love, respect, peer pressure, health, ethics, and peace. Our camps were also full of bonfires (the rain did let up for a few hours), dancing, singing, games and skits, and teachers and students alike left the camp with new friends.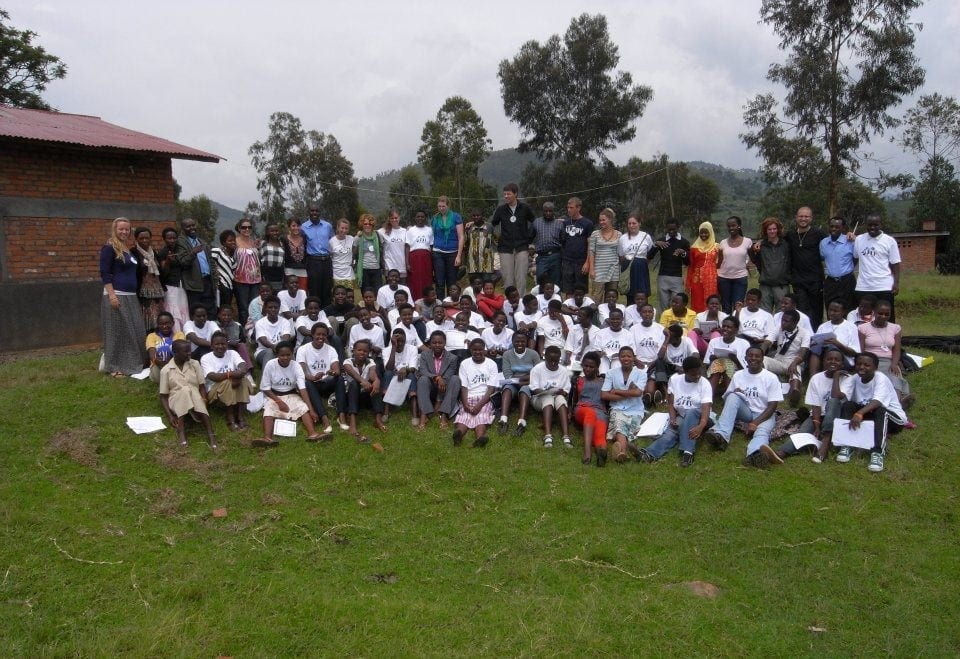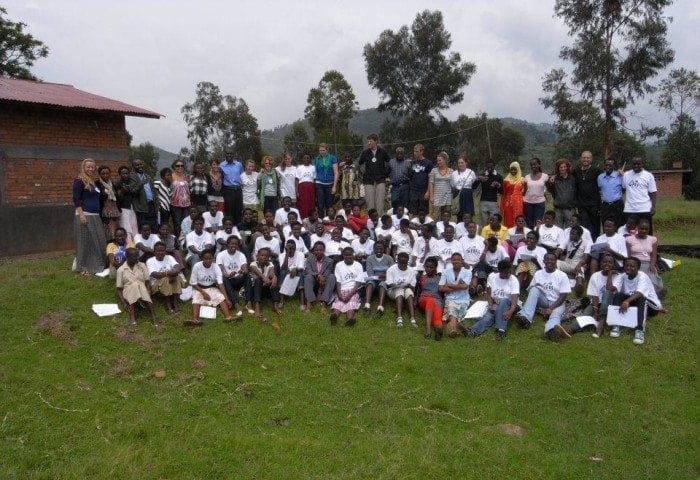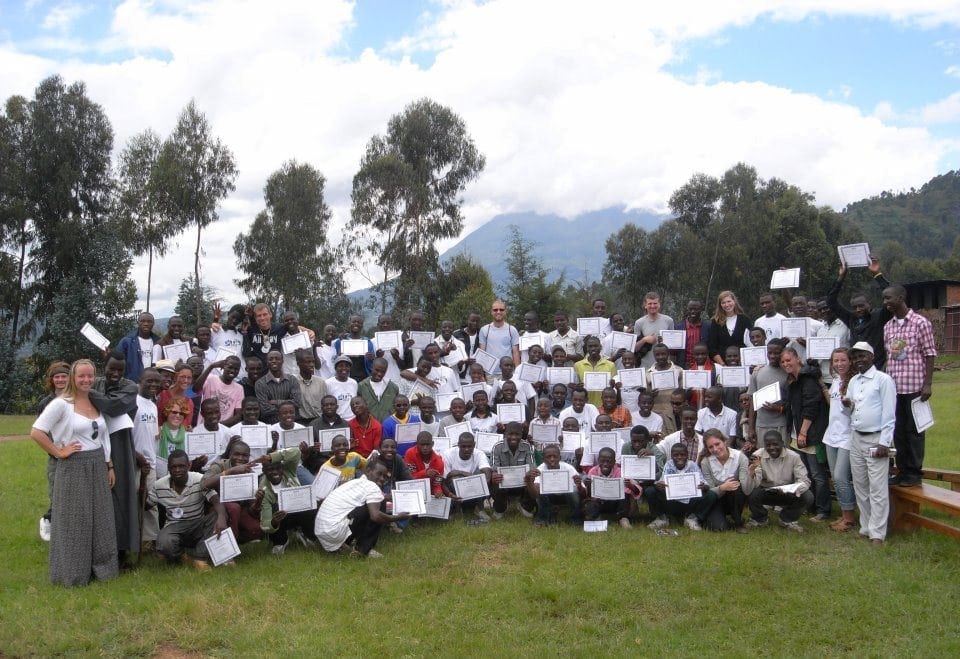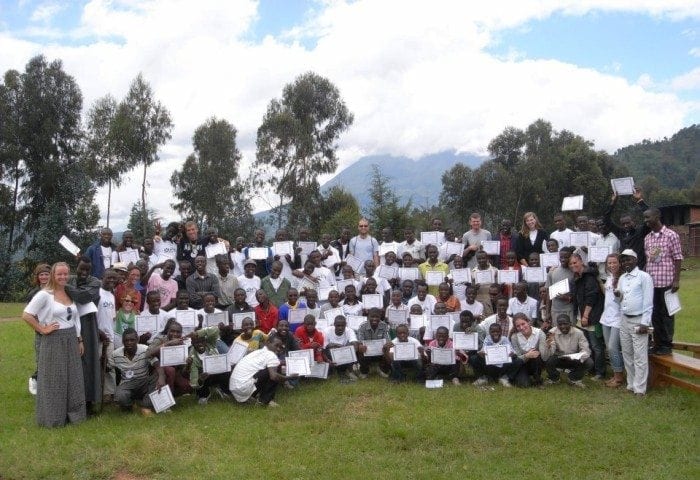 There were other camps being conducted around Rwanda, but ours was a little unique. We were able to host students and teachers from one of the only schools for the blind in Rwanda. In Rwanda there are really only 2 dedicated schools for students with vision impairments. We really felt lucky to have an opportunity to work with one of the schools and meet Eric, a teacher from HVP Gatagara.
Eric Niyikiza, a cheerful and skilled teacher with the HVP Gatagara School for the Visually Impaired, led his group of students as they made the long journey to our camps. He brought along a few heavy Braille typewriters and some packs of thick Braille paper so that he could transcribe notes for his students and teach a small course on Braille.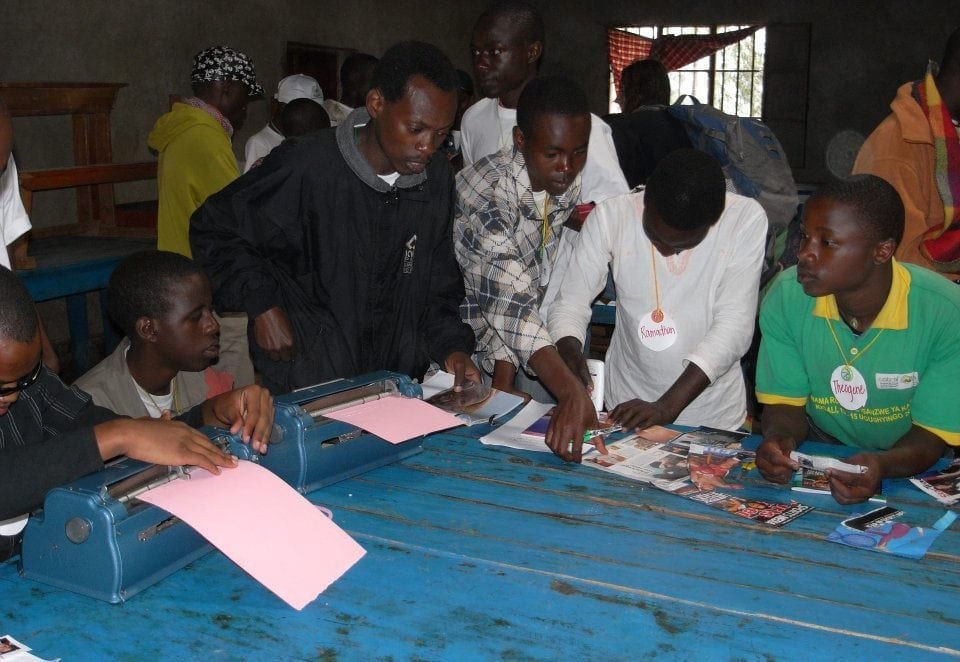 The sighted students and teachers (as well as many of my fellow Peace Corps Volunteers) were enthralled during his course, and found Braille to be so new and exciting that they were talking about it for days. In Rwanda, there are very few instances of inclusive schools that cater to students with special requirements, and there are only a few schools that work with Blind students. This means that the average Rwandan teenager has never been exposed to Braille, and many Rwandan adults don't really know what Braille looks or feels like.
In America, sighted individuals grow up seeing Braille in a variety of places – the most common probably being on bathroom door signs. I don't remember ever seeing a sign or any other text that included Braille during my three years in Rwanda. So for the students and teachers involved in our camps, to have an opportunity to learn about Braille first hand was pretty unique. The teachers and students at our camps felt lucky to have an opportunity to learn about Braille and the blind students were happy to have supportive and curious peers with whom they could exchange knowledge and have some fun.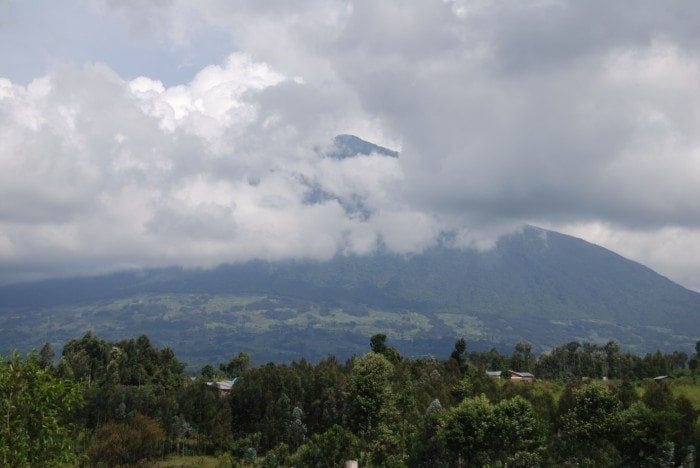 More Information About HVP Gatagara School for the Visually Impaired
The HVP Gatagara School for the Visually Impaired was founded in 1979 by "The Brothers of Charity" of the Catholic Church in partnership with the government of Rwanda. The school has 18 teachers for 164 students. All teachers are trained in the field of special needs education and the school employs 4 teachers with visual impairment too. They offer the standard nine year basic education program at their school (Primary 1 to 6, and Secondary 1 to 3; US Elementary and Middle school equivalent). HVP Gatagara's motto is: Disability is not inability.
A Little Background on Peace Corps Rwanda
The United States Peace Corps was in Rwanda from 1975 until 1993, when they were forced to evacuate the country due to rising ethnic tensions and conflict. In 1994, Rwanda was shattered by one of the most devastating Genocides this world has seen in recent history. It was fast and brutal, killing around 1 million people in just three months. Twenty years later, I have seen how hard Rwanda has worked to overcome this gruesome history. The country is safe and peaceful. It's not perfect, but I've seen Rwandans from all walks of life who are working hard to ensure that peace and progress are important cornerstones in Rwandan culture.
Peace Corps returned to Rwanda in 2008 to continue working in the health and education sectors, and when I came to the country in 2010, I was a member of the second group of Education Volunteers. Being a part of a newly developing Peace Corps program was fun and exciting even though the learning curve was steep. I learned a lot about flexibility, resiliency and working independently; lessons that were certainly useful when it came time to run our GLOW and BE camps in 2011. I learned far more than I taught, and my time in Rwanda changed me more than I could've expected.
A fun exercise in Kinyarwanda, the native language in Rwanda
Hello: Muraho
How are you?: Amakuru?
I'm good: Ni meza
Teacher: Umwarimu
Girl: Umukobwa
Boy: Umuhungu
Camp/ training: Amahugurwa
One: Rimwe
Two: Kabiri
Three: Gatatu
Four: Kane
Five: Gatanu
Six: Gatandatu
Seven: Karindwi
Eight: Umunane
Nine: Icyenda
Ten: Icumi
More Information on Rwanda and the U.S. Peace Corps Volunteers
Tags: Allison Snyder, Blind Children, Braille, HVP Gatagara, Peace Corps, Rwanda, Visually Impaired


Categorized in: Accessibility, Informational, News and Events, Opinion

This post was written by Braille Works