What's on the Kid's Menu for Children with Visual Impairments
Published on
When I was growing up, I wanted to be a teacher. Helping the future was always something I sought after, either in or out of a classroom. I was one step closer to my goal of getting into the classroom when I went to Florida State University. When I was exploring majors, I was asked by a professor, "What do you think about individuals with visual impairments?" And my answer was, "They are people who cannot see." Was this a trick question? Who knew that would have been the question that opened the door to completely transform my life into what it is now?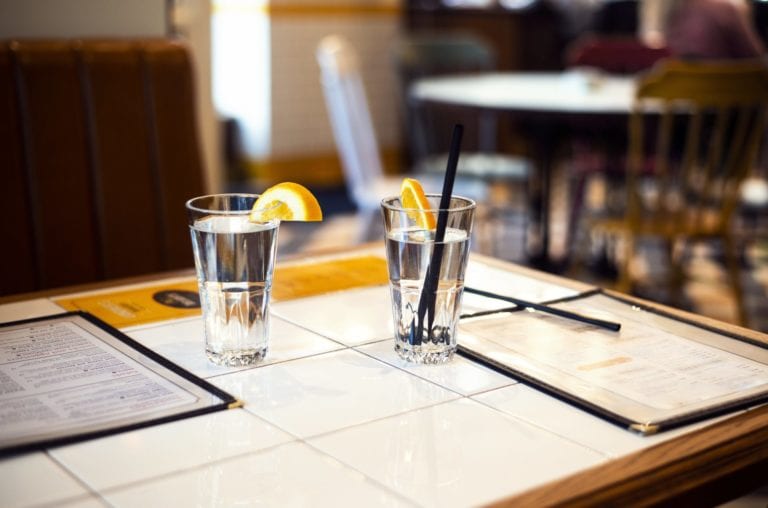 Opening the Door and Getting Seated
When I moved to the school system I'm in now, decades after me being a young child, it baffled me that my students were not getting the same experience at an eating establishment as I did when I was their age. When I was growing up, it was always a treat to go out with my parents to a new restaurant, sit around the table, and order random things off the menu. That is the best way for our taste buds to experience new flavors or textures we usually wouldn't order.
When going to a restaurant with their parents, many of my students are silent when ordering. They don't do it on their own. They go in with a mental idea of what they want, and their parents run with it, being their voice. But what if they wanted to add something? What if they tried to take out an item and substitute it with something else? What if they didn't want the sides that came with their meal? The fundamental freedom we have to read, review, and manipulate an order off a menu at our leisure has been wholly ignored in this instance.
Exploring the options of sides, variety of drinks, or even learning the specials of the day, are all things that are being sadly missed for individuals with visual impairments. Under the Americans with Disabilities Act (ADA), restaurants have Large Print and Braille menus, but what about the kid's menus? A basic kid's menu at restaurants can bring parents a bit of peace, but also occupy children with visually grabbing and mind motivating activities before food is brought to the table.  Children with visual impairments do not have the same luxuries while they wait as their sighted peers. What can we do to change this?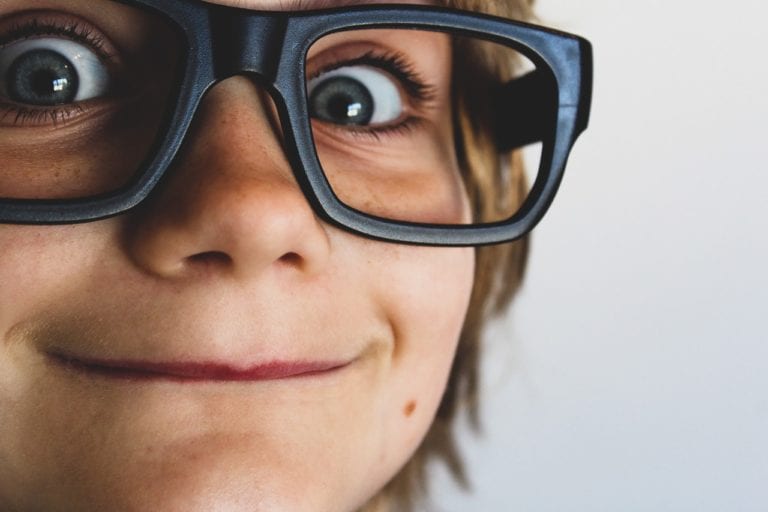 First-Hand Accounts
Would you like to hear from your audience? I asked my students questions about restaurants, and here are their responses below:
What is something you didn't know about your favorite place to eat?
4th Grader: "I didn't know I could have fruit punch. I wish someone told me all the drinks before I got a Coke."

12th Grader: "I didn't know that some places had a lighter option on their menu. It would be cool to get broccoli instead of fries sometimes."

5th Grader: "I didn't know you could just order a salad at chain restaurants. I wish someone read that to me. I would have only got the salad and not my pasta. I gave my spaghetti to my grandpa when I got home."
What is something you wish you could do on your own at a restaurant?
5th Grader: "I would like to order my own food. I can do it on my own"

6th Grader: "I wish I could read their gluten-free options, instead of my mom or grandma reading it to me."

10th Grader: "Places have vegetarian options. That is so cool. I wish I could read all their options. My brother thinks that stuff is gross, so he never reads everything to me. I always have to use an app or something."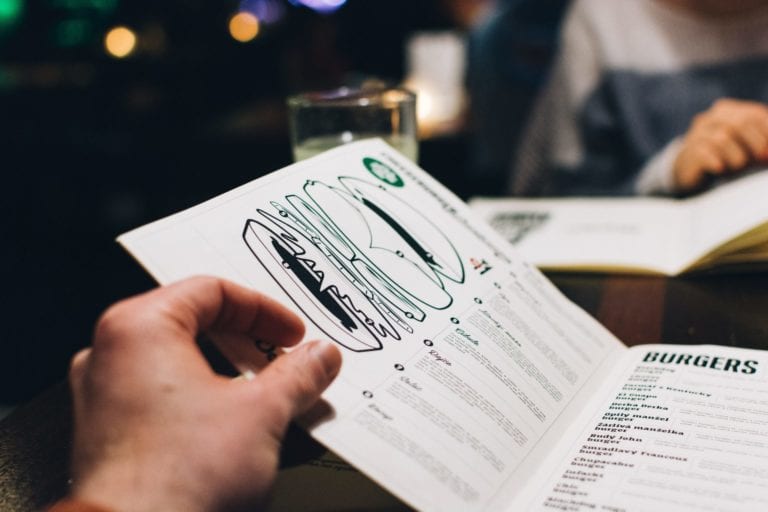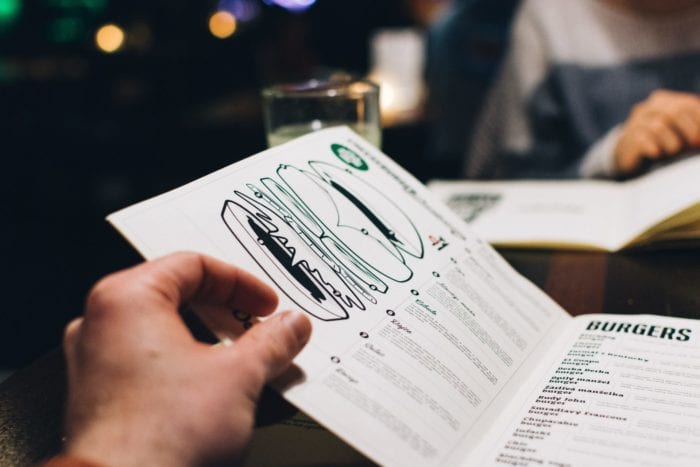 The Change
What can we do to change this? I have given my high school student, for the past six years, the same in-service project to help improve her community for the better. Braille menus. On our mobility lessons, I have given her tasks to talk to the General Manager at an establishment and voice why she wants to braille their menus. This gives something so simple to these restaurants that are providing a huge level of independence and equality for all, with assistance and correct Unified English Braille (UEB) formatting. My student has brailled every SINGLE menu in her city's downtown square.
She is not the only blind person in her community, city, or Northeast Georgia. She was not the only blind person missing out on the pure independence of reading a menu. With her dedication and urge for equality, she did something to change her community for the better.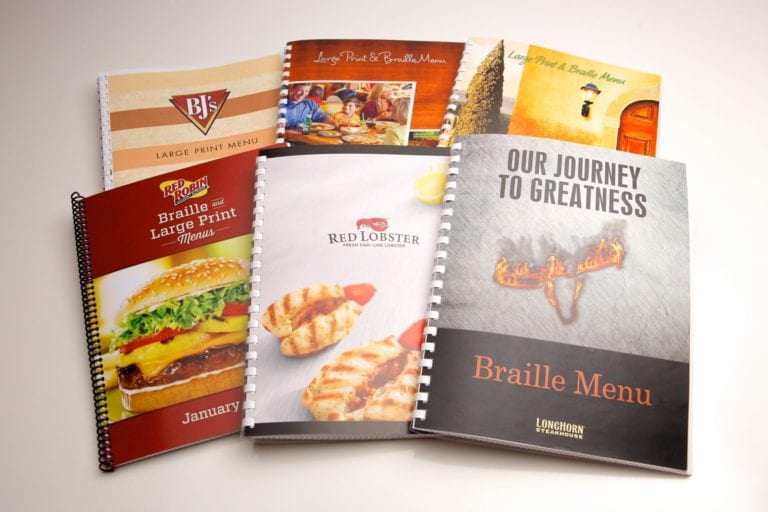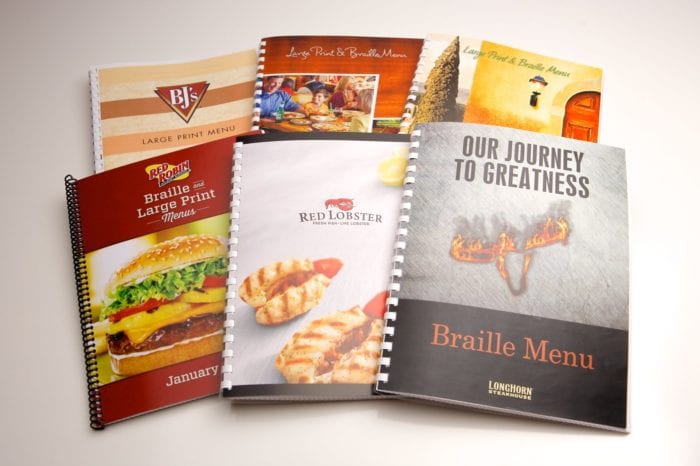 Create a Better Experience
Small steps will make a huge difference. Having better training within the community will be the small push we need to have a large, more inclusive future. Restaurant staff members should be knowledgeable about where the menus are, not just for food allergies, but for adapted formats.
Also, staff should be trained in basic verbiage in certain situations. For example, when placing down drinks, waiters should tell the customer(s) the drink was placed on the right.
Some agencies will help restaurants braille their menus and keep chain restaurants up to date with their seasonal changes. But we can do more. We want to see restaurants across the country and around the world bring inclusivity to their establishments. Everyone should feel included, have a great experience, and enjoy time out with their friends and family. Braille menus are a good start to making that happen.

Related: Things We Wish Restaurants Knew About Serving Guests With Blindness
About the Author
Keely Zeitlin is a Teacher of the Visually Impaired & Blind, and a Certified Orientation and Mobility Specialist. She graduated with a Master's from Florida State University, as part of the Visual Disabilities program, and strives to bring inclusion to students and the cities they are in.
Categorized in: Opinion, Restaurants, Uncategorized
This post was written by Braille Works