[Free] Document Accessibility Review for Bankers
Published on
Accessibility in Banking | Trust You've Got it Done Right
If you work in the banking and finance industry, you've likely had your fair share of training on document accessibility and including customers with disabilities. The government made this a mandate and signed it into law with the Americans with Disabilities Act decades ago. Asking banks and financial institutions to be among the first to be responsible to it, many jumped at the chance to help more customers, but it didn't take long for these groups to realize how complex and involved these rules and guidelines truly are.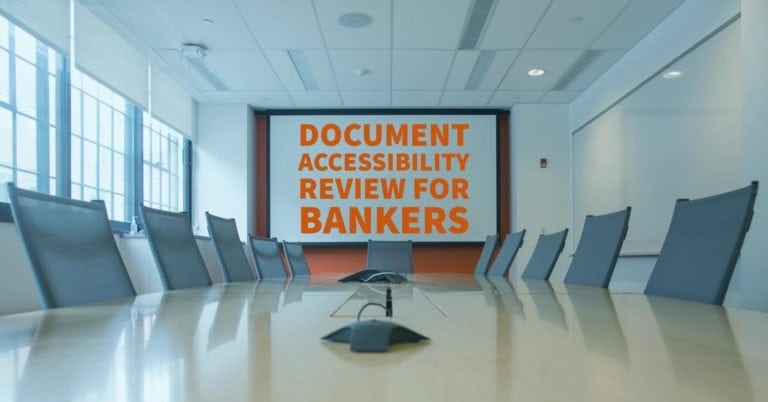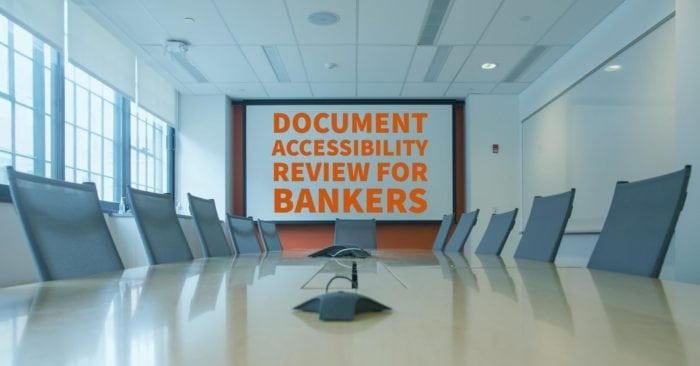 We'd like to help clear up any confusion and explain the most common questions we've received in helping those in the banking and financial industries comply with these laws. Getting accessibility right and including people in life and in business is what really matters to us. It's why this company was formed over 22 years ago and it's been our driving mission ever since: "Making the world a more readable place™." That's our background and it's with this experience and work on the frontlines of compliance and accessibility that we've used to create this resource.
With the rise of mobile banking and completely paperless banking practices however, we'd like to focus our attention in this article on accessible electronic documents. There is still a need for traditional alternative formats like braille, large print and audio – and you can follow the links to learn more about those here. Additionally, please reach out to one of our specialists today and we'd be happy to explain the differences and benefits of each of the options available to your customers with visual impairments.
Accessibility and compliance can be tough, but you don't have to go it alone. It matters a lot to us that businesses get this right and make useful documents for actual people, especially in banking. That's why we've asked our 508 Compliance – Accessibility Specialists to review any document people bring us and check to see whether it's compliant, at no charge. We want your business and can help you create more meaningful connections with your customers. That's another reason why we'll help any financial organization, bank, credit union, or even credit card company check that their documents are accessible and compliant for free. Should you be interested to know how to make your documents compliant with the law and accessibly useful to your customers with visual impairments and other disabilities, we also provide a free no obligation quote based on your custom documents.


Overview
To help explain how financial industries are impacted by the Americans with Disabilities Act and other accessibility rulings in the United States, we've asked two of our senior team members to go over some definitions, rulings, and best practices below.
First up we'll be interviewing our 508 Compliance team leader, Sonja Forbes, about her more frequently asked questions from customers, some definitions of compliance, and what she finds she explains the most when it comes to Section 508 Compliance.
Next we invite our V.P. of Sales, Glen Schubert, to review some of the common conversations he has with other executives in the financial industry and what he really wants to help them understand.
An Interview with an Accessibility Expert
Interviewer: Thanks for taking the time to answer some questions today, Sonja. With your background in accessibility and Section 508 compliance, it's going to be great to pick your brain about all this. Just for the record, what is your title here at Braille Works and what do you and your team do?
Sonja, Accessibility and Section 508 Compliance Specialist: My official title is 508 Project Manager. My current role at Braille Works in a nutshell is the Section 508/Web Content Accessibility Guidelines (WCAG) 2.0 AA Subject Matter Expert (SME).
As the SME, I educate clients and staff on accessibility guidelines and best practices pertaining to electronic documents. Working together with clients, we ensure that they understand the guidelines and the importance of doing it right, all while striving to meet their deadlines. My team of Document Accessibility Specialists here at Braille Works ensures 100% compliant documents, in a timely manner, while being cost effective.
Interviewer: Wow, you mentioned "accessibility" a lot just now. If I can be blunt for the sake of this conversation, why is accessibility important; why does any of this matter?
Sonja: Accessibility is extremely important, especially in this day and age where you have to use a computer to pretty much do EVERYTHING. Being that computers have become a way of life, it was smart that the government amended (Section 508) the Rehabilitation Act of 1973, enforcing that electronic software, hardware, documents, and more be accessible for all users.
It is important that people with disabilities have the same opportunities as others. If I can navigate, read and analyze a document without assistance so should everyone else in the world, no matter if they have low vision, are missing a limb, or have limited motion of their hands.
Interviewer: You make some really valid points, thanks for the insight. To help us figure out what this means to financial professionals, could you tell us why banks should be thinking about the accessibility of their documents and what is "Section 508" anyway?
Sonja: Section 508 means THE LAW. In summary, this translates to: This amendment of the Rehabilitation Act makes it mandatory that all electronic objects (documents, software and websites) have to be accessible to ALL individuals. It applies to any company doing business with Federal agencies.
If you want to get technical, "In 1998, Congress amended the Rehabilitation Act of 1973 to require Federal agencies to make their electronic and information technology (EIT) accessible to people with disabilities.
The law (29 U.S.C. § 794 (d)) applies to all Federal agencies when they develop, procure, maintain, or use electronic and information technology. Under Section 508, agencies must give disabled employees and members of the public access to information that is comparable to access available to others."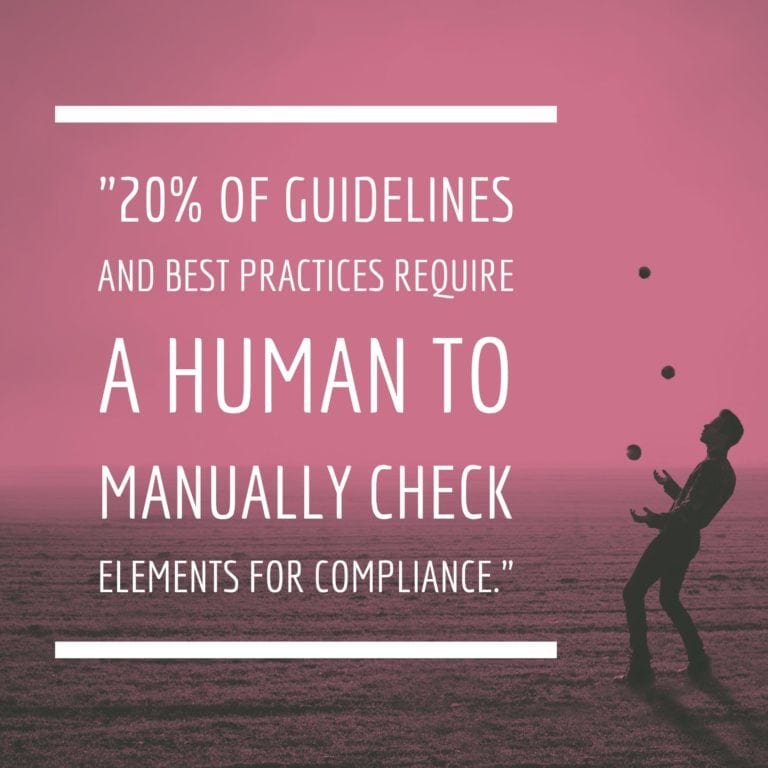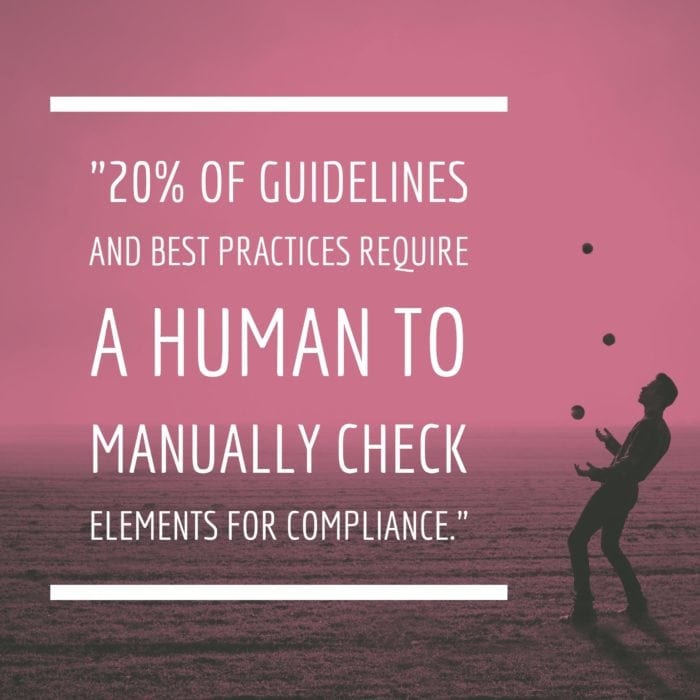 Interviewer: That does sound technical. Could you tell us a little about how you make sure this is done right and why accessibility testing is important? How does your team do accessibility testing?
Sonja: Having a trained Document Accessibility Specialist, test documents to ensure compliance is very important. They will ensure that the document will work with assistive technology by ensuring that it passes governed guidelines and best practices.
We perform about 4 steps of quality control for each document to ensure compliance.  At Braille Works, we take ownership in our work and we fully understand the liability of a non compliant document.
Clients should not depend on an automatic checker, being that about 20% of guidelines and best practices require a human to manually check elements for compliance. As of today, you will not be able to find an accessibility check that can successfully check your documents for compliance.
Interviewer: Could lay out what you talk to customers about the most when it comes to financial documents and accessibility? Maybe just give us your pitch – the one that you most likely have prepared by heart; the one that you could recite forward and backward.
Sonja: Absolutely, I'd be happy to. At Braille Works we remediate documents to the WCAG 2.0 AA standards. The government will eventually refresh their section 508 guidelines to reflect the WCAG 2.0 AA standards.
I would gladly explain what we do to ensure the document(s) is compliant. Below I explained the reason why we remediate documents, what standards we use and the workflow between us and the client. As for the compliance questions, we remediate to the section 508 standards which is covered in the WCAG 2.0 AA standards ensuring that the document is accessible by using a screen reader and other assistive technology devices.
Reason:
All content should be made available to everyone no matter what their disability, impairment or disorder may be. All content should be convened in the same manner as a person viewing it without any disability, impairment or disorder.
Therefore, the government passed a law (Section 508 of the Rehabilitation Act of 1973 (29 U.S.C. § 794d) requiring all electronic and information technology be accessible.
Guidelines and Standards:
At Braille Works we ensure that all documents are fully accessible by remediating documents to the Web Content Accessibility Guidelines (WCAG 2.0 AA). We also implement best practices that ensure the document is easily accessible by assistive technology.
We ensure the following:
All content is made available to the senses (sight, hearing and/or touch).
All interface forms, controls and navigation are operable.
All content and interface are understandable and
All content can be used reliably by a wide variety of assistive technologies.
The following are a few main features:
Reading Order: All content is read in logical reading order. Left to right, top to bottom and if in columns left column then right column).
Semantic Markup: All elements will be marked up correctly so that the assistive technology can navigate to the elements. Headings, Paragraphs, Images, List, Links, etc.
Images: All images that convey content will have descriptive alternate text.
Tables: All tabular data will be marked up as a table containing header cells and data cells.
Forms: All form inputs (text fields and check boxes) will have text labels, descriptive values and be available by using the keyboard.
Links: All links will be executable and have a link purpose associated with the link.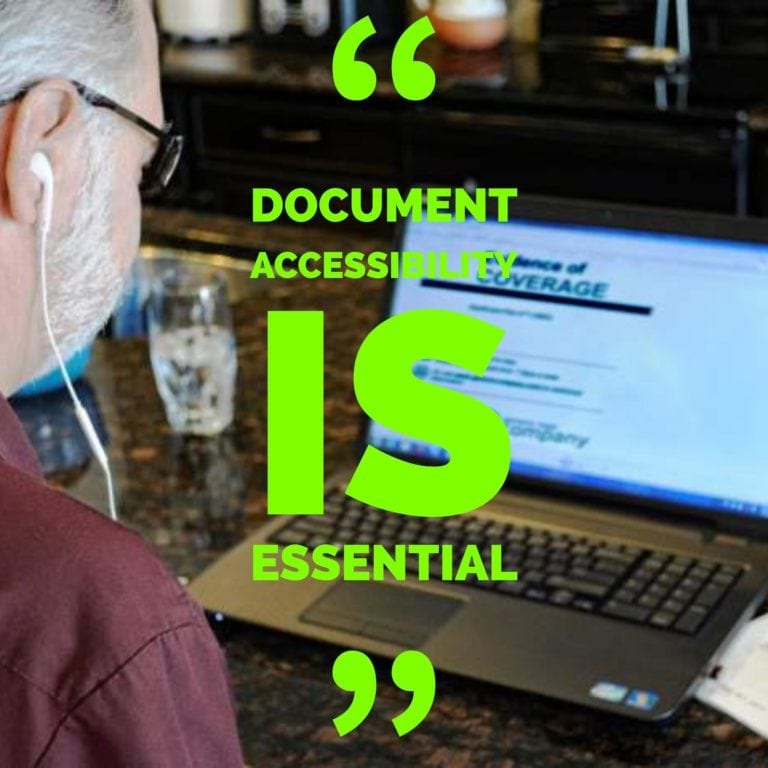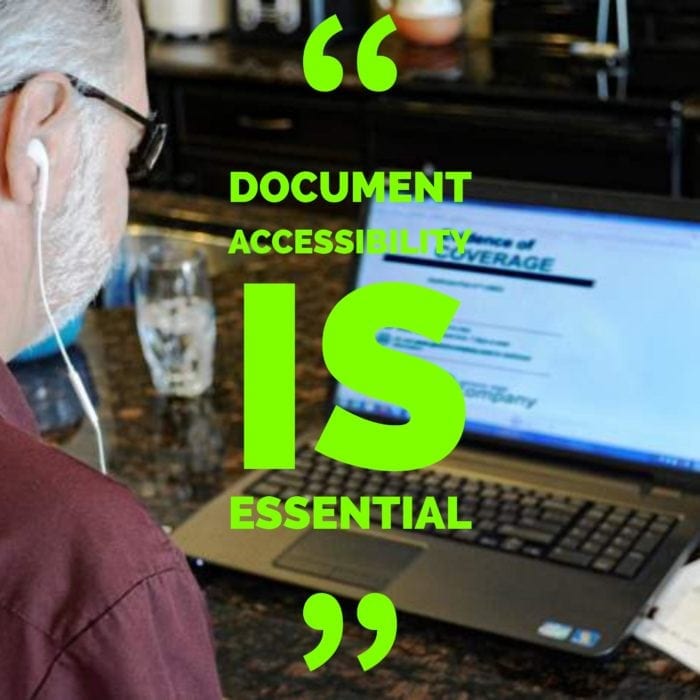 Work Flow:
Document(s) is sent to Braille Works.
• Braille Works assesses the document(s).
• Request Alternate text for images (if applicable).
• Request color changes that do not pass compliance (if applicable).
• Communicate anything that may be a show stopper (if applicable).
Proposal is sent to the customer.
• Turn around date and amount is enclosed.
• Alt text and color request is also enclosed (if applicable).
Client sends signed proposal back to Braille Works.
• Client pays before document(s) are started or establishes a Purchase Order.
• Client sends "Alt text" back (if applicable).
Braille Works processes document(s).
• Remediate the document(s) along with 3 levels of Quality Control including assistive technology Quality Control.
Braille Works delivers the document(s) back with signed Certificate of Compliance.
If you anyone has any questions please feel free to contact us. I hope this covers everything. When this process is new to someone it can be overwhelming so we can also jump on a phone call if needed. Our phone number is:  1-800-258-7544.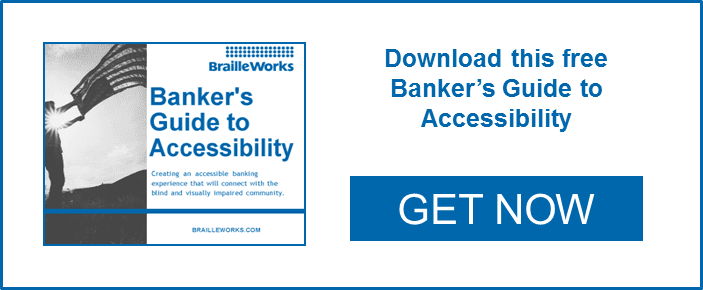 A Conversation for Bankers about Accessible Financial Documents
Next we'll be talking to our V.P. of Sales and Marketing, Glen Schubert, about some of the common conversations he has with executives in the financial industry and what he hopes to help them understand about accessibility.
Interviewer: Thanks for agreeing to this, Glen. When it comes to providing a resource for those in the financial industry, it struck me as obvious that I should talk to you. You've helped negotiate contracts for accessible documents with some of the biggest names in banking and even with the government.
Would you share with us what those initial conversations are usually like and what questions or concerns you can address for other bankers and finance professionals who might be looking into getting the same?
Glen:  Thank you for the opportunity.  When we have the chance to speak with a new client about accessible documents, they are often in the situation where "they don't know what they don't know".  They've heard of braille and know that it's 'some kind of bumps on a page' but have no understanding of the process or best-practices for creating a braille statement.  In the same vein, they don't have an understanding of proper Large Print formatting, or how an audio document should be arranged.
Interviewer: That sounds tricky. If "they don't know what they don't know," are there some obvious things that jump out at you that they should be aware of? How can you and your team help with this discovery process?
Glen:  We view it as our job to educate clients on the needs of their customers who are blind or visually impaired.  We walk them through the process of transcribing a document from text to braille.  We show them that all braille is not created equal and many braille companies just dump the text to braille without properly formatting and arranging the information for the braille reader.
It also gives us an opportunity to help them understand that a person with a low-vision condition doesn't necessarily want a large print statement with the bright colors and fancy fonts that appeal to a banks marketing department.  Or, that most people don't want a dramatic reading of their audio statement; they want a consistent, computerized voice that they can speed up to help get through the information quickly and clearly.
Interviewer: That makes sense. I skip around when reading my own banking statements. I can't imagine having to read all of the fine print every time if I didn't want it; but it's comforting to know I can go back to it should I need. Having those same options and consistency available to everyone seems like a smart choice if that's exactly what people want and how they operate.
In closing, if I asked you to sum up your message, what is the main thing that is at the heart of your meetings with financial executives?
Glen: We want to help others understand that people with a visual impairment or blindness are consumers like everyone else.  They want to receive information in a way that they can read and understand the content.  If you're addressing a Spanish or French speaking population, you wouldn't provide the information in Chinese, you would provide it in a format they could read.  For a customer that is visually impaired or blind, you also wouldn't want to provide information in a form they couldn't read.
As I mentioned, it's simply a matter of education.  We help banks, financial institutions, federal government agencies, health insurance companies and others to understand this part of their market.  We help them deliver printed documents so all of their customers are able to read and understand the information.


Supporting Documents/ Other Resources
Tags: Accessibility, accessible banking, Accessible Documents, bank statements, banking, document accessibility


Categorized in: Accessibility, Banking

This post was written by Braille Works