Accessible Documents, the Positive Approach to Compliance
Published on
The Department of Justice is swift in taking action on companies and businesses that are found to be out of ADA Compliance in all areas of practice. The list of companies being sued and fined over non-compliance of printed materials into an alternative format is growing and making negative headlines. By using a positive approach to compliance, you can:
Turn this Headline…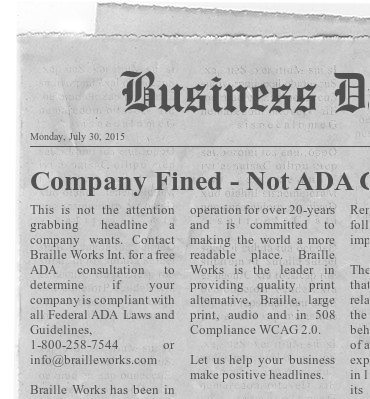 Into this Headline!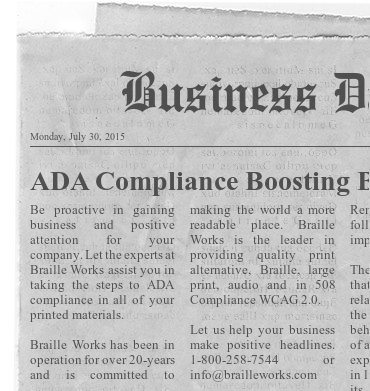 It's time to take a positive approach to ADA Compliance. Let the experts at Braille Works keep your business on the positive side of the news. Be known as an industry leader in ADA Compliance across the board. Contact us today for a free compliance consultation. Getting compliant has never been so easy, cost-effective or beneficial.
We can meet all of your business's print alternative needs with Braille, Large Print, Audio and Accessible PDF's (WCAG 2.0 AA and 508 Compliant).
1-800-258-7544
info@brailleworks.com
Related Articles of Non-Compliant Companies from Across the U.S. and Beyond
Tags: 508 compliance, 508 Compliant, Accessibility, Accessibility Compliance, Accessible Documents, Accessible Marketing, Accessible PDF, ADA Compliance, audio, Braille, large print, WCAG


Categorized in: Accessibility, Banking, Government, Informational

This post was written by Braille Works