Beginner's Guide to Business Accessibility
Published on
Business Accessibility- Beyond Wheelchair Ramps and Doorways
There are tremendous benefits to business accessibility and creating an inclusive atmosphere for all of your customers. We already know modern consumers prefer to do business with socially responsible companies, and being fully accessible will help prove to the public that your company truly cares.
The internet is overflowing with pages about physical accessibility standards so we're going to focus on document accessibility in this article. We are the accessible document experts after all ;).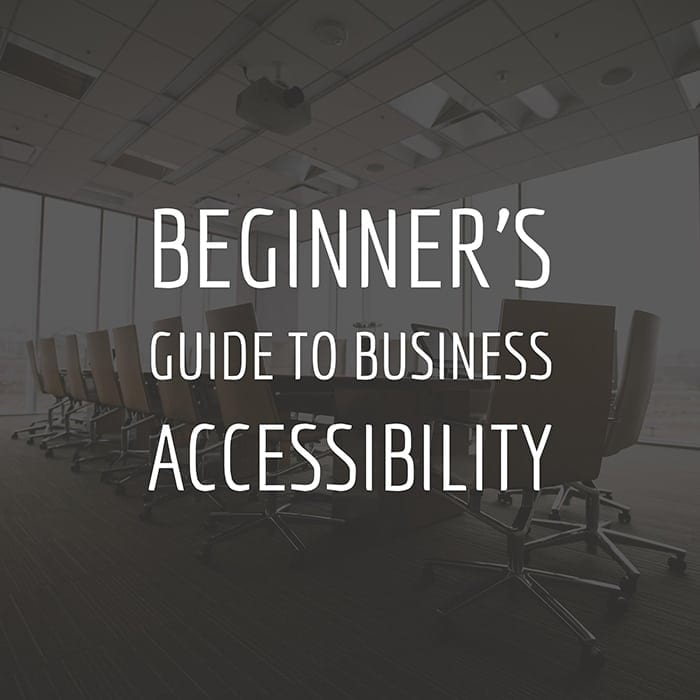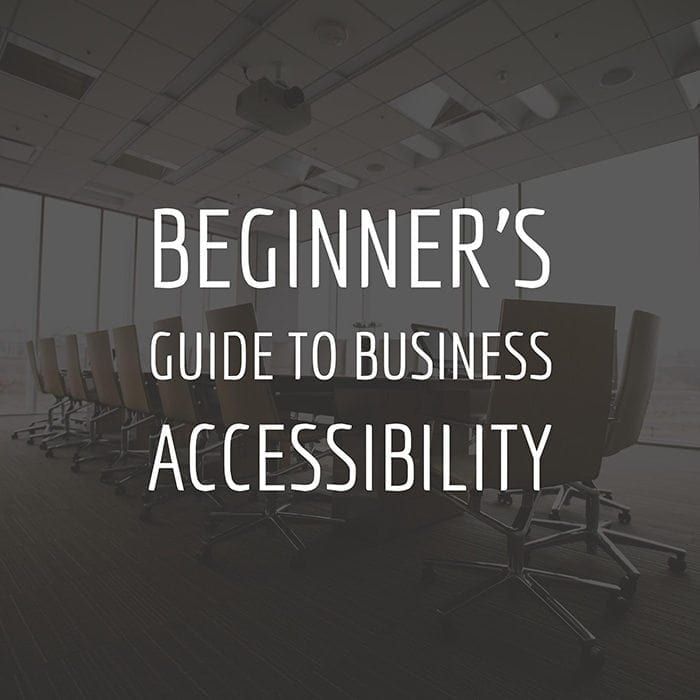 I'm sure we can all agree that giving people who are blind or visually impaired equal access to information is the right thing to do. That's why we want to share some valuable insights and information on exactly what accessible documents are and the positive impact they can have on people's lives.
Our motivation here is to help more businesses become accessible in their communications with the blind and visually impaired community; leading to a fully inclusive business environment.
What is Braille and who is it for?
Braille is a system of reading and writing. Braille gives people who are blind or visually impaired a way to read, write, and communicate without needing eyesight. Refined in the late 1800's by Louis Braille, it was originally developed by a French army captain named Charles Barbier to enable his officers to read battle commands during the night without the aid of candle light.
Braille is represented through a series of raised bumps that correlate to letters and join together to form words and sentences, in its most basic form it can be thought of much like a font on a computer. Braille is not its own language, in fact most languages can be transcribed into braille translations of that language. It's a way to communicate for millions of people, so it's no surprise that people want and need braille documents of all kinds.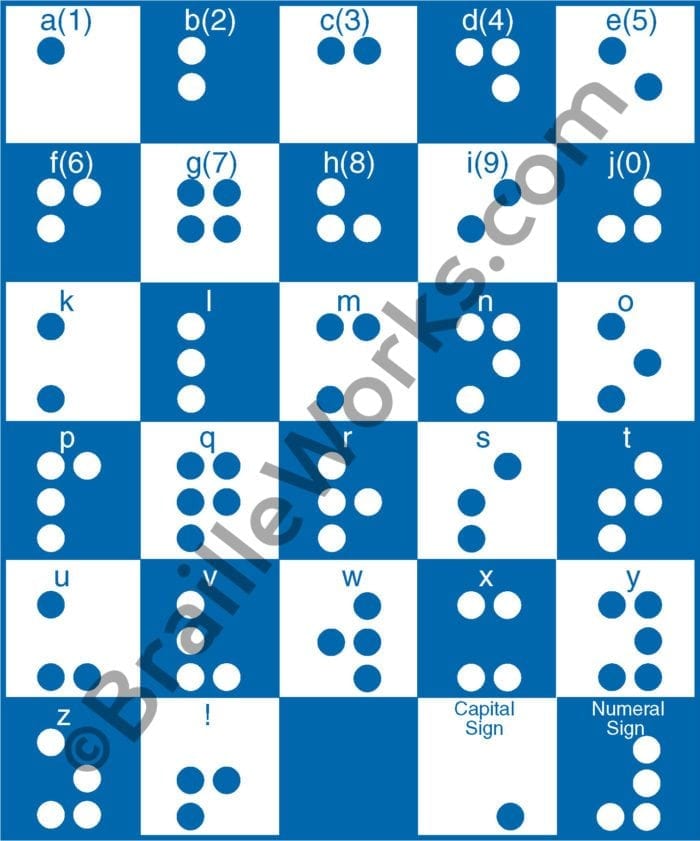 What are accessible documents?
A great business accessibility plan includes understanding what accessible documents are why they're important.
Braille is not the only accessible document format that's available for people with visual impairments. It's great for people who are completely blind and braille literate; but what about everyone else? This is where the other accessible document formats come into play.

Large print documents are perfect for most seniors and anyone with low vision.
Accessible PDF and Word documents are crucial to an accessible online experience. If your business wants to provide an exceptional online experience for customers with blindness, you should always ensure your online documents and downloadables are accessible.
Audio format is another accessible format that many end-users prefer. Documents are recorded in text-to-speech or live-reader audio; giving customers with low vision the freedom to listen to the information.
Really, when you think about the word "accessibility", it's simply the "ability" for someone to "access" something. Whether we're talking about physical accessibility, online accessibility, or document accessibility; it all boils down to providing everyone with the "ability" to "access" your company's products and services.


Why does business accessibility matter?
There's no denying that business is a big part of life. Whether people are sighted or not, they still interact with businesses on a daily basis. As such, it's a good idea for all businesses to design accessible products and services so they can be used by as many people as possible.
With over 7 million people in the United States who are blind or visually impaired, now is a better time than ever to have your business join the accessibility movement. It's not only the right thing to do from a moral standpoint; it makes good sense to open your business up to a new market of millions of people.
To give you a quick example of how this hits close to home; here's a screenshot showing a map of the Braille readers who requested a Braille letter from Santa last Christmas via our Santa Reads Braille program. While these where not business-related requests; it still gives us an idea of the high demand for accessible documents in the marketplace.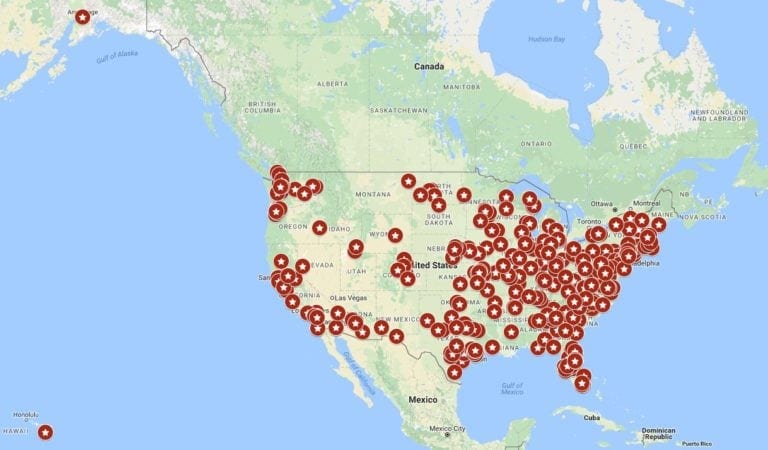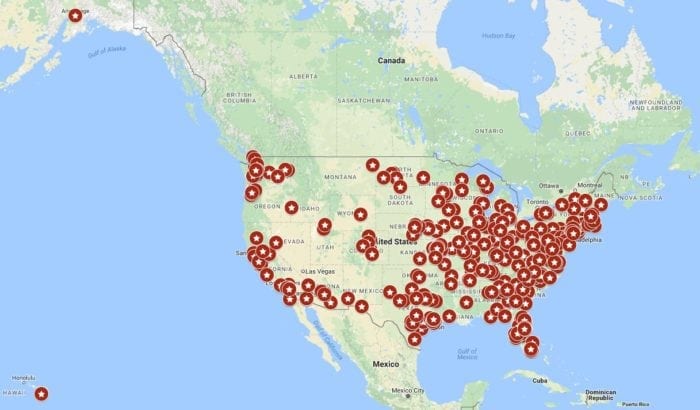 A primer on the laws surrounding business accessibility.
Rehabilitation Act of 1973
The Rehabilitation Act of 1973 was a major legislative effort in the United States. The intention was to secure a level playing field for individuals with disabilities and provided a wide range of services for persons with physical and cognitive disabilities. It was created in an effort to support full and continued employment, the pursuit of independent living, and overall inclusion in American society.
In addition to all The Rehabilitation Act covers, it prohibits federal agencies and/or any program receiving federal financial assistance to discriminate on the basis of disability in federal employment. Sections 504 and 508 of the Rehabilitation Act, as amended, have a specific impact on accessible documents and web design.
Follow these links to learn more about the Rehabilitation Act: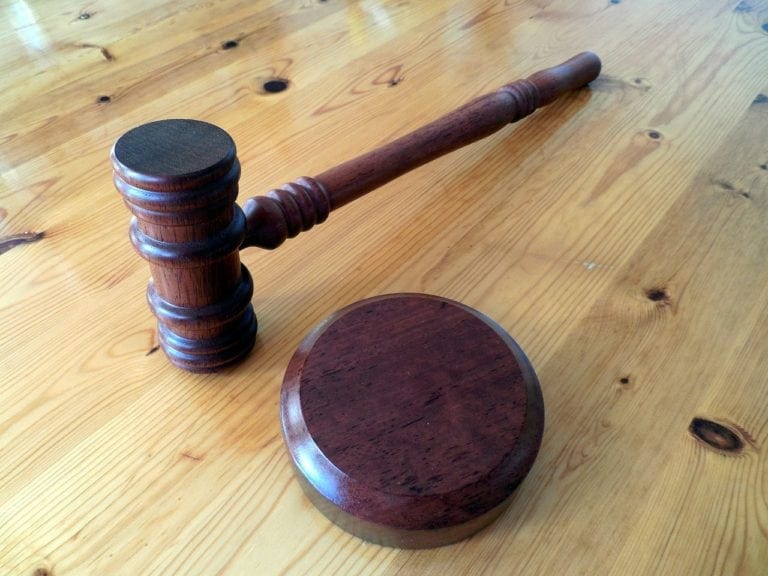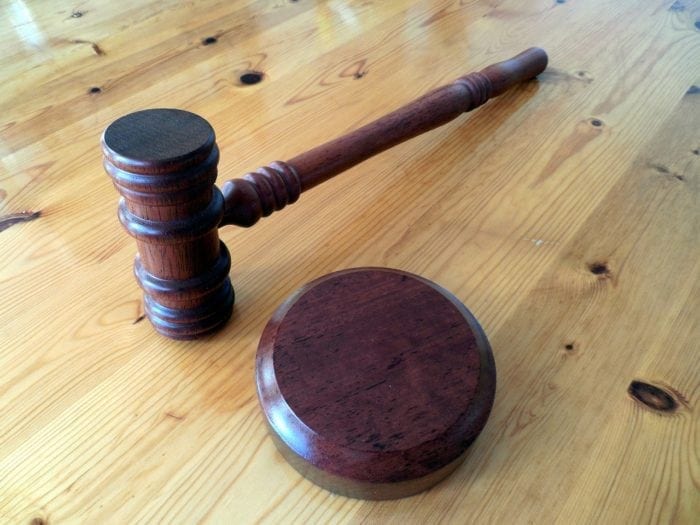 The Americans with Disabilities Act
The Americans with Disabilities Act of 1990 (ADA) prohibits discrimination and ensures equal opportunity for persons with disabilities in employment, State and local government services, public accommodations, commercial facilities, and transportation. It's a Federal civil rights law that prohibits the exclusion of people with disabilities from normal everyday activities such as going out to eat at a local restaurant, buying goods and services from physical or online stores, going to the gym to workout, or enjoying a new release at the movie theater.
More recently, Congress enacted the ADA Amendments Act. It made a number of significant changes to the meaning and interpretation of what a "disability" is to ensure that the definition of disability would be broadly construed and applied without extensive analysis. To meet the goals of the ADA, the law established requirements for private businesses both big and small.
Follow these links to learn more about the Americans with Disabilities Act:
Business accessibility- beyond wheelchairs and Braille signs.
ADA compliance means that all aspects of a business be accessible to all clients, equally. What good is it going to be to get clients in the door if you do not have accessible documents to meet their needs?
Each person who accesses your business, by walking through the door, calling your business or visiting your website is entitled to accessible services. People with disabilities are consumers too, and as the population continues to age and people are living longer, it's probable that more of your current clients will eventually require accessible services. Accessibility will ensure you're marketing to all clients and potential clients.
You can read more about this topic in here- ADA Compliance in Banking; Beyond the Wheelchair and Brailled ATMs.

Some examples of braille and other accessible documents.
Here at Braille Works; we have transcribed just about every kind of document into accessible alternative formats for businesses across America. Usually when people think about accessibility for people with blindness; the first thing that comes to mind is Braille. It's great that so many people are aware of Braille and the positive impact it has on the everyday lives of its readers. However, the truth is, many people with low vision or blindness are not Braille literate. This fact shines a light on the importance of other types of accessible documents like large print, audio and accessible electronic documents.
To give you an idea of what's possible, below are just a few examples of the different types of accessible documents we produce for business. In reality, the possibilities are endless when a business chooses to provide accessibility, independence, and dignity for their clients with visual impairments.
Accessible PDF Statements and Directories
Just about everything is done online these days; we're all well aware of that. What does that mean for users with low vision? Sometimes there can be a divide between businesses and individuals in the visually impaired community. When a company relies heavily on visuals and graphic displays to conduct business online, it becomes extremely important to have accessible options for customers with visual impairments and blindness. Having 508 compliant, fully accessible PDF's on your website gives people using screen reading software the same access to information as everyone else.
Bank Statements and Notices
Government Agency Notices
Healthcare EOC, ANOC, Provider and Pharmacy Directories
Audio Notices and Disclosures
Just about any document can be converted to audio format. Audio documents must be properly formatted and scripted to recreate the intent of the visual document. At Braille Works, we use a proprietary scripting process for all audio transcription that assembles your document into logical segments; giving your customers audio documents that are easy to navigate and understand.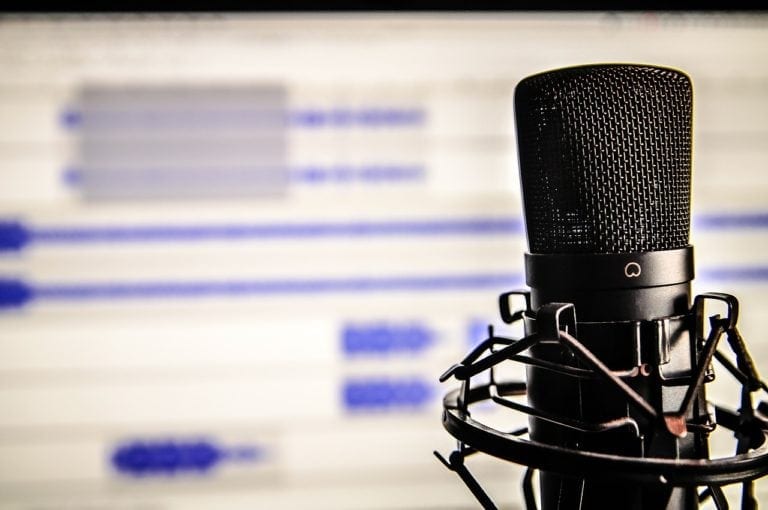 Large Print Documents
Creating a large print document is much more than just increasing the font size. Instead, it's making sure every element is formatted for easy navigation and reading. This includes tables, charts, layout, pagination, and more.
The fact is vision loss is on the rise in the aging population and baby boomer generation. Accessible large print documents can help provide a pathway to independence for these people; enhancing their quality of life.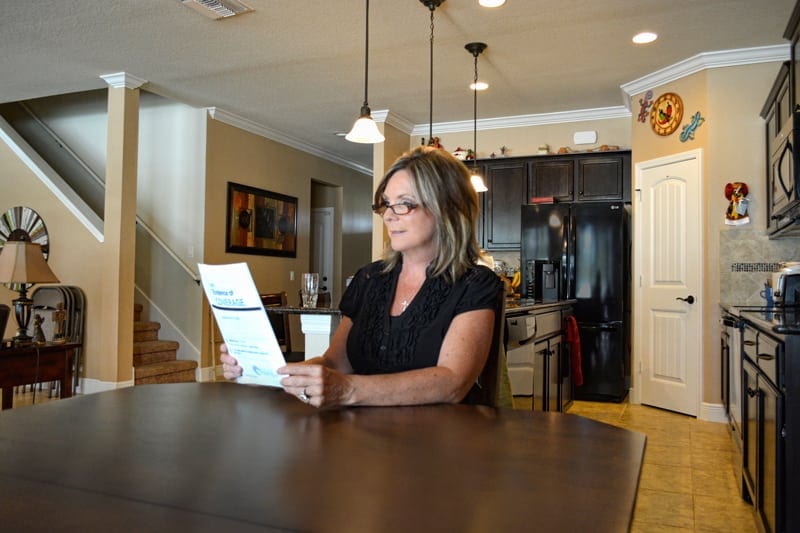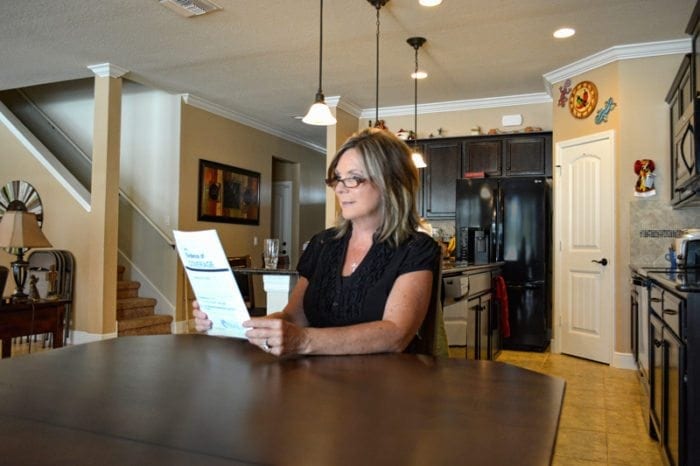 Braille and Large Print Restaurant Menus
In most cases being more accessible is not just helpful to people with a disability, but it's also good for business. This is especially true in public-facing industries like restaurants and hospitality. When guests are treated well and they have a good time, they're far more likely to come back. That's customer service boiled down to one sentence and it continues to hold true regardless of a person's level of eyesight. Imagine the positive impact having Braille and large print menus has on other sighted guests when they see your restaurant is caring and considerate of customers with disabilities.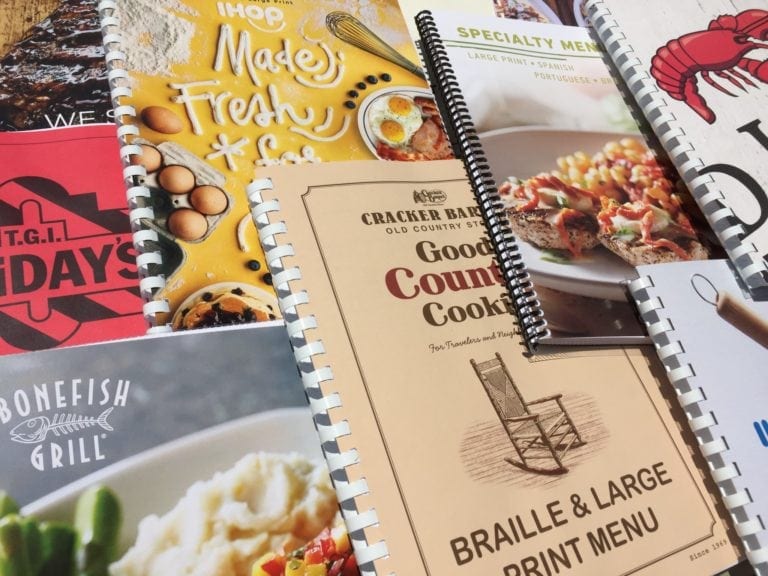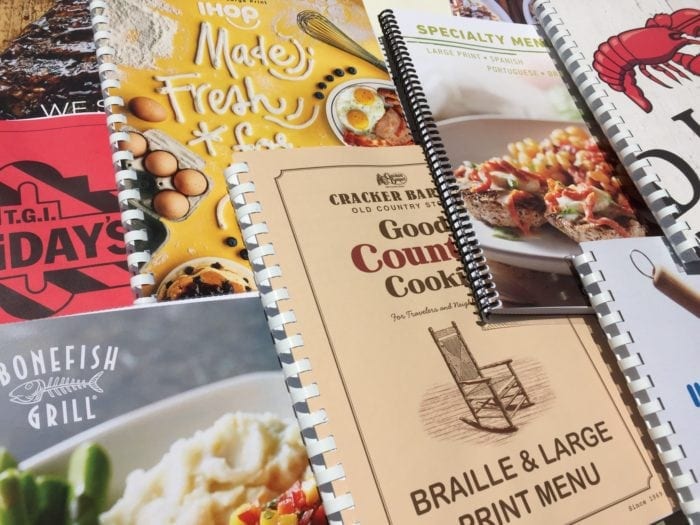 Braille Business Cards
Sometimes your business card is the only thing a potential client takes away from a meeting with you. Braille business cards help your company foster an inclusive environment and make great impressions with customers who are blind.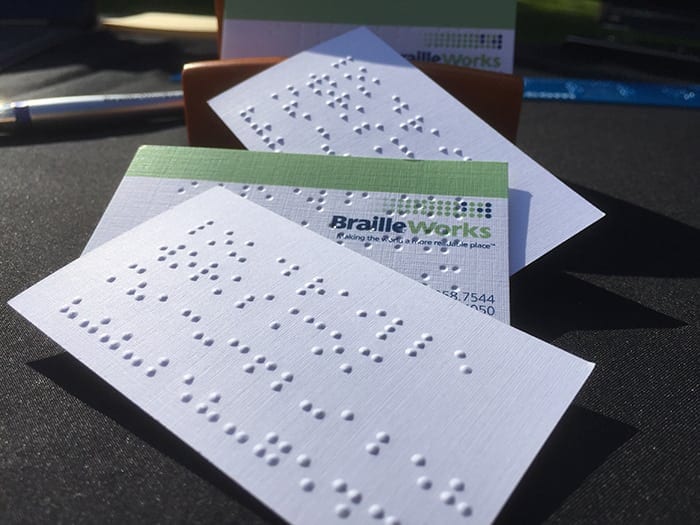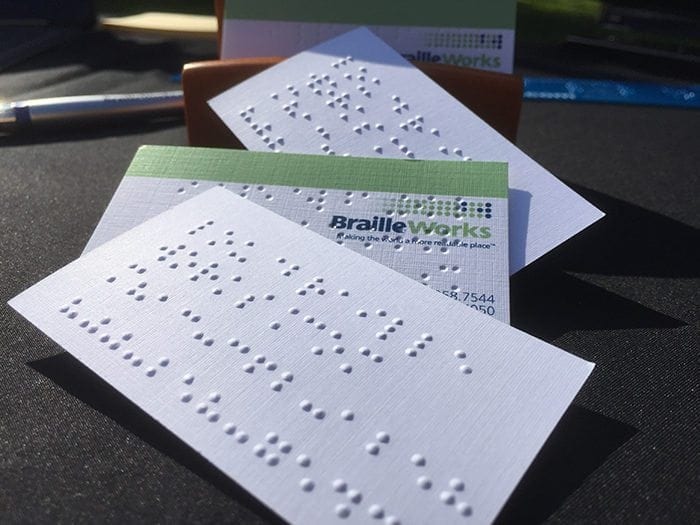 Time to make it accessible.
It's time to get your company on board now that you know more about business accessibility and the positive effect it has on your customers and society in general. The accessibility movement is spreading fast. We'd love nothing more than to help your brand stay ahead of the curve. We work with businesses everyday to help them create an inclusive, accessible atmosphere and we can do the same for you. Get started today; you'll be happy you did!

Related Links:
Tags: Accessibility, accessible, Accessible Documents, Accessible PDF, audio, Blind, Braille, digital accessibility, large print, Visually Impaired


Categorized in: Accessibility, Banking, Government, Health and Wellness, Informational, Restaurants

This post was written by Jeff Frcho