What You Need to Know About the 508 Refresh & ICT
Published on
By now, most organizations doing business with the government know about Section 508 of the Rehabilitation Act. And, they probably know that several changes have occurred recently with the Information Communication Technology (ICT) and 508 Refresh. We're here to help everyone get up to speed.
The significant change is called the Legacy ICT Provision:
"… unaltered, existing ICT (including content) that complies with the existing 508 Standards need not be modified or upgraded to conform to the Revised 508 Standards. This [provision] applies on an element-by-element basis in that each component or portion of existing ICT is assessed separately."
This provision allows agencies to archive earlier versions of 508 compliant electronic data, websites, programs, hardware, and software.
Some exemptions have been made to the non-public facing side of ICT. However, there are nine areas that must comply with the 508 Refresh.
An emergency notification

An initial or final decision adducting an administrative claim or proceeding.

An internal or external program or policy announcement

A notice of benefits, program eligibility, employment opportunity, or personnel action.

A formal acknowledgement of receipt

A survey questionnaire

A template or form

Educational or training materials

Intranet content designed as a web page

Which Organizations Must Comply with the Section 508 Refresh?
The 508 Refresh pertains to Federal and Government agencies, programs that are funded by Federal dollars, and procurement purposes. Public facing documents, websites, data, hardware, software and the like are still required to be compliant, though.
Federal Agencies like Health and Human Services (HHS) and the Federal Communications Commission (FCC) have additional requirements for compliance that are similar to WCAG 2.0 AA (AAA). These requirements exceed section 508 standards. Likewise, many states and municipalities also follow WCAG 2.0 AA as policy/law.
What Does this Mean for Private Organizations Not Receiving Federal Funding?
The Americans with Disabilities Act (ADA), enacted in 1990, encompasses all types of organizations including public, private, and governmental. Despite proposed rulemaking to set clear expectations for public and private organizations, it was deemed that the ADA covers these areas. That means the interpretation of the law is up to each organization to decipher. Consequently, this grey area has created a huge liability for many organizations with a dramatic increase in ADA lawsuits pertaining to ICT access.
The World Wide Web Consortium (WC3) created Web Accessibility Standards (WAI) which has evolved over time into WCAG 2.0 AA standards; a step above basic 508 requirements. More states, municipalities, retailers, banks, HHS, and beyond view applying the WCAG 2.0 AA standards ADA compliance. Private organizations that don't receive federal funding are at risk of losing their legal standing and reputation when deciding to avert WCAG 2.0 AA compliance. Additionally, courts are ruling in favor of WCAG 2.0 AA as being ADA accessible in legal proceedings, and these rulings and/or settlements are costing companies millions of dollars.
The organizations that are putting accessibility first are considered the "Champions for People with Disabilities."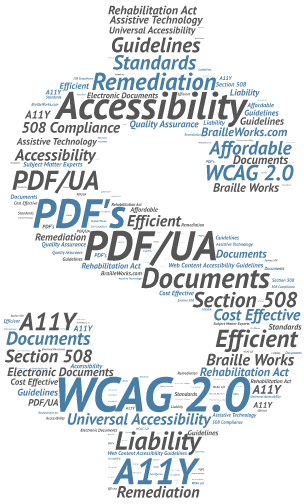 What is the Risk of Waiting on Being Compliant?
In most cases, someone who has been denied access because of noncompliance must make a complaint against an organization. So, companies can play the odds. However, in the era of social media – and social justice – you'd be wise to follow the other industry leaders and become a champion for people with disabilities. If the recent trends have shown us anything, it's that mistrust and public consensus can go viral in a minute. A far worse repercussion than a judgement or settlement could ever be. "Consumers are not only using their buying power to reward companies, but also to punish. One-in-every-two consumers said they have boycotted a company for irresponsible business actions (50%)."
There is another risk to consider: millions of Americans are blind or have low vision, and that number is growing as the baby boomer generation ages. Companies that are not ADA accessible are turning people with buying power away.
Consider the voice app on your mobile device that started as an accessibility feature. ("Hey Siri, call mom.") How many non disabled people do you think use this feature?
Contact Braille Works today to learn how your organization can take the needed steps to become ADA compliant and accessible to everyone.
Related:
Tags: 508 compliance, 508 refresh, Information Communication Technology, WCAG 2.0


Categorized in: Accessibility, Informational, Uncategorized

This post was written by Christine Sket